I Have A Simple Tip For A More Enjoyable Life…
Wanna Hear It?
The trick, in my mind, is a single, simple, word:
Goals.
Do you have any goals in/for your life ?  I do.
Here's My Main Goal For The Summer:
On August 18, 2016 I want to swim across Lake Zurich, and back.
Yes, THAT Lake Zurich.  In Zurich, Switzerland.  Big.  Cold.  Lake.   It's a beautiful lake, as you can see in the "Feature" picture at the top of this post.  The picture immediately above this paragraph is fairly close to the point where I'll be swimming across the lake (and back – it's a round trip swim without touching the other side!).  You can get a good sense of the distance.  Far.
My Goal Is Actually More Specific….Here It Is:
---
I want to swim across Lake Zurich on August 18,  at 3:30 pm (or 15:30, as they say in Switzerland), and complete my swim across the lake and back in under 37 minutes, 30 seconds.  
---
Why, You Ask?  More on that in a moment….
For now, the important thing for you to know that I'm going to do it.  
At least….
…That's My Goal.
Do You Have A Goal?
As my regular readers know, I like to frequently weave in "softer" articles about retirement planning and philosophy, in addition to my "harder" articles about financial planning specifics (e.g., "Trading Options").  I believe truly successful retirements require thought not only on the financial aspects, but also the "living" aspects of life in retirement. Today's article on goals is in the "softer" vein (I've had a string of "harder" articles lately, apologies to my readers who prefer "soft".  Today's article is for you!).  
BTW, I've decided to not pursue "The Log Blog Experiment" of weaving a new type of material into this blog.  Rather, I'll weave relevant themes into these "softer" articles, but maintain the focus on the broader concept of well rounded retirement planning. That's what this blog is about, and I don't want to "confuse the brand" via my experiment.  Today's is the first example of this approach, I hope you like it (and welcome your feedback)
I think the topic of goals is an important issue to think about, and it contributes to the overall achievement of a great retirement:
How will you keep yourself motivated as you age?
If you stop to think about that, it's a bigger question than it may first appear.  As you move into retirement, you are responsible for keeping yourself motivated.  No boss.  No obligations. Only you, to find a way to enjoy your life's journey, to "make today amazing", to find means to keep yourself motivated along the path.
Have you thought about it?
My inquiry about "Do You Have A Goal", then, is really a broader question.  It's a question of "have you found a way to keep yourself motivated?", when the responsibility becomes fully yours.  It's something you should think about now, as you plan for retirement.
Goals Can Contribute To A Great Life
Done in moderation, there's no doubt in my mind that having goals throughout life contributes to a more fulfilling experience while on this wonderful Planet Earth.  Whether it's "marriage", "parenthood", "home ownership", etc., there are many, many goals which we all face as we move through life.  

When met, they contribute to a sense of achievement.
Having a sense of accomplishment leads to a more fulfilling life. What are your goals?
Click To Tweet
In thinking about today's post, I thought back to the many goals I've had in my life.  Without realizing it until tonight (another reason I love to write, it causes me to THINK), I've had a consistent "flow" of micro-goals throughout my life.  Just a few, to give you a taste:
Pass The Test

Graduate

Get a job immediately after college

Marry a wonderful wife

Buy a house

Run my first 10k by Dec 1995

Raise a beautiful child

Run my first half marathon by June 1996, in under 2 hours

Get promoted

Save for retirement, track net worth.

Run my first marathon by May 2001, in under 4 hours

Start A Blog

Pay Off House, Become Debt Free

Swim across Lake Zurich in Aug 2016 in under 37m, 30 sec.

Retire Early

Live Forever
I find these little "life-journey-goals" to be nice way to build some sense of achievement into your life.  I've accomplished all of the above items except for two of the last three:  Swim across Lake Zurich in under 37m 30s, and Retire Early.  (I met the "Live Forever" goal earlier in my life when I became a Christian, and it helps me, in my humble opinion, to keep things in their appropriate perspective.)
Goals, then.  Have Value.
For me, my short term goals focus quite a bit on fitness, because it fits my lifestyle.
For you, it may be some other type of goal.
It doesn't matter, as long as you find goals which work for you (two stories on that in a moment). 
Retirement Can Be Depressing
As you get older, there is a higher chance of Depression In Retirement.  Did you know that "Retirement" increasese the odds of depression by 40%? I worry about that sometimes.  It doesn't have to be this way.  There's little doubt in my mind that less "external" sense of accomplishment, for some folks, contributes to this depression.     
But there's a solution. Have A Goal.
Goals Give Purpose.  
They Motivate You To Act.  
They give you something to work toward.  
They enhance life.  
They Help You Achieve A Great Retirement.  
Look for opportunities.  Develop them.
My goal, to swim across Lake Zurich, was a bit serendipitous.  There's an annual "event" in my industry called "The Swim", which is held every August in Zurich (Zurich is the center of European commodity trading, by the way, which is how I make my living in my "day job").  
The Swim has a great story behind it:  two commodity traders made a bet, 30 years ago, the loser had to swim across the lake.  The winner decided to be conciliatory, swam with him, and a tradition was born. Since then, it's grown into an annual industry suaray, with the "Who's Who" of my global industry all donning trunks for the annual swim, followed by a fabulous dinner on a rooftop of a building in downtown Zurich.  Incredible, really.  As one of the largest "commodity buyers" in the free world, I feel I simply MUST attend!!.  
In 2013, I swam across Lake Zurich in 37 minutes and 30 seconds (hence my goal to swim it in UNDER 37m 30 s this year!). One of the original two traders (now in his 80's!) swam across the lake in the year I participated.  I don't know if he was the "winner" or the "lose" of the original bet, but he was my hero. I was in awe.  (Thinking back, I like to imagine that it was a goal of his to swim the lake every year, it's what kept him young!) I haven't been able to attend The Swim since that first experience.  
When I received my invitation this year, I decided to have a go.  I hope the 80+ year old guy is there, I might ask him to write an article for this blog!  I've only got a few years left in this crazy industry until retirement, and this is one of the keystone events (ok, call it a boondoggle, if you will. However, I AM setting up a legitimate strategic review of our supply/demand situation with my European team while I'm there (there is justification for the trip!)  The review will actually be a few days of intense work, and justifies staying an extra day for the "Networking Event."  Plus, I'll interact with all of the traders in the market during the event, and there is legitimate business value in that.  Overall, the approach seems reasonable to me.
The Goal Will Motivate You
After a few practice swims, I started thinking more seriously about The Swim and realized it offered the chance to set up a goal.  The Goal gives me something to train for during my first few months in the "City Apartment", which (conveniently) has a nice pool just a few steps from my apartment door (see pic above):
Since setting my "Swim Lake Zurich" goal, I've been very consistent in my training.  Without that goal, I never would have worked as hard as I just did.  (As a matter of fact, I just completed another swim this evening before I started typing this sentence.)
Just as tracking your net worth motivates you to build your wealth, tracking your fitness goal helps keep you motivated to achieve the goal.
For my "Swim Lake Zurich" Goal, I've created a "Fitness Tracker" to track my progress.  I've included a picture of it below.  I made it a shareable spreadsheet, so if you'd like a copy, or to track my progress through the summer, simply click here to see the most current "live" version (most likely updated to within 24 hours of whenever you're reading this!  Cool, huh?)  You'll have to save a copy to your drive if you want to make any changes:
Click HERE to get the link to the "live" spreadsheet.
I've been having fun with the swims, and "invented" a new "fitness challenge".  I call it "The Countdown".  I'll save you the details, but it's the number of laps you must do (self-imposed) of consecutive swimming, using only the breast stroke.  After the allocation of laps in your interval,  you're "allowed" a one lap of "rest" (backstroke my preferred for the "rest").  Only rules:  Never in the entire workout can you touch the bottom of the pool, or lose forward momentum (I don't swim traditional "back and forth laps", I do actual LAPS around the pool's circumference, without ever coming to a stop at a wall).  You can see my use of this workout in the "comments" section above.  On 5/25, I upped it to an 8-7-6-5, which means 8 laps of breaststroke, 1 lap of backstroke for recovery, then 7 laps of breastroke, etc.  Any workout is then simply a total of the number of laps in the "Countdown". On 5/25, I did a total of 26 laps (8+7+6+5).  I repeated the (8+7+6+5) again, and will continue to build up the intervals 
I invented it a few weeks ago.  It's keeping me motivated during my "training swims".
What About You?
Is there anything in your life that you could turn into a goal?  Here are two examples for you to think about:
First, my wife's goal is to train our 4 dogs, and she's devouring Cesar Millan's "Dog Whisperer/911" episodes on NatGeo.  She's making progress in her goal, and you can see the result in the dogs' behavior. It's working.  She's effectively training the dogs, and enjoys the challenge of her self-imposed goal.  I'm proud of her for working toward her goal.  Her "training" goal is a perfect compliment to our long term goal of spending 4-6 months/year traveling in a 5th wheel (you've got to have well behavied dogs if you're going to camp in public campgrounds for 150+ days in a row with dogs in tow!)
She's recently purchased one of Cesar's books (the picture below is of her actual book, via my iphone, taken this past weekend in our N. Ga home.  Here's the link on Amazon).  Finally, she has several videos on order.   She's serious about it, she's studying up, and she's making an impact.  We should all strive for that.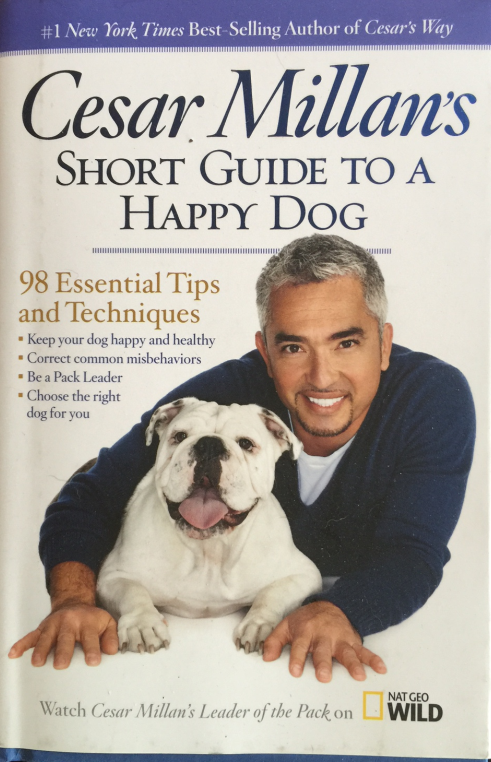 Tonight, the dogs sat patiently awaiting their bowls of popcorn (A TRUE first, compared to the normal "CHAOS" that ensues when the word "Popcorn" is mentioned.  Trust me on this.  And yes, they know the word "popcorn").
It's working.  It's exciting to see.
The second example is my mother-in-law, who has Alzheimer's, and lives in a nearby nursing home (part of the reason we moved recently, as I wrote about here). She's an amazingly cheerful woman, and everyone in the facility loves her being around.  She's in a wheelchair now, but still gets around surprisingly well.  Her Goal?  To be able to pull herself around with her legs while in the wheelchair.  They've removed the footpads from her wheelchair, and she pulls herself everywhere by her legs, using the same motion you'd use if you were pulling your office chair across your office to a filing cabinet (even cheerfully refusing a push when I was trying to be helpful!). She spends several hours a day wheeling up and down the hallways, talking with friends and nurses.  She enjoys the "freedom" it gives her.  She's motivated by her goal.  It's making an impact.
Goals keep you motivated, regardless of the type of goal you establish. Micro goals (training the dogs) that align with long term goals (6 months camping with said dogs) are the types of goals that provide the strongest motivation.  Look for those types of goals.
In Closing 
It doesn't matter how old you are, and it doesn't matter your physical or financial state.  Find something you're interested in, or something you're currently working on.  Accept that anyone can create goals for themselves. Set a specific goal for yourself a few months out.  Spend a bit of time thinking about it, then track your progress toward the goal.
Give it a try.
To enjoy life, you have to find a way to enjoy each day.
Goals and a sense of achievement can help with that.
String enough of those enjoyable days together, and you'll:
Achieve A Great Retirement!