There are a lot of really smart people in this world.  How often do you get a chance to intentionally seek them out for some advice in your life?  Today, we're going to get "The Best Money Advice Ever Received" from some really, really smart people.  In the process, I'm giving you access to a secret club where these "elites" hang out.
Where Do Smart Money People Hang Out Today?
When I think of people who are really smart about money, my mind inevitably drifts to my financially blogging friends.  There are hundreds "out there", and as a group they harness incredible knowledge about all things money.
Financial bloggers are an interesting lot.  We're all a bit obsessed with this whole "personal finance" thing, all pretty good in managing our money, most of us are pursuing some sort of early retirement, and we all love to write. In short, we share a lot of common bonds.  For those of you not in the "inner circle" of the blogosphere, you may wonder where we all hang out?  Beyond the mega-event of the year, FinCon (which I'll be attending for the first time in Oct 2017), where do we all meet?  How do we communicate?  How do we share ideas?
Today, I'm giving you an exclusive peak into the inner workings of the blogging world.  A network seldom seen from the "outside". The Smartest Money People I Know can be found there, in a secret place known only to "insiders". As a reader of this blog, you're getting a "Special Guest Pass", and are being let in on this previously unknown hideout of the financial elite.  (No conspiracy theories here, please.  My tone is a bit more dramatic than the reality, for the sake of a good article.  Have I gotten your attention yet?)
Recently, a "Rockstar" in the world of personal finance blogging made a major announcement:  The Launch Of A New Community Forum!  The announcement was made on Twitter, and has been an IMMEDIATE hit.
---
---
Within just one week after the official launch, the forum is now home to more than 250 personal finance bloggers and enthusiasts from around the world, all sharing ideas on finance, blogging and all things money.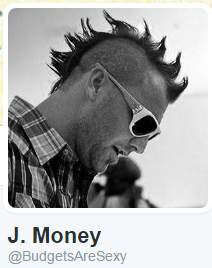 Kudos to the founding Rockstar, J. Money!  He's a legend in the financial blogging community, and just turned down a $1 Million buyout offer for his online sites.  He's innovative, bright, a gifted writer, and well on his way to creating real financial wealth.  He also looks pretty cool, with the spiked mohawk and all.
He just gave the world a gift with his new forum.  Check out the forum here, you don't have to be a blogger to participate in the fun!  Welcome to The Secret Club!  Look around, you'll find me there (if you join because of this article, let me know with a comment in the forum, it'll make my day!).
---
The Best Money Advice Ever Received
To take advantage of this new gathering of "money smart" people, I decided to start a thread as the basis for this post.  I asked "I'm starting to work on an upcoming blog post, and would like to build it around "The Best Money Advice Ever Received." Help me out?" The question has generated a LOT of response, which I'm excited to present below.  In fairness to my fellow bloggers who responded (THANKS to all of my really smart friends!), I'll be presenting the advice in the order in which it was received.  Where I differ with the advice from the world's smartest people, I'll add some commentary.
The Smartest People In The World, Giving The Best Advice Ever!
Click To Tweet
Without further adieu, I present to you The Best Money Advice Ever Received:
Don't Max Out Your 401(k)
T.J. Pridonoff starts us out with this counter-intuitive advice, which he received from his Dad.  I would modify it to add "beyond your employer match".  Always optimize the match, but realize that any money you put in above this amount does have some negative implications.  Since it's tax defered, your ability to access the $$ can be severely constrained before retirement.  If you expect you may need to tap into the extra savings, keep it in an after-tax account.
Saving Is Not Optional
MrsBita chimes in with advice from a friend, which she received shortly after she immigrated to the USA (yes, it's a very global group out here in the blogosphere).  Saving in your 401(k) to the full extent of your employer match should not be viewed as an option, but rather as a mandatory act.  Don't give up a free raise, make sure you're capturing all of the employer match that you're entitled to.   Make sure you're not part of the $24 BILLION that's lost by people who don't contribute enough to their 401(k) to max out their employer match.
It's Your Money
BigDaddyG isn't a blogger, which proves my point earlier that you don't have to be a blogger to play in the forum. He tells a story of his mother always responding with "It's Your Money" when he asked her if he could buy something with his allowance.  He learned to take responsibility for his money, about opportunity cost, and the fact that a dollar spent today takes away from something bigger he may want tomorow.  Take ownership of your money, and realize no one cares about it more than you do.
Time Is A Far, Far Greater Asset Than Money
Pete_McPherson reminds us that time is our greatest asset.  Don't let your life slip by while pursuing materialistic gain.  Be intentional in how you spend your time, it's worth more than money.  My add on this one:  I recently wrote about Time, and included the quote:  "Time, The Rarest Of All Investments. You Get It For Free, And Spend It Until It's Gone."  
Track Your Net Worth
J. Money (yes, the Rockstar I mentioned above) chimed in with:  "Track your net worth – the best thing you can do to grow your wealth!".  I couldn't agree more, and encourage you to read my article on the subject, or have a look at the Free Net Worth Template I've built for my readers.  If you don't track your Net Worth, get yourself set up to fill in the template with your year-end statements this year.
Focus On Your Priorities
Steve Goodwin adds a classic Dave Ramsey quote that changed his life:  "Nothing happens without focus, so when you try to do six things at once, nothing seems to happen. You can't get out of debt and fund retirement adequately and fund the emergency fund. When you attack one thing and let the other things sit while staying current, things happen."  Steve learned from personal experience the power of focusing on the highest priority, and wrote about it on his blog.  Not much I can add to that one, spot on.
Double Your Money With The Rule Of 72
PhysicianOnFire is a really smart Doc, and he recently wrote an article about this powerful concept, "Double Your Money With The Rule of 72".  The point is that you can double your money, if you're patient and give it time to work. As for the rule, simply divide 72 by your expected rate of return to calculate how long it will take your money to double.  12% return?  You'll need 6 years  (72/12).  4%? 18 years.  It's a handy rule to help you remember you need to generate good returns, and you need time.  Start as early as possible in building your investments, and give them time to compound.
Avoid Lifestyle Inflation
KeepThrifty gave some great advice with this gem:  "The fact that your income just went up (for whatever reason) should have no bearing on your spending."   Shnugi added to the theme with a reminder to "eat and spend like you're still in college because it's a lot easier to save when you've never known what it's like to spend that much money."  Bottom Line:  Don't let your spending go up as your income increases.  Instead, save the increase, and build your wealth.
Live like no one else so you can live like no one else
ChiefMomOfficer came in with this Dave Ramsey classic, which I've cited numerous times in my life.  The concept, a foundation of Ramsey's teachings, is to make smart spending decisions now (e.g., don't buy that new car!  Pay Off Debt!) so you can have a future which will be out of reach to those who aren't managing their money well (retirement, anyone?). Don't keep up with the Jones', but rather avoid materialism and focus on the long term. MediumSizedFamily highlighted the concept with their comment:  "Discipline is choosing between what you want now and what you want most."
Mom also points out the power of compounding interest, which I wrote about here (Albert Einstein called it the 8th Wonder Of The World, for good reason).  It pays to start early, don't procrastinate.
Stop The Fear!
10_Rocks shared an article he had written called "Stop The Fear", where he shares his Father's lesson to him that media sensationalizes issues to sell their product.  Be an optimist, and don't let fear paralyze your life.  Be persistent, and over time you will achieve success.
Put Your Finances On Automatic
Mrs.Groovy, a longtime friend who just retired early, suggests you automate your savings.  In her words:  "We automated saving/investing first, and then set up automatic payments for all recurring expenses.".  I couldn't agree more.  My wife and I have all of our savings (401(k), Vanguard Mutual Funds, etc. etc.) set up so they automatically transfer from our paycheck or checking account, every month.  Over time, it's encouraging to watch your savings grow.  Move it out of your account before you have an opportunity to spend it!
Grow Your Career
ESIMoney came in with a late tip for this article.  His advice?  Grow your career.  In his words: "Most people don't realize that your career is a multi-million dollar asset that you can make even more valuable by taking a few simple steps."  His blog focuses on 3 steps to wealth;  Earn.  Save.  Invest.  The more you earn, the easier it is to save.  You can cut expenses, but even extreme minimalistic living has a limit.  Focus on earning more, that's where you can create true wealth.
You Can't Have Everything You Want
Steve@ThinkSaveRetire came in with an "after the deadline" piece of advice, I decided to be generous and "let him in" (he's a pretty cool guy who's living in an Airstream, so I gave him a break!)  His dad taught him:  "You can have anything that you want, but not everything that you want."  Great message, reminding us that life is about choices and trade-offs.  Decide what's most important for you, then go for it.  If it's Early Retirement, pass on that new car.  If it's the new car, realize you won't retire early.  Be intentional, pick what's most important to you, and don't look back.
By the way,  there's also one incredibly helpful blogger in the Forum named Grant, who writes @ Millenial Money.  He deserves a "shout-out" for some amazing SEO (Search Engine Optimization) work he's been doing for some of us in the Forum.  If you need ANY SEO work done, reach out to this guy, he does it for a living, and all of us in the Forum would agree he is the first place anyone should go for SEO work.  Thanks, Millenial Money!! 
Conclusion
It's amazing what you can learn by asking a simple question to a bunch of willing experts.  In just 3 short days, a simple question in the "secret insider forum" yielded 13 amazing pieces of advice.
Apply a few of the above items in your own life, and never stop looking for opportunities to learn.
Oh yeah, you may also want to click here and check out the Forum, too.  You'll be amazed at what you'll learn from the experts (and, perhaps, you'll find this one old guy name Fritz, who's writing about his transition with the goal of "Helping People Achieve A Great Retirement".  He goes by the name of "RetirementManifesto".  I spend a lot of time with him, and heard he'd be most appreciative if you'd check out his content!).