In three months, my life is going to change. Drastically. Last week, I shared my thoughts as I enter my final 100 Days To Freedom. As promised in that article, today I'll share a continuation of the thinking, A Part 2, if you will, titled "The Ten Commandments Of Retirement".
Combined, these two posts represent my current philosophy on our transition as we approach the Starting Line Of Retirement, with less than 100 days to go. I hope you can apply some of these thoughts in your life, wherever in life you may be, and that you have a better retirement as a result.
These posts represent my thoughts as I approach the Final 100 Days to Financial Freedom.
Click To Tweet
If you're young, think of these commandments as long-term goals, things to consider as you chart your way through life. If you're already retired, think and decide for yourself if some of these make sense for you to apply in your own retirement. I encourage you to add some of your own ideas in the Comments below (BTW, have I mentioned I LOVE the exchange I have with the readers in the comments? Thx for joining in!).
It's time for a discussion on what matters in our post-retired lives. I'm just "a guy sharing my thoughts", and asking that you do the same. I hope that, together, we can provide some advice that will benefit all of us.
My goal for writing is to Help People Achieve A Great Retirement. I hope these Ten Commandments Of Retirement help achieve that goal!
Click To Tweet
My 10 Commandments Of Retirement
As I've thought about the transition my wife and I are facing in June, I've developed these "10 Commandments Of Retirement". I view these as "self-imposed directives", perhaps best described as guidelines we're building to help navigate our lives in retirement. I trust folks won't find the title offensive, and I say sincerely that it's certainly not intended that way. It's simply a list of priorities for my retirement, and I think of the "Commandment" reference as a future reminder to myself that this stuff was important to me 100 Days before I retired.
It will be interesting to look back on these words from a post-retirement perspective and see if I had any idea what was coming.
I suspect I'll think myself a bit naive.
I find the thoughts in my final working days an interesting topic to write about. I hope you find it interesting to read.
Click To Tweet
What's Important After Retirement?
Post-retirement, my life will be dictated by me, and yours, by you (hmmm, that sounds odd, but you know what I mean, right?). For the past 50 years, someone has been telling you what to do. Now, you have the privilege, and obligation, to decide for yourself.
What's Your Freedom Going To Look Like?
It's up to each of us to decide. We should strive to make our retirements into what we want them to be. It's an important topic, and it's important to get it right.
We Only Get One Shot At This.
Take Time To Think About It
I've studied the transition into retirement with interest over the past few years. I'm certainly no expert, but I've read a lot of studies and know that many folks are surprised when they find that Retirement Is Depressing. For others, retirement represents the best years of their lives.
What's the difference between those who do well vs. those who don't?
The Key To A Great Retirement? My takeaway from the studies is that one of the best things we can do to ensure a smooth transition is as simple as "Think About It Before You Get There". It seems that those who run hard until the very end, without giving serious thought about life after retirement, are quite often the ones who have a harder time making the transition to retirement. The simple act of Thinking About It has been shown to have a direct correlation to those who have enjoyed retirement the most.
So, I'm taking the advice I've read to heart, and I'm taking time to think about it.
Since I'm also a blogger, I've also taken time to write about it.
The Result?
The Ten Commandments Of Retirement.
I'm being intentional to ensure my best possible retirement. And that, in a nutshell, is the point of these Ten Commandments Of Retirement
Click To Tweet
The Story Behind The Commandments
As I close in on 100 Days to retirement, I've developed a few personal guidelines. Goals, if you will, for how I want to live my life in retirement. It may seem a contradiction to introduce these "Commandments" in a 2-part series about "Freedom". Quite the opposite, actually. Given that these "commandments" are self-imposed, they are, in reality, reflections of my thoughts on what I want to do with my Freedom. Guidelines we've chosen, a path on which we'd like to walk through our post-Financial Freedom life.
The Power Of Freedom.
These Ten Commandments Will Be Our Guidelines As We Live A Life Of Financial Freedom
Click To Tweet
---
---
The Ten Commandments Of Retirement
I present below the Ten Commandments which I hope to apply in my life in the coming days, weeks, months and years. My hope is that you can apply them in a way that makes sense in your life, and together we can all Achieve A Great Retirement:
I. Have An Attitude Of Gratitude
First and foremost, recognize that every day we're given is a gift we should absorb. Take the time to celebrate life, and appreciate the things around you. Listen to the birds. Smell the grass. Hug your significant other. Look for things to be thankful for, and focus on the Good.
For those in the Early Retirement community, we should be even more grateful. Sure, we worked hard, but none of us couldn't have gotten here if we didn't have something in our lives to be thankful for.
Tune out the noise that our society is so effective at producing, and…
…Take some time to appreciate life.
---
Ia. Give With A Generous Heart
Ok, I'm cheating. For those of you paying attention, you'll see that I ended up with 11 Commandments. I couldn't decide whether "Gratitude" or "Generosity" should be #1, so I hereby enter them as a tie. My blog, my rules.
If you're reading this blog, you likely have more wealth than 90% of the people in this world. Be generous, and be happy about it. Find a cause you believe in, and support it.
Tip that struggling waitress with a nice big fat tip, and know you're making her day.
Give an anonymous gift to someone who needs it.
Take a friend or two out to dinner, and pick up the tab.
Tithe, if you're so led.
Give away stuff instead of selling it.
Give, and do it with a generous heart.
Your life will be better for it.
---
II. Pursue Passions
Freedom is a time to pursue your Passions. A time to explore, and to discover what it is in life that excites your mind. The world is your oyster, and you're free to pursue those things that bring you the greatest joy. It's time to experiment, it's time to find a Purpose. You've earned that.
In our case, my wife has recently discovered her love for pottery, and she's really really good at it. She's also started a Yoga class and is loving the results. She's rescuing dogs, and she's saving lives. Passions.
In my case, I recently bought some video editing software for my new retirement laptop. I want to exercise my artistic side, playing with photography and drone video in my life of Freedom. Maybe you'll see some results from my new hobby of Bictography. Maybe not. No obligations (see Commandment IV).
Commandment II. Pursue Passions. You've earned your Freedom, so use it to pursue something you love.
Click To Tweet
I love to write, and believe my writing may well be a Purpose in my life. I'm making a difference in people's lives, and that's rewarding to me. I kinda sorta think I don't suck at it, and I'll continue to write as I feel led, without obligation. I may continue to post on my regular (3 years now, wow!) cadence of 1 article per week (every Tuesday), or I may chose to skip a week. I may write several articles in a week, or I may not write for several weeks in a row. If life intervenes, I may decide to take a week off. Or a month. I'm Free, and I plan to live my life accordingly. I trust you'll understand.
The Bottom Line: We're free to pursue our Passions, without obligation. Let it lead where it leads.
A Life Of Freedom.
---
III. Keep The Balance
When I was 23, I knew a guy who committed suicide. We attended an 8-week course together. On week 6, we all noticed that our classmate "Bob" was missing, and asked where he was.
Instructor says, "Bob committed suicide last night. Let me say this, if I may. I like to think of life as a wheel, and how all the aspects of your life can be represented by spokes. There's faith, family, money, work, relationships, etc. All of the elements in our lives are like spokes on a wheel. Turns out that Bob had a bunch of uneven spokes, and his wheel didn't roll very well."
I don't remember much from that class. But I remember the lesson that Bob taught me. I want to keep all of my spokes approximately the same length.
The wheel rolls better that way.
---
IV. Make No Obligations
For 33 years, I've lived a life of obligations. Years upon years of meetings to attend, "Can't Miss Conferences" places I absolutely HAD to be. Reports to produce. PowerPoints to present. Analysis to conduct. Meetings to attend. Conference calls to dial into. Commutes to drive. People to see. Flights to make. Phone calls to answer. Emails to send. Business to conduct. Executive Summaries To Present. Contracts to negotiate. Deadlines to meet.
You get it. It's Called Work.
33 Years.
As my fourth commandment, I'm instructing myself to avoid making any obligations within the first 12 months of retirement. I don't want to "Have To" do anything for a while. I think I've earned that. It's time to decompress. I had to smile when Wealthy Doc left this comment on my "100 Days To Freedom" post last week. I'd already written this section by the time he left this comment, and it was as if he was reading my mind.
---
---
So, for the next 12 months, I'm done with obligations. If you just made me an "offer I couldn't refuse", and I sent you this post with "See Commandment #4", you now know what I meant, and why I meant it. Call me in June of 2019, maybe I'll be more willing to talk with you about that opportunity then. Or maybe not. Ah, Freedom!
Commandment IV. Make No Obligations. I'm Taking A 12 months off. A Period Of No Obligations
Click To Tweet
---
V. Try New Things
If you sat down for 30 minutes with a blank sheet of paper, how many things could you come up with that you'd like to try? My wife and I are doing that, in effect, but using a unique approach that my wife thought up.
As I wrote about in Your 4 Biggest Worries About Retirement, we have a cookie jar in our bedroom, with pens and a notepad nearby. Here's a pic: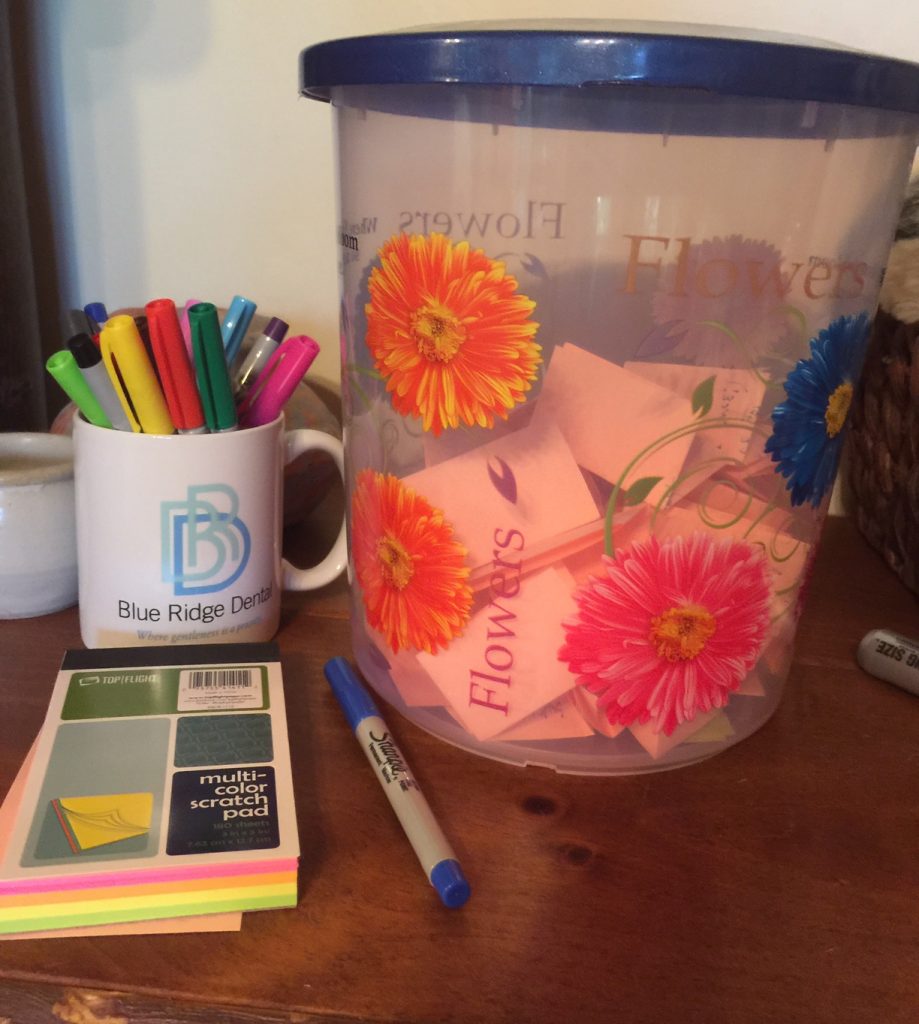 Each week, my wife and I each drop 1 "Activity Note" into the Jar. Neither of us knows what the other is putting in. In June, we'll start taking out one activity per week. We've been adding to the jar for a year, so we should have 2 years of weekly activities accumulated in the jar.
We'll try a lot of new things.
I don't even know what half of them are (literally).
---
VI. Take Care Of Your Body
There are a lot of things in life that are outside of our control. Taking care of yourself isn't one of them. Let's face it, we're not getting any younger, and eventually, we'll be dealing with the ailments that the aging process brings. I don't know about you, but I don't want to happen for a good long while.
Why not improve your odds of increasing the number of "Good Years" you have in your life and feel better while you're living it? If you're interested, check out the Younger Next Year 2018 Facebook group. You'll find a great group of folks, some of whom are starting to exercise for the first time in their lives.
My wife and I have decided to join a gym in our retirement community. We went over there last weekend for our first workout. It's a great gym, and we've both decided that taking care of our body is important to us in retirement. After I retire in June, I'm joining a couple guys who swim in our local lake on Tues and Thur mornings. I'm also going to sign up from Spin classes at our new gym.
Get some exercise, it'll help make your retirement great!
---
VII. Stay Flexible To Change
I don't know how my life will change in 100 93 Days, but I know how I'd like to approach it from a mental perspective. I am determined to be flexible and to accept change with optimism and open arms. The life that my wife and I lead from this point forward is ours for the choosing, and we're free to change our minds. I will remain flexible as we work through the process of choosing what our life will be. We may think we'll love "A", only to find that it's not our thing. That's ok, we'll pursue "B". We may even pursue "C", "D", "E" and "F". We'll Stay Flexible, and We'll Try New Things (Commandment V.)
An Example: Both my wife and I want to travel, but we're also realists. Her Mom lives in a nearby nursing home with Alzheimer's, and we're the only family within 500 miles. Our parents took care of us for the first few decades of our lives, it's time to return the favor. Obviously, we're going to stay close to Mom.
No 6-month extended road trip. Yet.
That's ok, we're flexible. We've already got camping trips lined up for April, May, June, July, and September. Two weekends at nearby Georgia State parks as "shakedown" weekends, then a June week in Tennesse. In July, we're doing a two-week loop up to Michigan to visit family.
In August, we're taking a cross-country train trip to Seattle to visit our daughter. We're hiring a dog sitter for our 4 (!!) canine kids, and we're making the trip of a lifetime! Who doesn't want to take a train cross-country!? A definite bucket item list! Now's our chance, and we're taking it.
Ok, so we're not taking the extended 6-month road trip.
But we're making it work, and it's going to be fun (see Commandment IX).
We're Staying Flexible.
---
VIII. Cherish Friends & Family
Our neighbor recently stopped his truck in our driveway when he saw I needed some help with our new 5th wheel (that's a story for another post. Note to self to add it to the queue). We didn't know each, but he stopped to help anyway. We've since become good friends. My wife and I took he and his wife out to dinner as a way of saying "Thanks for the help!", and we hit it off. We're talking about doing some camping together.
All because he stopped to help.
Look for opportunities to build relationships, both inside your family and out. Make time for what's important, and realize that relationships are important.
Relationships are worth more than all the money in the world.
Treat them that way.
---
IX. Have Fun
What's the point of all this if we don't have a little fun along the way?
'Nuf said.
---
X. Keep Eternity In Mind
Facts are facts. You won't be here forever. Our days are numbered, and every sunset we move one day closer to eternity, whether we like it or not. I don't discuss politics or religion very often on this site, but I can't have these 10 Commandments without weaving it in. I'd be remiss if I didn't acknowledge the importance of the Spiritual aspect in each of our lives. I don't know what your religious views are, and it's none of my business. That's for you to decide, and you're free to decide as you see fit. I do, however, encourage you to think about it. I know where I'm going when I die, and I find that reassuring. I hope you can say the same.
Recognize that your days on earth will end.
Live Accordingly.
---
Conclusion
---
There you have it. Our 10 11 guidelines for our Freedom years. For those who have already retired, what have I missed? For those not yet retired, what do you think will be important for you when you reach retirement?
I look forward, as always, to our discussion in the comments.