Whether you like it or not.
Whether you're prepared or not.
The reality is that someday, you will retire.
Are you ready?
Type "Unprepared For Retirement" into Google, and you'll find 995,000 results.  With today's post focusing on that topic, I guess there'll be 995,001 results by the time you read this.
Why is "Unprepared For Retirement" such a popular topic?
I suspect many folks are worried that they're, well, unprepared for retirement.  Having just retired myself, and being hyper-focused on retirement preparation over the past 5 years, I can relate to folks worrying about whether or not they're prepared.  I've had the same doubts myself.
---
Unprepared For Retirement
Retirement is a fascinating, and scary, topic.  It's a period in life where WE are responsible to ensure we're ready.  And yet, the resources available to help you prepare seem insufficient to give you the confidence that you are, indeed, ready.  Worse, there are millions of folks out there on the cusp of retirement who seem to lack a basic understanding of the reality that there's a cliff in front of them.
A Cliff In Front Of Them.
Imagine walking along a mountain path.  You're enjoying the scenery, but you're oblivious to what's ahead.  If you knew there was a cliff around the next bend, wouldn't you want someone to warn you?
Now, think of all of those folks in our world who are walking in oblivion toward their personal cliff of retirement.  A huge change in the landscape, just up ahead around the next bend.
It's Time To Warn Them.
Too many folks are unprepared for retirement. Today, 5 Steps to help you prepare.
Click To Tweet
I worry (a lot) about the number of folks who seem to be unaware about their need for retirement planning.  Perhaps they're aware, but they're not taking the steps to prepare themselves.  I struggle with how best to reach these folks.  Unlike you, they're not reading a retirement blog.  Perhaps, somehow, a few of them will read this one, and begin taking seriously their responsibility to prepare for what's around the next bend.
---
Side Note:  Do Me A Favor?
It's a concerning reality that the folks who most need to read about retirement planning are the folks LEAST likely to read this post.  So, do me a favor?  Think of 1-2 folks you know who are over the age of 45, but not taking the time to read up on the steps they should be taking for their inevitable retirement.  Then, send them a link to this post.  Bold, I know.  But I really want to try to make an impact in the lives of people who need it the most.
Together, let's try to help a few more folks Achieve A Great Retirement.  Are you up for the challenge?
---
How Many Folks Are Unprepared For Retirement?
47% of folks are confident in their retirement prospects, up from 32% last year, according to this AllianceBernstein study.  More concerning are the 17% of respondents who say they have not thought about retirement or never plan to retire.  Assuming that same 17% ratio applies to the 76MM Baby Boomers, that equates to 13 Million Baby Boomers who are Unprepared For Retirement!
13 Million Baby Boomers Are Unprepared For Retirement. Here are 5 Steps to help them prepare...
Click To Tweet
Like it or not, retirement is coming.
It's best to prepare.
Following are 5 Steps that those who are unprepared for retirement should consider taking:
---
5 Steps To Prepare For Retirement
---
1. Realize That Retirement Is Coming, Probably Sooner Than You Think
Many folks believe retirement won't be an issue.  "If I don't have enough money, I'll just continue to work", seems a common phrase for those Unprepared For Retirement.  Unfortunately, the facts don't support that strategy.
Most folks retire sooner than they think they will.
In fact, close to 50% of folks retire earlier than planned, according to this EBRI survey, as summarized in this chart from their survey (yellow highlight added by me):
These findings are consistent with the research I summarized in Will You Be Forced To Retire Early?, where I found that the majority of folks retired earlier than they had planned.
---
2.  Start Building Your Retirement Savings
According to a recent Personal Capital Survey, 32% of Baby Boomers, 34% of Gen Xers and 39% of Millennials say they have no money at all saved for retirement.
A third of Baby Boomers and GenX'ers have NOTHING saved for retirement. Unprepared For Retirement? Today's post is for you.
Click To Tweet
If you haven't started saving for retirement, realize it's never too late.  For motivation, read the amazing story of one of my reader's parents, who had nothing saved at Age 49, yet retired comfortably at Age 65:  It's Never Too Late To Start Saving For Retirement.
Bottom Line:  If you've never saved for retirement, the time to start is now.  Make sacrifices now, if necessary.  If you don't, you'll likely be forced to make sacrifices later.
---
3.  Calculate Your Net Worth
Regardless of how well you've planned for retirement (or not), everyone should track their Net Worth.  As I explained in How Much Fuel Is In Your Tank, the Net Worth statement simply lists all of your assets, subtracts your liabilities, and shows the resutling "Net Worth".  Your Net Worth is a foundational piece of information you'll need to determine how much you can spend in retirement.  Update it annually, and feel the motivation of watching it grow as you increase your savings.
An example of a Net Worth statement from the referenced article is shown below: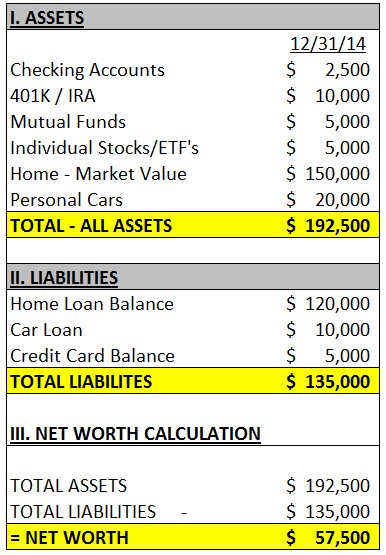 To start building your Net Worth, simply copy the Net Worth Template I made for you, and get started.  (Just make sure to go to "File / Make A Copy" to save a copy onto your drive to allow you to make changes).
Alternatively, simply input your information into Personal Capital's online tool, and it will automatically create a net worth statement for you (note, that's an affiliate link, and I'll get a small payment to offset my costs of running this blog if you create an account.  Thanks in advance!)
---
4. Run A Retirement Calculator (Or Two)
One of the best things you can do as you begin to prepare for retirement is to play around with an online retirement calculator.  These free tools will calculate your retirement readiness, based on your current assets, your projected contributions between now and retirement, and your expected retirement spending.
One of my favorites is Personal Capital (affiliate link), which provides some easy-to-understand graphics and includes a retirement readiness score.  A screenshot example is shown below:
In addition to providing your "retirement readiness" score (99% in the hypothetical example above), Personal Capital allows you to enter "one-off" expenses (e.g., College) and income (e.g., inheritance), which it incorporates into a projected portfolio balance throughout your retirement.  Personal Capital also tracks your net worth automatically and provides some great dashboard overviews of your entire investment portfolio.  If you haven't checked out Personal Capital yet, I encourage you to do so.
To explore 4 more of my favorite retirement calculators, see my article The Best Retirement Calculators, which provides a summary and screenshots from the best retirement calculators available for free.
---
5. Begin To Educate Yourself On Personal Finance
Finally, if you're unprepared for retirement, it's time to start educating yourself about Personal Finance.  Congratulations for reading this post, you're showing that you're willing to learn.  Don't stop now.  Check out these 10 Retirement Blogs Worth Reading, and pick a few that resonate with you.  Sign up for their e-mail distribution, it's free and you'll start getting a regular feed of articles on the topic of retirement planning, direct to your e-mail.
If you feel overwhelmed by the topic, don't hesitate to hire a professional (try Palladin as a free screening tool to find a Certified Financial Professional near you), but don't use that as an excuse to not understand the basics.  With or without a professional, no one cares about your money more than you do, so don't "delegate it and forget it" on your retirement planning.  While you're at it, please subscribe to The Retirement Manifesto, I'd love to have you on my team!
---
Conclusion
It's unfortunate that so many people are unprepared for retirement.  Let's all do whatever we can to reach a few folks who aren't aware of the looming cliff of retirement.  Whether we plan for it or not, retirement is an ultimate reality for most of us, and it's a tough cliff to face unprepared.
What About You?  Do you consider yourself prepared for retirement? What advice do you have for someone who is unprepared for retirement?  What steps have I left out of this article which folks should consider?  What have you found most helpful for your retirement planning?  Let's chat in the comments.