I open my eyes.
Dark.  Peaceful. Groggy.  
Middle of the night, not sure where I am.
The motion reminds me. 
I'm on the metal road.
Clackety-clack. Steel on steel.  Forward, forward.
Across The Great American Plains.
The last remnant of our whistle fades away as we cross the rural road.
Hours to go until morning.
Eyes close.
To Sleep.
To Dream.
Sleeping On A  Train
Sleeping 8 nights on a train can be addictive.  The first night takes a bit of adjustment, but it becomes magical by the second or third night.  The rhythm is peaceful, and relaxation comes naturally (a time warp to childhood memories in a crib, perhaps?).  Time becomes irrelevant, and stress fades away. I find myself waking numerous times during the night, but only for a few relaxed moments before I drift back to sleep.  It's one of my favorite things about train travel.
I listen to the train and feel the sensation of motion from the hard steel road. I savor the moment and relish the fact that I'm traveling across the U.S.A. on a train.
I let my brain wander.
At 3:45 a.m. last night, I started this post in my mind. And then I slept again. As I type these words, I've only got one more night to sleep on this train.
I'll miss it.
It's Addictive.
---
---
What I Learned From 7,000 Miles On A Train
I've been thinking about how to write this post since our train journey began two weeks ago.  At 3:45 am last night, I decided to use the "Lessons Learned" approach.  I also considered a "travelogue-type" post or, perhaps, a photographic story of the journey.  After thinking about it, I've decided that the lessons are more important than the details of the journey.
Therefore, following is a summary of what I learned from 7,000 miles on a train.
(EDITOR'S NOTE: The second part in this series was published one week after this article came out titled "The Ultimate Guide To Cross-Country Train Travel".  Check it out for tactical details on booking a train adventure, based on lessons we learned from our epic journey).
Today I'll attempt to answer: What Did I Learn By Traveling 7,000 Miles On A Train?
Click To Tweet
---
1. Build A Bucket List, Then Live It!
As I mentioned in The Ultimate Pre-Retirement Checklist, it's important to think about your retirement in your final working years.  Think about what you'd like your retirement to be, and think about the "Bucket List" items you want to achieve in your retirement years.
This train trip has been a lifelong bucket list item for my wife, but we've never had the time.  As we talked about what we wanted to do in our retirement, she mentioned that she always wanted to take a cross-country train trip.
Now that retirement affords us the time, we agreed to pursue the train trip as part of a trip to Seattle to visit our daughter.  It was the first "Bucket List" item that we checked off in our retirement, and it was an amazing experience.
The Bottom Line:  Live a life of no regrets.  If there's something you've always wanted to do, do it while you're able.  You never know what tomorrow may bring.  Carpe Diem.
Who Knows, Perhaps You'll End Up Riding A Train.
---
2. People Make Life More Interesting 
Train travel is, at its core, about people and places.  If you don't like good conversation, you shouldn't travel on a train.  You will converse.  Seize the opportunity, and treasure the result.
Meals on a train remind me of Russian Roulette.  At every meal, you'll get randomly seated with other folks to fill a "4-top" table.
Pull the trigger, and see what happens.
Meals are the best chance of the trip for some "real" conversation.  Some meal partners will be hilarious, some will be insane.  Some you'll remember forever, some you'll soon forget. We met so many interesting folks that I ended up keeping a list of dinner partners on my phone.  It was one of the highlights of our trip.
On the hilarious side was Kevin, a naturally comedic Brit, who had us laughing so loud that the entire dining car was listening in.  The topic?  His rendition of his previous night's attempt to climb into his (yes, they're small) bunk bed in his "Roomette".  The more we laughed, the more he embellished.  The comedy act quickly turned to what he'd have done had there been an emergency on the train while he was held captive in his bunk.
On the insane side, what in the world was that lady talking about??  My wife and I have been shaking our heads for two days on that one, and still can't figure it out.  Let's just say it started with us innocently asking "So, where do you live", and ended 45 minutes later when we decided to skip dessert.  We never said another word, and we still don't know where she lives. We don't even know where she came from, or where she is going. Oh, and our sympathies to poor young Kevin, we still don't understand why she made you hug her.  Wow, that lady was something.
We made some great new friends (Hi, Peter & Cathy, looking forward to seeing you in Tasmania.  I love the pic that Cathy took of you in New Orleans, Peter.  Where in the world did you find that outfit!?  Wink wink).
We made new memories (Hint:  if you're ever in New Orleans, Don't Miss Jazz at The Bombay Club).
The Bottom Line:  Our lives are most enjoyed when enhanced by the company of good people.  Take the time to develop real relationships, and savor friendships new and old.  When we think back on this trip, we'll remember most fondly our memories of the people we met along the way.
---
---
3. Everyone Is On A Journey
Some of the more important dinner conversations revolved around what folks were going through in life. Everyone on a train is going somewhere, and they always have a reason for going.  People are more relaxed on a train, and they often open up about some really serious issues in their lives:
Like the lady who lost her husband to cancer.
Or that Grandmother who will never see her grandchildren again (bastard ex-son-in-law, a horrible divorce).
Or the guy who's worried about his job getting outsourced, a year short of qualifying for his pension.
Or that pathetic 24-year old couple, who stared at their phones the entire meal and didn't know how to communicate (and oh, how hard we tried. Sad, really).
Or that Grandfather who is watching his granddaughter kill herself on heroin, and can't get her to stop. I can still see the pain in his eyes.
For every heartbreak, there's a happy story.
Like the couple from IL, who was taking the trip of their dreams to NYC.
Like that amazing great-grandmother from inner-city Detroit, who was going to visit her successful granddaughter in Minneapolis. She was a proud woman, and rightly so.
Like Dave & Marcella, the 84-year old couple who met online after their spouses died, and are living life to the fullest in their later years, together.
Like the South Dakota couple who recently sold his successful business and are enjoying the fruits of their labor.
Like that special couple from Australia who are living their dream retirement trip of traveling across America by train. They're in New York City by now, and I hope they read these words.  Special memories, special people.
Like the 55-year-old blogger and his wife who were celebrating his early retirement (yep, that'd be me. Just seeing if you're still paying attention)…
The Bottom Line:  Everyone is on a journey.  Make an effort to understand what folks are going through. Listen more than you talk.  Don't be too quick to judge. Find a way to encourage others.
Find a way to care.
---
---
4. Find The Beauty In Everything
We live in an amazing and diverse country.  Having just spent 7,000 miles rolling over her in a tube with steel wheels, I feel I've earned some level of qualification to make that statement.  Amazing, and diverse.
My wife and I both agree that our favorite obsession while "Riding The Rails" is to gaze quietly out the windows.  It's hard to explain how obsessive this strange hobby becomes, but there's something mesmerizing about watching this amazing country slide endlessly past our window.
Sure, Glacier National Park is an obviously beautiful spot, who wouldn't stare?
Is there beauty on The Southern California coastline?  Of course.
Other areas, however, aren't as obvious.
The vast plains across North Dakota and Eastern Montana are absolutely mesmerizing.
Sometimes the beauty is more subtle, and has to be searched before it can be found.
Have you ever looked closely at the Arizona desert?  The shifting colors of the desert landscape, while subtle, become more intriguing the longer you gaze.
---
"Everything has its beauty, but not everyone sees it".  Andy Warhol
---
The Bottom Line:  Each region has its own unique beauty. Sometimes you just have to find it. We came to discover that the more subtle the beauty, the more compelling it becomes.
In some strange way, the same is true of people.  Look closely, and find something beautiful.
Beauty is everywhere.
Especially where it's not obvious.
---
5. Live In The Present
As we prepared for our journey, we expected we'd be reading a lot of books during our time on the train.  We downloaded a few movies on my laptop before we left home.  Podcasts were synched up, we were ready to go.
However, over the past 6,000 miles on this train (I'm still 1,000 miles from home as I type these words)…
I've read a grand total of only 32 pages in my book (at night).
I've not watched a single movie.
I've not listened to a single podcast.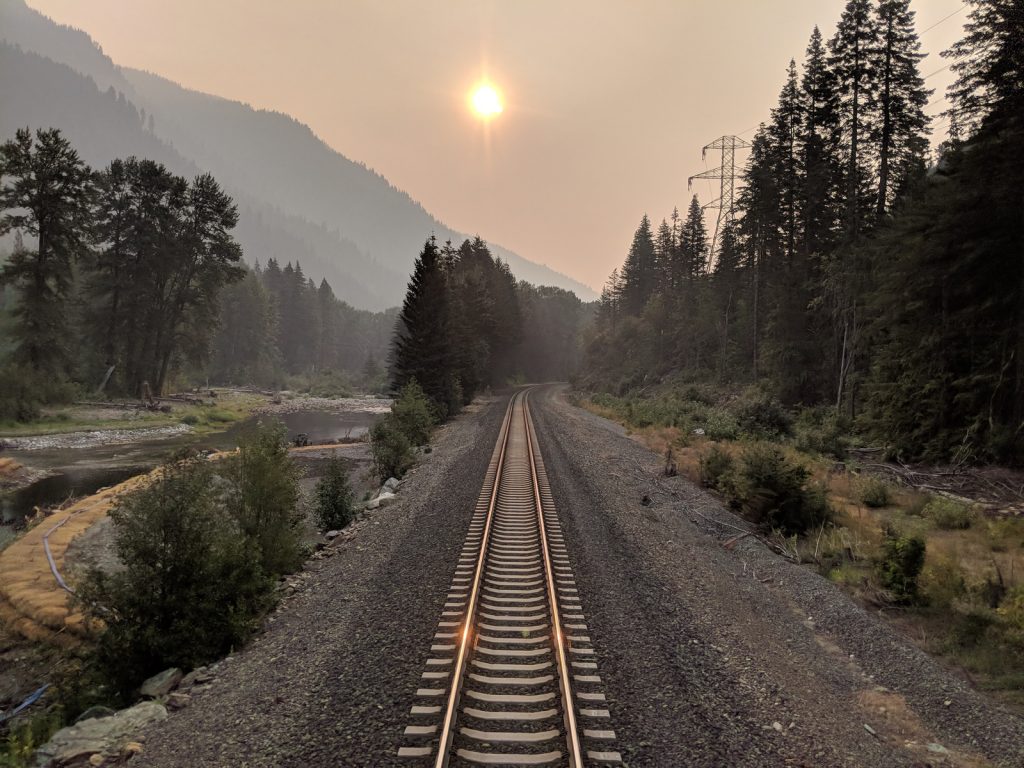 In some unexplainable way, window gazing on a train forces you to Live In The Present.  Risk getting your mind absorbed in a book, and you just might miss that beautiful spot that you'll never see again.  At 70 MPH, the sites pass quickly, and the satisfaction from savoring The Present feeds the obsessive and enjoyable need to stare out the window.
Force yourself to slow down.  Breathe.  Live In The Present.  (I encourage you to practice now, and click the video above for a 52-second journey across the Columbia River aboard a train).
On a train, you don't go backward, and you don't know what lies ahead. You learn to enjoy the Present.
Click To Tweet
The Bottom Line:  I recently read a transparent post from my friend Jim @ Route To Retire about his difficulty living in the present.  I suspect most of us if we're honest with ourselves, can admit that we've also struggled with the same.
So much of our lives are tied up worrying about the future.  Worrying about the past.  Worrying about what might happen.  Worrying about what won't.
Take time to savor The Present.
It's the only guarantee in life.
Don't risk missing it.
---
6. Time Is The True Measure Of Prosperity
We've thought about this train trip for years.  Decades, even.
And yet, we'd never taken the plunge.  Chances are, you've thought about a long distance train trip at some point (it seems a common bucket list item).  We never took ours, and you haven't taken yours.
Why?  If I were to guess, the major constraint is Time.
Four Days On A Train To Get To Seattle?  Are you crazy?  Who has that kind of time?
Like everyone else in the world, we were too busy.  We had to be back at work.  We had to get our child to school.  We had to keep that appointment.  We've had to work.
We never had the time.
Until we did.
For years, we've traded our time for the pursuit of money. In Retirement, we trade our money for the pursuit of time.
Click To Tweet
Now that we've achieved Retirement, we're free to leverage that hard-earned money to utilize our time doing what we decide is most important to us.
Like seeing the country by train.
Bottom Line:  Yes, we all have to work for significant periods in our lives.  However, if you're responsible during those working years, the time will come where you'll achieve the dream of Financial Independence.  When that time comes, use your newfound freedom to pursue something you've always wanted to do.  It's ok to relax, you've earned it. Take some time to do something special, while you still can.
Time, Not Money, is the true measure of prosperity.
Spend your time wisely.
You'll never get it back.
---
---
CONCLUSION
Covering 7,000 miles in a train has been an experience I'll savor for the rest of my life.  I didn't know what to expect before our journey, and I don't know how to explain the reality of the actual experience.  I could have shared the story as a travelogue, and given the highlights of the various legs of our journey.  Instead, I decided to share the lessons I learned along the way. (For Part 2 in this series, which addresses the tactical details of a train journey and answers many of the questions in the comments below, check out "The Ultimate Guide To Cross-Country Train Travel")
I didn't know what to expect on this train trip, but I learned some important lessons along the way.
Click To Tweet
Somehow, the lessons I learned while on the train seemed more important than the details of the journey, so I decided to dedicate some time on the train to write them down before I returned to the real world.  As a summary:
What I Learned From 7,000 Miles On A Train
Build A Bucket List, Then Live It!
People Make Life More Interesting.
Everyone Is On A Journey.
Find The Beauty In Everything.
Live In The Present.
Time Is The True Measure Of Prosperity.
You may wonder, "Did he ever get bored?"  Surprisingly, no.  Except for one late evening when we were late getting into New Orleans after 3 continuous days on the train, I never got restless, and I never got bored.
I think it helped that I made a conscious decision before boarding the first train that I was going to cherish every minute of this bucket list journey. I chose to keep a perpetually positive attitude throughout the trip, and absolutely treasured the limited time I was able to experience living aboard a train.
…Time to enjoy waking up in the middle of the night.
…Time to be introspective.
…Time to engage in real conversation.
…Time to think about some lessons I learned.
…Time to write them down.
The most important lesson from my time on the train?
The Luxury of Time.
Spend Yours Wisely.
You'll Never Get It Back.