This post is important, and I urge you to read it in its entirety.  I'll introduce a simple step-by-step process you can conduct once a year to ensure that you achieve your targeted asset allocation.  Follow these steps, and you'll be well ahead of your peers in your retirement planning process.  Even better, the steps are easy.  All you need to do is follow the free spreadsheet I present later in this post.  Free!?  Yep, can't beat free.
Follow the steps in this "Annual Asset Allocation Review" and you'll accomplish the rare feat of killing three birds with one stone:
Achieve Your Targeted Asset Allocation
Optimize Your Tax Location
Manage Your Bucket System
---
Targeted Asset Allocation – An Overview
Asset Allocation is a critical element in retirement planning. According to Vanguard, "88% of your experience (the volatility you encounter and the returns you earn) can be traced back to your asset allocation."
Asset Allocation Matters.
However, some folks don't give sufficient attention to developing a Targeted Asset Allocation appropriate to their stage in life.  Fewer have an ongoing process to ensure they maintain their targeted asset allocation over time.  And even fewer understand the importance of "Asset Location", and why it matters.
Today, a simple step-by-step approach to ensure you achieve your Targeted Asset Allocation.
Click To Tweet
Today, I will provide an overview of these topics and a simple technique to keep yourself on track.  As a case study, I'll be sharing the results of my annual Targeted Asset Allocation checkup and will share elements of the action plan I'm implementing as a result.
Most Importantly, I'm sharing step-by-step instructions, as well as a free spreadsheet, to allow you to implement the same simple technique that I use once a year to keep our targeted asset allocation in check.
First…An Overview on Asset Allocation:
Why Does Asset Allocation Matter?
Asset Allocation is simply a name for allocating your investments into various asset classes.  Since different asset classes tend to perform differently (think "Stocks" vs. "Bonds"), dividing your money into different investment classes is a technique to mitigate your risk, and is an essential element in effective retirement planning.  For example, if stocks perform poorly for 3 straight years in a bear market, having some money in bonds can act as a buffer.  This becomes increasingly important as you approach, and enter, retirement.  For more detail, see my article "Why Is Asset Allocation Important".
A good visual example of targeted asset allocation over time is presented in The Importance Of Asset Allocation by Snider Advisors:
---
Determining Your Targeted Asset Allocation
Your ideal Targeted Asset Allocation is a function of numerous factors, summarized below:
Your Risk Tolerance
Your Risk Capacity
Your Time Horizon
Level Of Return Required
While the old "rule of thumb" was to use "100 Minus Your Age" as your stock allocation, this approach is too simplistic to address the issues summarized above.  As my friend Roger Whitney says in his book Rock Retirement, the goal should be to accept the "minimum effective dose of volatility" required to achieve your goals. Given that today's focus is on the technique I use to maintain my targeted asset allocation rather than the background theory, I'd encourage you to read my article "Why Is Asset Allocation Important" for a more detailed review on determining your targeted asset allocation.
---
What About Asset Location?
In addition to ensuring the targeted asset allocation between stocks, bonds, cash, and alternative investments, the location of these assets is important.  To optimize the tax implications of your asset allocation, it's important to ensure you put the "right" kind of investments into the "right" kind of tax structure.  For example, since Muni bond earnings are typically tax-free, it's best to target these investments in your "after-tax" accounts.
Below is a summary of which types of assets fit "best" in which type of tax-structured account:
In "Our Retirement Drawdown Strategy", I dedicated a section to the topic of Asset Location and would encourage you to read that post for more detail on the topic of Asset Location.
---
Now…The Good Stuff!
---
A Step-By-Step Guide To Asset Allocation
Ok, so now that you have the background, we're going to walk you through the detailed step by step instructions for how to Achieve Your Targeted Asset Allocation.
The following process should be run once per year (I do mine every January, after updating our Net Worth at year-end).  This process is easy, and I've made it as simple as possible with a free spreadsheet.  Take a few minutes and input your numbers, and you'll be on your way to achieving your targeted asset allocation!
Here are the detailed instructions for a simple annual process to ensure you achieve your targeted Asset Allocation.
Click To Tweet
I've created a dedicated spreadsheet, free to readers of this blog, to implement the following steps.  The spreadsheet is titled "The Retirement Manifesto Guide To Asset Allocation", and can be accessed by clicking on this link.
IMPORTANT – make sure you click "File", then "Make A Copy", as shown to the right.  You WON'T be able to make any changes to my "master" spreadsheet and will have to save a copy for your own personal use.  If you'd prefer, you can click "File / Download As" then click Excel.  This will allow you to work in the spreadsheet in Excel if you prefer it to Google Workbooks."
---
Step 1:  Determine Your Target Asset Allocation
When you open The Guide To Asset Allocation, your first step is to fill in the yellow boxes with your Targeted Asset Allocation, based on the factors outlined in my article "Why Is Asset Allocation Important".  Here is what Step 1 looks like in the free spreadsheet:
For this exercise, I'm using my actual targeted allocations.  Feel free to modify to reflect your targeted asset allocation in your own version of the spreadsheet (simply click "File / Make A Copy").
---
Step 2:  Input Your Actual Asset Allocation
Every year, I capture the year-end detail from my Personal Capital account, including my Asset Allocation.  I prefer using Personal Capital since it can calculate Asset Allocations from my holdings (e.g., if you have a Target Date fund, it "knows" how much is stock vs. equity and allocates it accordingly).  Check your detail closely, some accounts will not necessarily be allocated automatically, and you may need to manually tag a few in the appropriate asset class (for some reason, it calls my CapitalOne fund "other", but it's straightforward to manually classify it as Cash).
Here is my actual Personal Capital data from Dec 31, 2018 ($ figures omitted for privacy):
Once you have this data, simply enter it into Step 2 in "The Retirement Manifesto Guide To Asset Allocation" spreadsheet (again, just fill in the yellow tabs, everything else calculates automatically).  Note that all of the percentages in the table below match my Personal Capital data above.   I'm using a fictitious portfolio balance of $1 Million, but everything else is based on my actual year-end data:
---
Step 3:  Compare Your Actual vs. Targeted Asset Allocation
The beauty of the spreadsheet is that it will now, automatically, show you the difference between your actual allocation and your target asset allocation, both in percentage and dollar terms:
---
Step 4.  Quantify Adjustments Need to Achieve Your Targeted Asset Allocation
What's nice about using the free spreadsheet it that it automatically shows you the adjustments required by asset class in order to achieve your targeted asset allocation.  A negative value means you have "too much" money in this asset class, a positive value shows additional funds needed.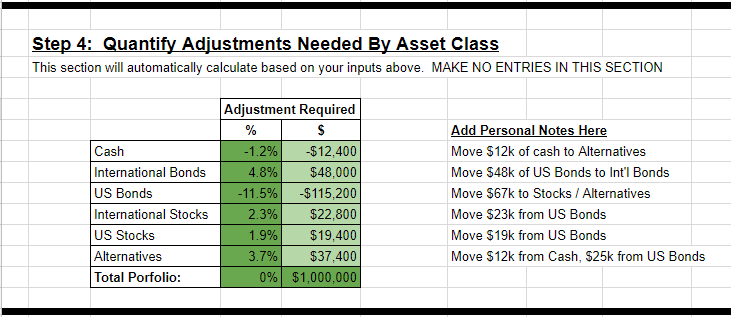 Step 5.  Implement Adjustments
You'll note in Step 4 that I identified how much needed to be moved between asset classes in order to achieve my targeted asset allocation (see "Add Personal Notes Here").  For example, I have $12,400 too much in "Cash" and $115,200 too much in US Bonds.  in order to rebalance, I'll move these funds into the other four asset classes, which are below their targeted asset allocation.
To keep it simple, just remember I need to "Sell Bonds, Buy Stocks" for the sake of this example.
Remember Asset Location?
In the overview section at the start of this post, I explained how taxes can be optimized if certain asset classes are held in certain types of tax accounts (Before Tax/IRA vs. Roth vs. After Tax).  Implementing adjustments is where Asset Location becomes a consideration.
Let's look at our Roth Tax bucket as our Case Study Example:
Since Stocks are better than Bonds in a Roth account and recognizing that I need to move some bond money into stocks to achieve my targeted Asset Allocation, I would start with looking at my Roth account for any bond money invested there.  As it turns out, I have $15k in some VFSTX (a Short Term Bond Fund) in that account.
To achieve BOTH my targeted Asset Allocation AND make an improvement in my Asset Location for tax optimization, I would execute an order to sell the $15k in the bond fund and buy $15k in VTIAX (an International Stock Fund).
Continue following that logic, and keep track of your cumulative changes until you've moved the $115k from bonds into the appropriate reallocated asset classes.  Note that you won't ALWAYS be able to optimize the tax location, but where possible make moves that accomplish both objectives (asset reallocation AND location optimization).
In my case, I usually set up automatic transfers which execute 1-2 times per month throughout the year.  This avoids making too drastic of a move on any given date.  It works for me, but there's nothing wrong with executing all of the changes in a single day if that's your preference.  Make sure you take tax considerations into account when selling funds, and talk to an accounting professional if you're uncertain about any of the moves.
If You're Still Working:  While I was working, I would typically make my adjustments via new money contributions rather than an outright buy/sell.  In the example above, I would discontinue contributions into bond funds, and direct all new money into stocks.  It accomplishes the same objective, without having to rebalance existing accounts.  In the event you're severely off track with your targeted asset allocation, you can do a combination of both buy/sell and redirection of new contributions.
---

A Word About The Bucket Strategy
As I wrote in How To Build A Retirement Paycheck From Your Investments, I'm using a 3 Bucket Strategy to fund our retirement.  As a refresher:  Bucket 1 holds all of our spending requirement for the next ~3 years in cash/liquid asset.  Bucket 2 is aimed at stable income (Bonds) to cover years ~3-7, and Bucket 3 is aimed for growth (Stocks) for years 7+.
As you establish your targeted asset allocation, keep in mind your 3 bucket system, and ensure the allocations you've assigned to each category (cash, bonds, stocks) are sufficient to "keep your buckets full".  In my case, I link each line of my detailed Net Worth to its corresponding bucket and look at the totals by bucket compared to my 3, 5 and 7-year spending totals.  Since I complete my Net Worth analysis before doing this annual Targeted Asset Allocation exercise, the bucket analysis is part and parcel of my asset allocation adjustment process.
If I need more cash to refill Bucket 1, for example, I would adjust my cash in the targeted asset allocation section (Step 1) before running through Steps 3-5.
Accomplishing the Holy Grail of killing three birds with one stone is not only possible, but it's a natural outcome of this annual Targeted Asset Allocation Review:
Achieve Your Targeted Asset Allocation
Optimize Your Tax Location
Manage Your Bucket System
---
Conclusion
Asset Allocation contributes 88% of your investment experience.  Do you give it the appropriate focus?  By following the easy step-by-step instructions in this Annual Targeted Asset Allocation Review, you can not only:
Ensure your asset allocation matches your risk tolerance, but you can also…
Optimize the location of your assets from a tax perspective and…
Manage your Bucket System for retirement.
Three Birds, One Stone.
I told you this was an important post to read.  Wink. Now, go do the exercise.  It's even more important than simply reading these words, and your retirement will benefit as a result.
---
Your Turn: 
Let me know how your Annual Targeted Asset Allocation Review went.  But PLEASE, remember to do that pesky little "File/Make A Copy" step when you open the spreadsheet.  Just to remind you, I'm copying below a copy of the email I'll send if you ask me for permission to edit.  So, don't ask (you'll just get that same email again).  Just do me a favor and do the "File/Make A Copy" Step.  Please?  Have I made my point?  Smiles.
Dear XXX,
Thanks for checking out my site and for your interest in The Retirement Manifesto XXX Spreadsheet.   To make changes, you have to save a copy to your own drive.  This avoids anyone else seeing your numbers, and keeps the original intact for other readers.  Just go to "File" and make a copy to get started.  You can also do a "Save As / Excel" to accomplish the same thing, this choice will transfer the google worksheet into an excel spreadsheet. Trust that makes sense.
Thanks again for your interest!
Fritz Gilbert
The Retirement Manifesto