A Retirement Investment Drawdown Strategy is a key element in retirement planning. The strategy used in the "Withdrawal" phase is fundamentally different than the "Accumulation" phase, and it's important to define your withdrawal strategy prior to your retirement date. Today, we'll outline our personal retirement investment drawdown strategy as an example for you to consider.
Note: I also wrote an update on how this strategy actually worked after we retired. Read this one first, then check out "Revisiting Our Drawdown Strategy After 3 Years of Retirement."
A Retirement Drawdown Strategy is a key element in retirement planning.
Click To Tweet
I think about the "Accumulation" vs. "Withdrawal" a bit like an escalator. On one side, you're working your way up. On the other, you're working your way down. They're fundamentally different motions, but both entail the same escalator. In the same way, both Accumulation & Withdrawal entail the same assets, but the motions are markedly different. On the way up, energy is expended to lift you higher. On the way down, brakes are used to slow the descent. (Another analogy I thought of is an airplane taking off vs. landing, hence the Featured Image at the top of this post)
In full transparency, I stole the idea for this post.
I stole it from a Doctor. A really smart doctor. I told him I was stealing it. He didn't seem to mind, and in fact encouraged me to write this piece based on his original post. I'm replicating his original format to allow easier comparison between his drawdown strategy and mine. Perhaps we'll start a trend (See The P.S. at the end of this post…I've got an idea), it'd be interesting to compare strategies between bloggers.
Below is the comment exchange with "Doc" that started it all (check out Doc's original post at Our Drawdown Plan For Early Retirement, by PhysicianOnFire.)
---
Our Retirement Investment Drawdown Strategy
Prior to today's post, I did not have a written document outlining our Retirement Investment Drawdown Strategy. I had it clearly defined in my head and knew what we were planning to do, but had never committed it to paper. It's a good thing to do, and the writing of this post has been a good exercise for this writer. Thanks again, Doc.
Today, We're Writing Our Retirement Investment Drawdown Strategy On Paper
Click To Tweet
(Not paper, actually, but rather mysterious electrons flying around some Cloud, whatever that means. Isn't our technology amazing?).
What We're Starting With
Starting at a high level before moving into the details of our plan, let's have a look at our current Asset Allocation:
As we've moved closer to retirement, we've reduced our stock exposure from ~70% to ~50%, and increased our bond allocation accordingly. If When there's a market correction, we'll likely rebalance a bit back into equities, but as a conservative investor I'm comfortable with our overall Asset Allocation at this stage, especially given the current CAPE Ratio of 29.5 (then again, I suffer from The One More Year Syndrome). We're intentionally positioned a bit defensively at this critical point leading up to retirement.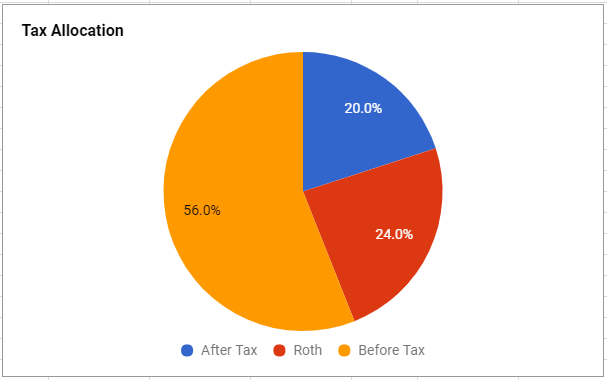 This pie chart shows the "big picture" of our retirement holdings by tax status. We have 56% of our retirement money in Before-Tax accounts, which will be a tax management challenge in retirement (you'll see details on our strategy for minimizing taxes in the detailed strategy below).
Unfortunately, the Roth wasn't available until well into my career, so the only option we had was to invest our 401(k) into the Before-Tax fund. Never give up that company match! When the Roth was added, we began contributing to it as well. We've also done some "Mega Back Door Roth" conversions, which are outside the scope of this article but have contributed to increasing the Roth piece of the pie to 24% (I wish it were larger, like Doc's 50% in After-Tax. He's in good shape from a tax perspective, whereas I have bigger challenges in that department).
While "Doc" presented his detailed holdings in his strategy post, I'm going to skip that in my document. I have all of the detail, but I don't think it adds significant value to this post (ah, the freedom of being a blogger. You can decide what's in, and what's out. Poof, it's done! Have I told you lately that I love to write?).
As an example of the level of detail I track, below are the holdings from our after-tax accounts, in the same format as Doc's original post:
A word of caution: don't draw any conclusions by looking simply at our After-Tax holdings. The various tax accounts must be looked at holistically to understand how we're allocating our assets on a broader scale. Having said that, note the 16% in Muni-Bonds. These make sense for us in the after-tax block, given our high-income (& taxes) and the favorable tax-free treatment of muni-bond interest payments.
---
Asset Location Strategy – Tax Optimization
An important part of retirement income planning is to ensure you put the "right" kind of investments into the "right" kind of tax structure, such as my Muni bond example above (it's best in after-tax since earnings are tax-free).
Some other examples: where should a REIT be held? (Real Estate Investment Trusts pay high dividend yields, which are taxed as income if held in an After-Tax account) What about bonds? What about equities? While Doc didn't address this in his post, I think it's important, so I've added it here (and, just like that, it's in. I love this stuff….)
Below is a summary of the types of funds best suited to various tax accounts:
---
The First Moves We'll Make When We Retire
Delay The Pension
One of the biggest decisions we have to make prior to our retirement date is when we'll start our pension. I'm sincerely blessed to be the "Last Of The Dinosaurs" with a Corporate Pension, and I'm thankful. I've worked hard for that benefit over the past 32 years (yes, the entire duration with one company! Wow, I really am a dinosaur), and it's an important part of our retirement plan. We have to insure that we optimize this piece of the retirement income puzzle. 3+ decades of effort and finally our payday is on the horizon.
Just like Social Security, a pension grows if you can delay the start date. In the case of our pension, it grows ~6% annually during the deferral period. Big number, especially in this low-interest-rate / high equity valuation environment. There are few investments where you can get a guaranteed 6% rate in an ultra-safe investment, so we'd like to defer the pension as long as feasible.
The chart above shows the impact of delaying our pension, with a deferral to 2020 increasing the % of our retirement spending that would be covered by our pension from 69% to 78%. That's huge.
Unfortunately, delaying the pension means we'd be pulling 100% of our spending needs from our investment assets during the period of the deferral, and it's critical to ensure we have the liquidity for that large of a pull in the first few years of retirement. We can't defer forever, and we have to figure out how long we can push this thing. We'd be looking at a withdrawal rate close to 8% during the deferral, which would decline to 2% after the pension kicks in. Alternatively, we would start on Day 1 with a withdrawal rate closer to 3%. Interesting analysis, glad I have some time before I have to finalize our pension start date decision.
To support our pension deferral analysis, we're taking a creative approach to debt. After being 100% Debt Free for the past 15 months, we've decided to get a loan in conjunction with our "Good To Great" relocation that's currently underway (Quick Update On The Move: the old cabin hits the real estate market this week, fingers crossed for a strong selling price! And, we LOVE the new "Great" cabin, having moved in a few weeks ago. It's perfect for our retirement, and we're glad we made the second move just 13 months after our last downsizing move. Exciting times! I'll break down the final financial impact in Good To Great #4, or #5, after we get the final numbers. Hoping to bank ~$30-40k net after the dust settles).
---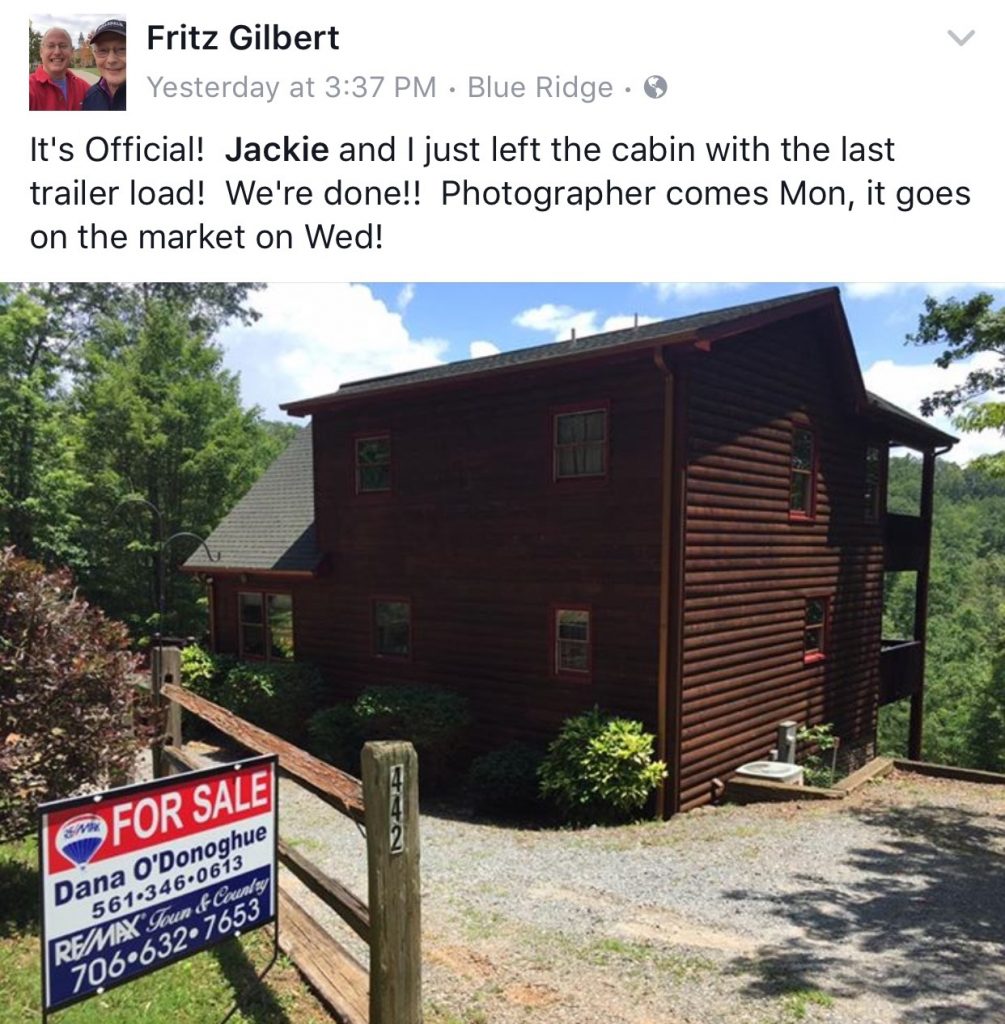 More on the debt decision in a future post, but the 3.5% mortgage allows us low-cost flexibility until we finalize our pension deferral decision. We'll hold the equity from the old cabin sale in an isolated reserve account at CapitalOne360, and can pay off the mortgage at any time with a simple transfer of the reserve. Nice option, at a low price. I'm buying.
Tax Optimize IRA conversions into A Roth
If we defer our pension, it also means our income will be zero during the deferral period. This will provide an ideal opportunity to pull heavily from our Before-Tax funds and convert them into after-tax and/or Roth at the lowest possible tax rate. Since I'll be 55 when I retire, I can pull 401(k) Before-Tax money without penalty, a small loophole in the IRA code that gets us around the traditional Age limit of 59.5 normally associated with withdrawing tax-favored retirement funds.
We're planning on withdrawing before-tax money right up to the limit of the marginal tax brackets during the time of the pension deferral. Ultimately, it will also reduce our Required Minimum Withdrawals at Age 70.5, which may otherwise "force us up" into higher tax brackets due to the fact that the RMD is taxable.
It's complex, but I think it'll work. I'm planning on lining up a meeting with my CPA to talk through the specifics, but it affords a limited time opportunity to adjust that 56% Before-Tax slice of the pie in our Tax Allocation chart shown earlier.
Implement The Bucket Strategy
I've written previously about The Bucket Strategy in How To Build A Retirement Paycheck From Your Investments, one of my most popular articles ever (and a Rockstar Award winner!) with over 16,000 views to date. I even built my first Infographic for the post. I won't rehash the strategy here, but will say that it's an integral part of our Retirement Investment Drawdown Strategy, and fits well with everything else I've written in today's post.
In summary, we'll be allocating assets across 3 buckets, based on when we'll need to access the money. See the article for full details
Figure Out Health Care Insurance:
A BIG issue and one which I'm starting to study in detail is how we're going to manage the mine-laded field of private health care insurance. I've built a worksheet with links to everything I can find on the options, and we'll be making our "Private Pay Health Care" decision prior to retirement. Probably some posts on this one, it's a biggie, and we don't yet know what we're going to do. We've budgeted $20k/year for health care/insurance, but I fear that's insufficient. What a mess…..
Setting Up Our Paycheck
It's been "fun" to figure out how to manage all of the financial stuff in a low-maintenance manner. We really want to "make it easy" in retirement, but it's a complicated subject. We've come up with a simple 3-step solution that will work for us. We'll manage the tactical "monthly paycheck" in the following manner.
1) Separate "Paycheck Account": At the start of each year, we'll transfer our total annual "paycheck" amount into a separate account with CapitalOne360 based on our targeted withdrawal rate for the year. We'll set up monthly ACH transfers into our checking account (Annual/12 months), then simply live on the cash in our checking account without having to worry about strict budget tracking. If we have money in our checking account, we know we can spend it. If we run low, we know we need to cut back. Easy, and part of our financial plan to Move Our Retirement From Good To Great (wow, that series has been a hit! More to come…Teaser Alert: I have Episode 3 of the Series in a Draft form…stay tuned).
2) One-Off Expense Reserve: Based on the following analysis of longer-term maintenance items (e.g., Air Conditioner, maintenance, cars, etc.), we've established a $12k/year "Reserve", which will be set up in a separate account in CapitalOne360 and not included in our monthly "paycheck".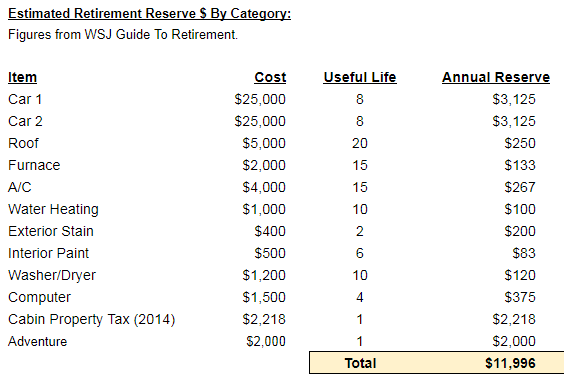 If we have a maintenance issue during the year, we're free to pull from this account. If we have a good year, the $12k will roll over to the next year, an additional $12k will be added in January, and the Reserve will begin to grow. When it's time to replace a car, we're targeting to have enough in the reserve account to buy the car with cash.
3) Annual Monitoring: At the close of each year, we'll compare our "Beginning vs. Ending" balances from the segregated accounts, and easily determine our actual spending for the year. Every year, as we update our Net Worth statement, we'll figure out how much we spent in the prior year, determine next year's targeted Withdrawal Rate, and adjust the ACH "paycheck" accordingly. Shouldn't take more than an hour every January. A somewhat "elegant" solution, me thinks. We'll see how it goes, and adjust where necessary.
All in all, I'm comfortable with the overall strategy and think it will offer a low-maintenance way to enjoy our retirement without worrying about daily spending decisions. I look forward to your feedback in the comments below.
---
Longer Term Strategy Items
As we move through retirement, there are a few items we'll need to finalize in the coming years. I'll summarize them in bullet format for simplicity:
Delay Social Security: We're planning on delaying Social Security to Age 70. Need to study the options on spousal benefits to maximize lifelong benefits.
Protect The Roth: We'll plan to dedicate the Roth only to long-term equity funds, remembering my outline above that shows equities are best suited for allocation into a Roth. Roth's are also the most tax efficient engine once you've retired. They also don't have a Required Minimum Distribution, so you can let 'em ride. That's a good thing because the Roth will hopefully be the last money we ever touch. If there's anything left at the end, we hope our daughter, and our charities of choice will inherit Roth money. Save it til last, and let it grow. That's our strategy.
Life Insurance: We've got a $200k term policy that expires when I reach Age 72. We purchased this 2 years ago as a "bridging strategy" for my wife in the event I die the day after I retire (dreadful thought, that!). Since the pension survivor benefit drops to 67% upon my death, we thought an "early death" buffer was worth the minimal expense (~$50/month).
HSA: Doc touched on this, so I'll include it here. We're also in a high deductible/HSA plan, but we've not built up significant $$ in our HSA. We contribute the max every year but spend from the account as medical bills arise. For simplicity, we use it to "pay as we go" rather than intentionally pursuing a longer term tax strategy. A possible area that's sub-optimized, but a minor factor (especially since we don't plan to work post-retirement, so we'll have no earned income and will be unable to invest additional funds in our HSA). Bottom line: not worth the effort given the small $ value.
Part-Time Work: We are planning on never having to work for money again. However, we may pursue some short term seasonal employment opportunities, such as working for a summer at a National Park, at some point in our retirement. We'd do it more from a "socialization/experience" objective than for the $, but we'd benefit financially as well. We'll weave into our tax planning if we end up pursuing some short-term assignments.
Long Term Care: Several years ago I did a "deep dive" on long-term care insurance, and determined that we're better off "self-insuring" against this risk. I should probably write a post about the analysis, given that it was a fairly detailed process. Bottom line: with the cost increases that insurers have applied to long-term care policies, the break-even point has moved up to the point where self-insurance is the best solution for us. The risk is concerning, but we'll deal with it if it happens. We've run the numbers and should be able to absorb anything up to 5 years of long-term care without significant issue. Longer than that, we'll figure it out (we may have to acquire a taste for cat food, but we'll survive).
---
Conclusion
There you have it. Our Retirement Investment Drawdown Strategy. We've "built" the entire concept entirely on our own, and have never shared it with anybody until today. I've enjoyed writing this post. I hope you've learned something, and our strategy has given you some mental exercise. Perhaps it's time to craft YOUR retirement investment drawdown strategy?
I'd sincerely appreciate your comments. What are we missing? Are there any holes in our plan? Are there pieces of it that you can apply in your strategy? Are there things in your strategy that we haven't considered. A lot of smart people are reading these posts ("We've" been growing here at The Retirement Manifesto, and I thank each of you for coming along for the ride – special thanks to all of the new readers who have subscribed over the past month).
I welcome your input as we finalize our plans.
Comments are encouraged below. I read every one, and appreciate you taking the time to leave your thoughts on this important topic.
"The Chain"
As you'll see in the P.S., we're trying something new in the blogosphere. We're "Building A Chain" of blog articles, where different bloggers are sharing their detailed Drawdown Strategy. To help keep track, I'll edit this post as new "links" are added in the chain. Eventually, we're planning on compiling these into an e-book, and donating all proceeds to charity. Thanks to the following bloggers who have joined "The Chain Gang"!!
Anchor: Physician On Fire: Our Drawdown Plan in Early Retirement
Link 1: The Retirement Manifesto: Our Retirement Investment Drawdown Strategy
Link 2: OthalaFehu: Retirement Master Plan
Link 3: Freedom Is Groovy: The Groovy Drawdown Strategy
Link 4: The Green Swan: The Nastiest, Hardest Problem In Finance: Decumulation
Link 5: My Curiosity Lab: Show Me The Money: My Retirement Drawdown Plan
Link 6: Cracking Retirement: Our Drawdown Strategy
Link 7: The Financial Journeyman: Early Retirement Portfolio & Plan
Link 8: Retire By 40: Our Unusual Early Retirement Withdrawal Strategy
Link 10: Early Retirement Now: The ERN Family Early Retirement Captial Preservation Plan
Link 11: 39 Months: Mr. 39 Months Drawdown Plan
Link 12: 7 Circles: Drawdown Strategy – Joining The Chain Gang
Link 13: Retirement Starts Today: What's Your Retirement Withdrawal Strategy?
Link 14: Ms. Liz Money Matters: How I'll Fund My Retirement
Link 15a: Dads Dollars Debts: DDD Drawdown Part 1: Living With A Pension
Link 15b: Dads Dollars Debts: DDD Drawdown Plan Part 2: Retire at 48?
Link 16: Penny & Rich: Rich's Retirement Plan
Link 17: Atypical Life: Our Retirement Drawdown Strategy
Link 18: New Retirement: 5 Steps For Defining Your Retirement Drawdown Strategy
Link 19: Maximize Your Money: Practical Retirement Withdrawal Strategies Are Important
Link 20: ChooseFI: The Retirement Manifesto – Drawdown Strategy Podcast
Link 21: CoachCarson: My Rental Retirement Strategy
Link 22: Accidently Retired: How I Planned my Early Withdrawal Strategy
Link 23: Playtirement: Playtirement Preservation Stage
Important P.S. Announcement To My Blogging Friends
Something's brewing between Doc, me, and a few other bloggers who have already said "Yes!" to a new concept we're working on. The best part – each of you are invited to join. Consider this "P.S". your personal invitation to join something unique, something new, something unorthodox. I hope you'll accept….
Here it is….
Introducing the launch of "The Drawdown Strategy Chain", a new concept we're developing on the fly. The concept is this: The Chain will be built through the words and backlinks of blogs written by anyone in the network of Personal Finance bloggers who have decided to write a post on their personal drawdown strategy.
Open to all.
Just write a post, backlink to existing members' articles on the topic ("Build The Chain"), and you're in! I demonstrated the technique with my links to PoF's strategy in my post. Have fun with it. Modify the approach as you see fit, but try to stick somewhat to the basic format first outlined in Doc's post (and used in my post above), it'll make it easier to compare our various strategies.
The Retirement Investment Drawdown Strategy is an important topic which is typically under-represented in the world of FIRE blogs. Let's try something creative to spread the word on the importance of having a Drawdown Strategy, and leverage our social network in the process. Jointly built content.
Join The #DrawdownStrategy Chain! A new concept, let's see where it goes. You In?
Click To Tweet
So, let's build something. A Chain. Doc's the anchor, and I'm "Link #1" Join us by simply writing a post for "The Drawdown Chain Series", a FIRE-community-built Series Of Articles On A Focused Topic, written by The Virtual Community Of Bloggers.
Who's going to be "Link #2"? Link #3?
Here's how to join the chain:
1) Write A Post on Your Drawdown Strategy.
2) Backlink to any article previously written in this chain-based Series (e.g., Pof's article, the one you're reading now, plus any other bloggers who have published after mine. All of the links in the chain, coming together, see how that works?).
3) Post your article on Twitter with "#DrawdownStrategy", and tag any other blogger who's already in the chain. (send multiple Tweets, if we get that big). We're the only ones using #DrawdownStrategy, so it'll be a clean hashtag chain.
Cool, right?
I decided to add this P.S. after completing the above article. 21 seconds ago I sent the following Tweet, which marks The Official Launch Of This Initiative:
We're trying something new here and would appreciate your support.
IM me via Twitter if you'd like to discuss.
This will be fun.
Support It.
Join The Chain Gang.
(Please?)
7/27/17 Update: The Chain concept has exceeded expectations, today we're at 18 Links and growing!! Readers now asking for updates as we execute our plans!! Something to consider a year from now!