Today's post was originally titled "Our 2022 RV Adventure" and outlined the plans for our annual RV "Reverse Snowbird" trip North. I finalized the post a week ago and planned to publish it on August 4th, two days before our departure.
Then…COVID hit.
We enjoyed a nice dinner out with friends on Friday, July 29th, not knowing it would be the last time we'd leave our house for days. As we were heading to bed, I told my wife I wasn't feeling "right". I slept until Noon the following day, something I hadn't done in over 30 years. Both my wife and I tested positive for COVID within 24 hours of each other. 3 days of "flu-like" symptoms followed, but I'm bouncing back as I write these words on Tuesday and feel ~80% "back to normal."
When my fever peaked at 103.2 degrees on Sunday, we decided to change our RV travel plans. COVID has taught us all the importance of remaining flexible, and today's story is a perfect example of applying that reality in our life. Since I had this post completed, I decided to publish it in its entirety as originally scheduled, adding a pre- and post- section to explain what we've done since COVID entered the scene. It's a good lesson of how, in spite of our perception that we can be effective planners, there are often things that disrupt our plans that are outside our control.
Life's more enjoyable if we learn to adjust our swing to hit those curveballs and find a way to maintain a positive attitude in spite of ill-blowing winds. We're thankful, for example, that the COVID hit while we were still at home instead of waiting until we were underway (nothing worse than being sick on the road). Following is the original post (with a few editorial comments added)…followed by how we've revised our 2022 RV Adventure in light of our unexpected rendezvous with COVID.
---
Our 2022 RV Adventure
In the six months before I retired in 2018, we bought the Ford F250 and 35′ Reflection 5th wheel RV shown above as part of our final retirement planning (See #14 in 20 Steps To Take In The Year Before Retirement). Every year since we've taken an extended RV trip.
This year is no exception. (or…so I thought…)
As you're reading these words, we're doing our final preparations for a 1,671-mile trip around the eastern United States (no, we're laying low in home quarantine). On Saturday, August 6th, we're loading up the 4 dogs, releasing the brakes, and heading for North Carolina to visit friends before turning north. (um, no…we're not) I'll share more details in today's post.
RV travel has become an annual tradition, and it's an element of retirement that we love.
Today, we'll share the plan for our 2022 RV Adventure. (Plans subject to change…)
If you're considering RV travel in retirement, today's post is for you.
We're heading out on our 2022 RV Adventure! That's what I thought until we both came down with COVID
Click To Tweet
Our 2022 RV Adventure Is (NOT) Underway!
We've settled into an enjoyable routine in retirement. During the majority of the year, we spend 3 weeks each month in our Appalachian Mountain cabin and 1 week in our Alabama condo visiting our daughter and granddaughter. Occasionally we'll throw in a Monday – Friday RV trip to various State Parks in the region. It's a great way to explore all that our region has to offer without having to deal with the weekend crowds.
The schedule suits us well.
Come August, however, we've made a habit of escaping Georiga's brutal summer heat by doing a "Reverse Snowbird" trip somewhere North. This year, we're doing the same. For those who may have missed it, here's a summary of every major trip we've taken since retirement (note we started with a train journey, a longtime bucket list item).
Our Major Trips In Retirement:
In 48 hours, our 2022 RV Adventure will be underway (no it won't, you presumptive fool). For those of you who enjoy maps, here's an overview of our (originally) planned route: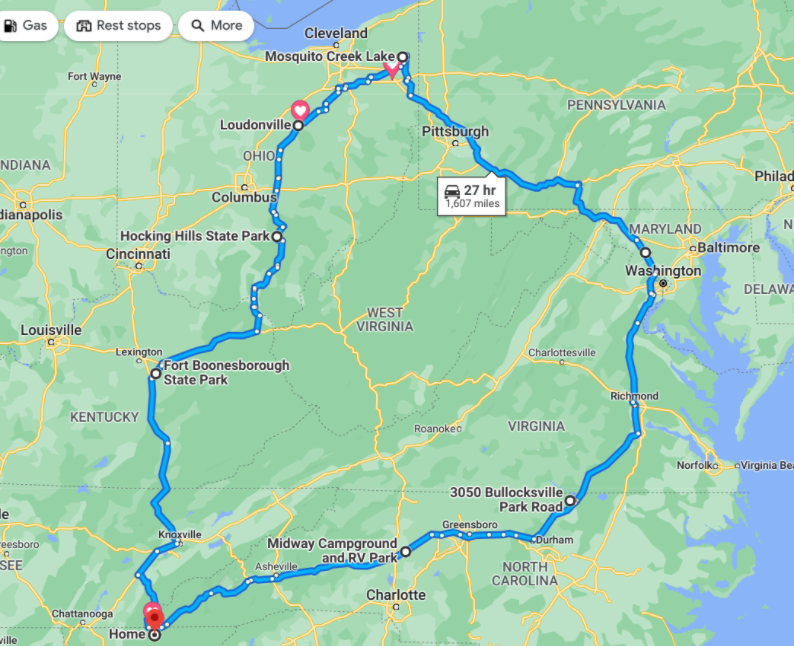 We've learned from experience what type of "flow" works for us on these trips, and this year will be no exception. As I shared in How To RV In Retirement, we follow "The 330 Rule", which says we never drive more than 330 miles in one day and attempt to stop by 3:30 pm at the latest.
We'll take the first 2 days to drive the 380 miles to our friend's house outside Durham, NC. Then, we'll turn north through Richmond to visit an uncle near Washington D.C., taking another two days to cover those 345 miles. We'll be staying two nights or more at any campground that follows a long driving day.
After visiting "Uncle Bill" near Washington D.C., we'll turn West for some slower travel as we visit family in Ohio before turning south for a leisurely drive back home.
We'll be staying in State Parks the entire journey, the best setting in which to give our dogs their much-needed walks after several hours in the crew cab of our F250 truck. We've found State Parks suit our camping style perfectly, with something different to see and miles of trails to explore with the dogs.
As a planner who has used spreadsheets for years, rest assured it's all laid out (that doesn't mean it's going to happen, does it?), We've found it's more enjoyable for us to have everything booked in advance, allowing us to simply enjoy the trip without having to worry about finding "the next campground" (especially important since COVID and demographics have led to a splurge of RV travel and frequently sold-out campgrounds, especially on the weekends). Ironic that I mentioned COVID in the original post, right?
Here's our plan:
Our 2022 RV Adventure Itinerary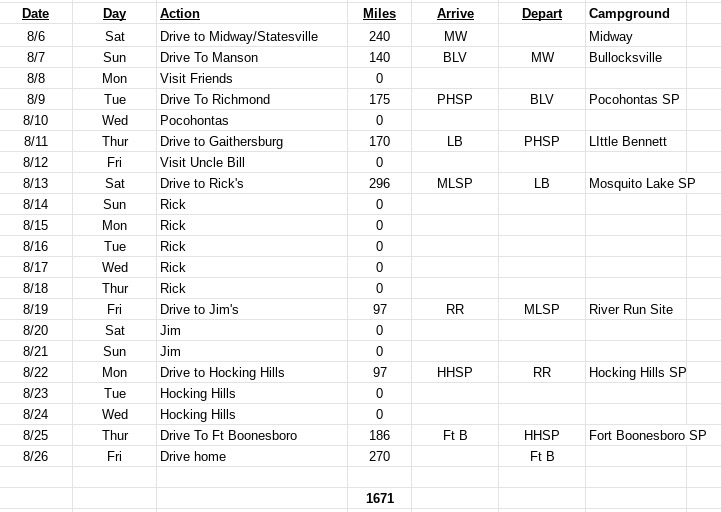 COVID Derails The Best of Plans
In spite of our best efforts to plan our lives, sometimes things happen that we never see coming. After we tested positive for COVID, we decided to cancel the first half of our trip. Fortunately, campgrounds tend to be flexible on their cancellation policies and we canceled everything through August 12 with minimal effort (and minor cancellation fees).
As we sit here today, we're holding off on deciding whether to proceed with the Ohio leg of the journey to visit family. I'm a day ahead of my wife on the COVID front, and today is the first day I've had the energy to get some writing done in my studio. My wife is still struggling, but we've got a bit of time to finalize our plans. We're hopeful she follows my trajectory and starts feeling more like herself by the time you're reading these words.
I'm confident my wife and I will both fully recover. The only question is the timing of that recovery, and whether we'll gain back the energy required prior to the timeline required to "jump back in" to our previously scheduled itinerary (her brother had to request the week off work months in advance, so moving the visit back a few weeks isn't an option).
The good news: We're retired, we're flexible, and we're keeping a positive attitude about our current uncertainty. No need to stress about things we can't control, so we'll just take it day by day until a decision is required. We'll either take an RV trip to Ohio, or we won't.
In the broader perspective of life, that's a reality we can handle. IF things proceed as we're currently thinking, we'll likely reschedule our departure to August 12th, taking two days to get to Mosquito Lake State Park and resuming our trip without the big Eastern loop originally planned.
As they say in the South, "The Good Lord willin' and the creek don't rise."
Just goes to show that we never know when those creeks are going to flood.
Or…when COVID is going to rear its ugly head.
The best we can do is adjust our sails and enjoy the ride. Life's too short to live it any other way.
P.S. If we do depart as planned, this will be the last post you see from me for a while. While I won't be writing, you can follow our progress on The Retirement Manifesto page on Instagram and Facebook where I plan on posting pictures throughout our travels.
Your Turn: How has COVID caused you to revise your plans? Did you keep a positive attitude about it, or did it throw you for a loop? Let's chat…