Curtis Is Royalty, and today he's giving us some great retirement advice. 
My 80-year old friend is participating in The One Retirement Question Project in today's post.  If you're not familiar with this Project, check out Parts I and II, where various "elders" answer The One Retirement Question:
Curtis Is An Amazing Man, and today he answers The One Retirement Question.
Click To Tweet
I've known Curtis for 30 years, and I treasure his friendship.  If you're ever fortunate enough to meet him, you'll never forget his quick wit and great perspective on life.  He's well liked by all, and he's a case study in how to "Do Retirement Right".
And, he wears a kilt.  Want proof?
Curtis turned 80 years old last August, and my wife and I were honored to attend his private birthday bash.  It was held in a nearby Georgia State Park, which was the perfect locale for my friend's party.
Curtis lives in the outdoors.  Always has, probably always will.  One of my favorite quotes from him in today's recording is the following:
"I feel better when I'm Outdoors than when I'm In".
---
Curtis Was My Boss
I worked for Curtis when I was 25 years old!  Back in 1988, I relocated to a sales office where Curtis was the Regional Sales Manager.  Little did I know that the move would result in a 30-year friendship with a very special man.
Curtis and I spent the next 4 years traveling around the Southeastern USA together, and I'll forever cherish those memories. Oh, the stories I could tell, though I'll never approach Curtis' skill for spinning a yarn.
His mind is an iron vice.
It's near lunchtime in the Fall of 1989, and we're driving through rural Tennesse.  "Hey, there's a little diner in this town up ahead", he says.  "It's on the right side of the square.  I was last there in November 1972."  He proceeded to tell me specific details about this diner, pulled from his one visit to the diner 16 years earlier!
Of course, he was correct, and we had lunch in the diner he'd last visited when I was 9 years old.
It was the first of many times that I was impressed by Curtis and his amazing mind.
Today, 30 years later, he impresses me yet again with his recording of retirement advice.
Curtis is a wise man, and you'd be wise to listen to his advice.

Curtis Is In My Secret Journal
I have kept a "Secret Journal" of 3 lessons I've learned from each of my bosses over the decades, and Curtis is in there. Curtis was one of my first mentors in Corporate America, and I've learned a lot from him over the years. I've never shared anything from that secret journal, but today I'm sharing my 3 Lessons From Curtis:
– Take time to smell the roses.
– Keep your job in perspective.
– Treasure your family.
I wrote those 3 lessons from Curtis as one of my first entries in the secret journal back in the early 1990's, and they're the 3 things I think of first when I think of my friend, Curtis.
1) Take Time To Smell The Roses:  Curtis always encouraged me to take some extra time when I was driving around my sales territory.  What kind of boss says that?  That's Curtis, and I'll never forget it. He often acted as a personal tour guide, suggesting places I should visit.  I recall my "business detours" to the Stones River Civil War Battlefield and Jack Daniels Distillery, two of the many places I visited based on suggestions by Curtis.
2) Keep Your Job In Perspective:  Curtis always kept his job in perspective.   Early in his career he was promoted to the Corporate Headquarters and had a bright and prosperous career ahead of him.  I've no doubt that he would have been promoted well into the ranks of "Executive" and been among the very top tier of leaders in our company.
The Corporate Ladder Isn't What He Wanted, So Curtis Got Off The Train.
Click To Tweet
Curtis realized that a climb up the Corporate Ladder wasn't all it appeared to be and decided to take a path less traveled.  He took an intentional detour, returned to his roots in the Southeastern USA as a Regional Sales Manager, and enjoyed that role for the remaining decades of his career.  He's one of the few people I know who has been able to successfully "Stop" their career progression without negative repercussions, and he's a great example of someone who knows how to keep your job in perspective.
3. Treasure Your Family:  Curtis always gave his family his highest priority.  I remember how he glowed in the office when he told various stories about his kids.  He clearly loves his family, and his legacy is being rewarded as he assumes the role of family Patriarch over the expanding family tree and the many grandchildren in the next generation.  Those are some lucky children/grandchildren to have Curtis for their Dad/Grandad.
---
The One Retirement Question
I met up with Curtis a few weeks ago at a local Scottish Highlands Games Festival in the North Georgia Mountains.  He proudly won the Boney Knee competition and representing his family heritage by working the Clan Stewart booth for the two days of the festival.
As I was visiting with Curtis, I pulled out my phone and recorded Curtis answering The One Retirement Question.  Take a minute to listen to his retirement advice:
His Answer To The Question
I love that recording of Curtis.  If you skipped over it, please head back up there, click and have a quick listen.  You'll get a sense of his intelligence and his sharp mind.  You'll also learn a few things, including:
Celebrate Your Heritage:  Curtis is justifiably proud in being a descendant of British Royalty and could recite the connection by heart.  It was fun to see Curtis' Grandson being involved in the Scottish Highland Festival. Know your heritage, and pass it on.
Jump Into New Interests In Retirement:  Now that you have time, jump in and enjoy this new chapter in your life.  Stay busy, and don't stop.
Jump In And Enjoy This New Chapter In Your Life. Stay Busy, Don't Stop. Curtis - The One Retirement Question Project
Click To Tweet
Curtis is a living example of keeping busy in retirement and explains some of his activities on the recording, including the following activities in this, his 80th year:
Trout Unlimited Board Member,
Volunteer / Trail Maintenance at a local State Park,
Clan Stewart representative,
Interpretive volunteer at the Great Smoky Mountain National Park.
Teaches Junior Ranger Orienteering Program
Learn from his example, and find interesting things to keep you engaged in retirement. His retirement advice is timeless, and I'm working to apply it in my own retirement.  I'd encourage you to apply it in yours, as well.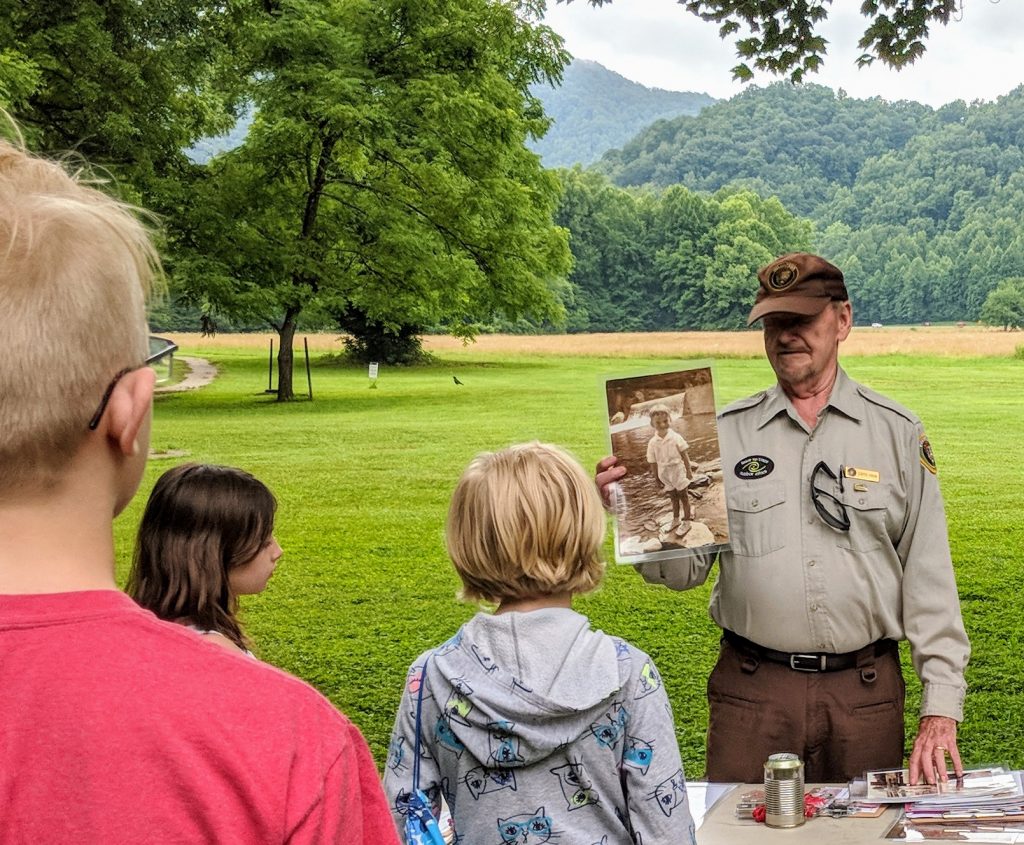 ---
Conclusion
I love the retirement advice and wisdom that folks are sharing in The One Retirement Question Project.  Curtis is a living example of someone who has enjoyed a Great Retirement, and he demonstrates his retirement advice in his everyday life.  Explore new interests, get involved in things you've not had time for in the past, enjoy this new chapter in your life.  Curtis is a true inspiration for me, and I hope he's inspired you today.
Be intentional and learn from those who have traveled the road ahead of you.
Take time to ask a question, and listen to their response.
Even if they wear a kilt.