A few weeks ago, I wrote "How To Move Your Retirement From Good To Great",  the story of why we're relocating just 13 months after downsizing to our dream retirement cabin.  That article has proven to be one of my more popular posts, with over 6k views since it was published.  While it's a story of relocating, it's really a broader message about being intentional in moving your retirement from Good To Great.
Given the popularity of the topic, I've decided to build on the theme and will be presenting a series of articles on the issue of moving your retirement from Good To Great.
Today, as Part 2 of the "Good To Great" Series, I present "How To Move Your Retirement From Good To Great In 7 Days", a story in which I share 8 lessons learned while moving from our "Good Cabin" To our "Great Cabin" over the past week.  These lessons will help you Achieve A Great Retirement, and apply broadly to many aspects of retirement planning.
A Week's Worth Of Lessons To Make Your Retirement Great!
Click To Tweet
Each lesson is given on the day of the week it was discovered. I'm also adding more pictures than "usual" to let you experience firsthand the events that led to these lessons.
I hope you enjoy the approach.
So with that….we're off.
---
For your reference, below are links to Parts 1 and 3 in this "Good To Great" series:
---
---
I took vacation last week to begin our relocation from our "Good Cabin" to our "Great Cabin". My vacation officially started on Friday, but I left the office early enough on Thursday to meet "The Barn Guy". I didn't have a choice, really.  It was all part of The Plan.
That's where our first lesson begins:
---
---
This move was complicated.  We had a ton of things we wanted to get done before we moved into the "Great Cabin", and they had to be done in sequence.  We had planned the details for weeks and had lined up all of the contractors in their appropriate time slots.
As an example, we ordered an awesome 10′ x 16′ shed, which is now my workshop man cave.  The plan was for the shed to be placed in the back of our property, an area that would be inaccessible after the fence crew built our dog run on Monday. Therefore, our first step was getting this big shed delivered and set up, prior to the fence being built:
The best-laid plans do, sometimes, go awry.
We had planned for the shed delivery on Friday afternoon, following our scheduled closing on the property.
Unfortunately, Friday's forecast called for rain.
And that shed had to be transported via forklift down a 100 yard long, sloping yard.  They construct the sheds at their factory, then ship them as a completed unit.  They're experts at moving big sheds around, and can do amazing things when it comes to manipulating an 8,000-pound building into place:
But….They Can't Do It In The Rain.
With rain forecast for Friday (and given the criticality of the shed being in place before the fence) we hesitatingly agreed to have the shed installed on Thursday, even though we didn't officially close on the property until Friday!  We knew the homeowners weren't around (they live in Florida), so we took a chance.
Sometimes, you've got to take some risks to keep your plan moving forward.
As a final closer to the "Plan Ahead" lesson, below is a completed picture of the installed fencing / Dog Run, the stairs we had built to access the dog run from the main deck, and the final position of the shed in the back yard.
It was a busy week, but due to effective planning, we got it all done!
"Plan Ahead" – The Broader Lesson
Just as our move from Good To Great required a lot of pre-planning, so does your retirement.  Take the time before your retirement becomes a reality to do some detailed planning.  Figure out where you want to live, what you want to do, what your Purpose will be.  Spend some vacation time in "retirement mode", and get a sense for how your life will be.  Make adjustments now, as necessary, while you're still working and have time on your side.
If you're already in retirement, revisit your plan.  What's on your horizon?  Are you planning for it?  What changes do you want to make to move your retirement from Good To Great?  Plan for it, and make it happen.
---
---
Friday was our scheduled closing date, and we made the deadline!!  (Good thing, since we already had a shed installed on the property!).  We've moved 9 times, and I don't ever recall a mortgage company being as difficult to deal with as the one we used for this move.
Throughout the process, every request from the mortgage company was responded to immediately, with all of the requested information.  They were completely unorganized and barraged us with all kinds of duplicate requests very late in the process.  I won't belabor the point, but I can't imagine how much worse the experience would have been had I not had our "Finances Right", and knew where everything was that they were asking for.
Amazingly, we closed without having the $ wire deposited from our mortgage company ("The check's wire's in the mail air)!  Ah, the benefits of living in a small town, where the attorneys and realtors know each other as friends, and they find ways to get things done in spite of incompetent mortgage companies!  BTW, our realtor Dana @ NorthEastGeorgiaProperties, deserves a huge shout out for all of her help during our closing process, she's a true star!
"Getting Your Finances Right" means thinking through every major decision, and ensuring you've considered and optimized the financial detail behind it.  As we plan for retirement, it's critical to ensure that our money is sufficient to fund the balance of our lives and that we optimize every decision with retirement cash flow in mind.
The point is this:  get your finances in order, know where things are, and do your best to ensure that any decision you make will increase your chances of meeting your retirement cash flow needs.
That's what "Getting Your Finances Right" looks like to me.
"Get Your Finances Right" – The Broader Lesson
Retirement's about a lot more than money, but money certainly dominates a fair bit of the discussion.  Don't retire until you know your finances are right.  Make decisions now that will create the best options for you in the future.
Have a strategy for your Safe Withdrawal Rate, know which funds you're going to pull from in which order, and know how you're going to Create A Retirement Paycheck from your assets.
Get Your Finances Right with all things retirement-related in your final 1-3 years of work.  Don't wait until you retire.  Know your numbers before you retire.  If you're still 3+ years from retirement, know your numbers and have a plan, but realize you have time on your side and can afford to be a bit less precise in your calculations.
If you're already retired, make sure you're tracking progress, and adjusting your withdrawal rate annually, as required.  Keep track of your flight while it's in progress, and make adjustments along the way.
---
---
On Friday, my brother-in-law was flying in for a one week visit on his vacation.  It'd been planned months ago, and I'd scheduled my vacation to be off while he was visiting.
All of that was before we knew we were going to buy a new cabin and that the closing was going to be scheduled one day before he arrived.
In retrospect, it was perfect timing.  I was home for both his visit and during a critical time in our cabin moving process.  We worked it out, and it worked out well.
Saturday was "Family First".
By design, we put everything move related "On Hold", and dedicated Saturday to family.  We drove 5 hours round trip to the nearest aiport (yes, we live in the sticks), and drove straight through Atlanta, a huge metropolitan area known for it's horrendous traffic twice in the process (North to South, and South to North).
It was a great day.
We hadn't seen my brother-in-law in a year, and we really like him.  We had a great day and week together.  He and my wife left on Wednesday to attend a Marine Boot Camp graduation for his Son.  I had taken the week of vacation to visit with Bro while he was here, and dog sit while my wife made her trip to Boot Camp.  It worked out beautifully.
"Family First" – The Broader Lesson
Know your priorities in life, and keep them in the right order.  Family matters more than house or money and should be treated as such.  Invest your time and energy in maintaining your family relationships, and give the folks you love the priority they deserve.  Your retirement, and your life, will be better for it.
---
---
Sunday was Mother's Day, and we were blessed to have our 22-year old daughter make the 6 hour round trip drive to spend a day with her Mom (Dad just bummed along and took pictures, this was Mother's Day, after all).
Daughter, Mother, and Grandmother had a wonderful Mother's Day lunch, with the son visiting from out of state the perfect touch to make this a day to honor Mom.
It was fun.
It made me think of the legacy we'll leave.
My Mother-In-Law is one of the dearest Christian women on the face of this earth.  She has an absolute heart of gold and has been giving, caring and generous her entire life.  She's now in a nursing home in our "mountain town" with Alzheimer's, and remains pleasant and content to this day.  The staff often comment how they wish every resident were as pleasant as my Mother-In-Law.
That's A Legacy.
"Leave A Legacy" – The Broader Lesson
More important than your retirement is the Legacy you'll someday leave behind.  Have you thought about what your Legacy will be?  Are you being intentional about building something that will last beyond your lifetime?  Spend some time thinking about your Purpose as you prepare for, and live in retirement.
What's your Legacy going to be?
---
---
Monday, and I was eager to get going with the move.  We don't have our F250 yet (that's coming this Fall/Winter), so we purchased a small utility trailer to pull with our 2011 Hyundai Sonata.  The money we're saving in moving costs pays for the trailer, and it'll be handy to have around for years to come: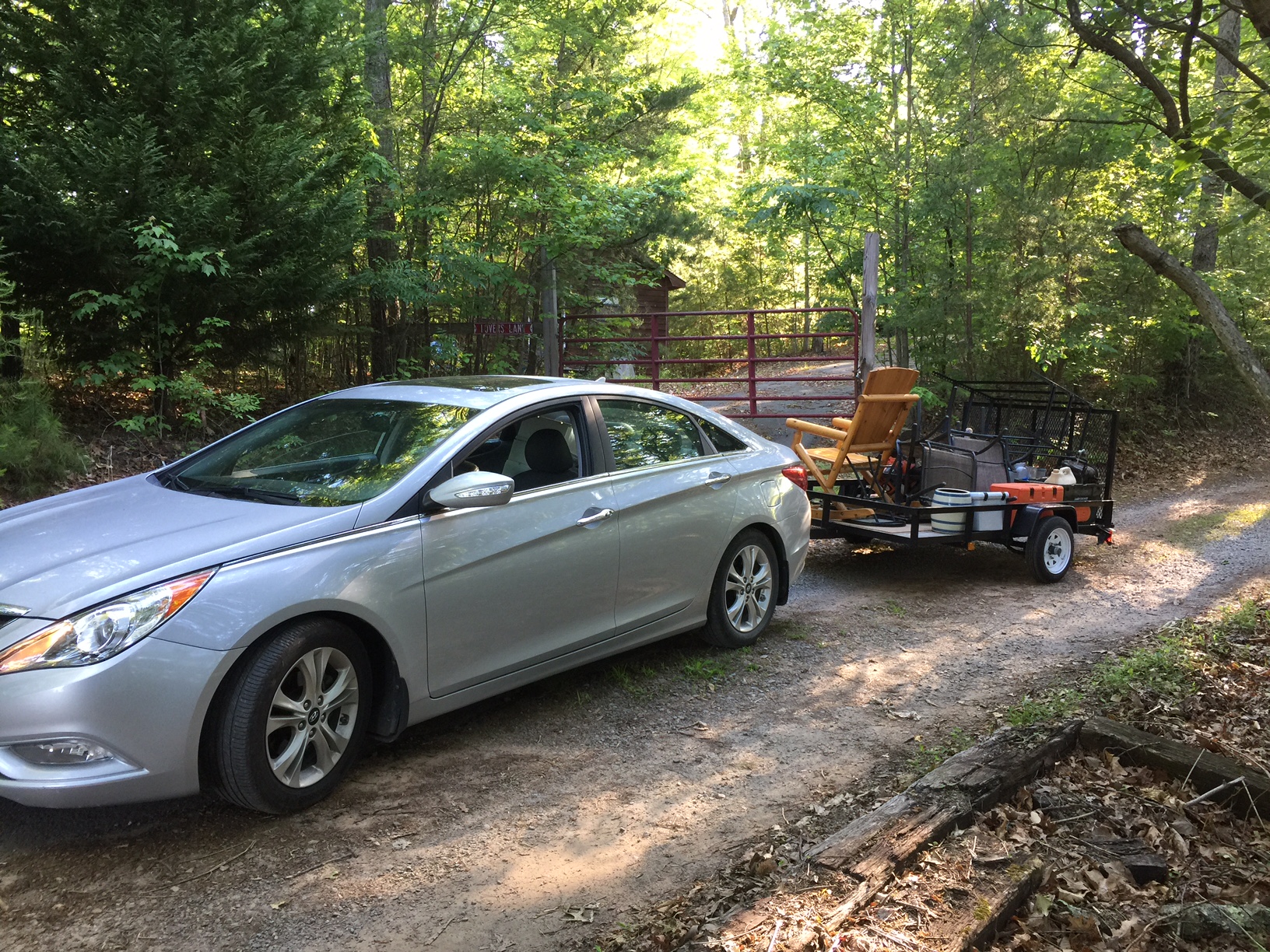 Buried In The Trees
Monday started with a bang.  My Brother-In-Law helped me load up a trailer at the "Good" cabin, and we headed off to unload it at the "Great" Cabin.  By 11:00, we'd knocked off our first trailer load of the move (MANY more to come…man, this stuff's exhausting!).
As agreed, my Brother-In-Law and my wife went off to visit Mom in the nursing home and do some site seeing in the afternoon.  He was on vacation, after all, and we really didn't want to have him spend it having him help us move.
I tackled Trailer #2 Solo.
It was ugly.
It starts getting hot in Georgia in May, and it was a warm afternoon as I carried 20 boxes up from the basement at "Good", onto the trailer, made the short drive from the "Good To Great" cabin, and repeated the process back up the stairs at "Great" (the first move was my office, which happens to be upstairs.)
The World Headquarters came together nicely on Monday, but it was too much.
I must have climbed 100 flights of stairs in <5 hours.
I was exhausted.
I was hot.
I was miserable.
I was crabby.
Look At The Forest Instead
My wife knew I was exhausted and had overdone it.  We had a good chat on Monday night and realized this wasn't the way to go about it.  We had agreed to make this an enjoyable, drawn out move ("The Forest").  We had intentionally held off putting our "Good Cabin" on the market to ensure we had plenty of enjoyable, non-rushed time to make the move.
But I Got Stuck In The Trees
I got too focused on needing to get 2 trailer loads/day moved during my vacation.  It was a goal, and I was driving for it.  I made it, but I'd lost sight of the forest.  I just wanted to kill that "2 Loads Per Day" Tree that was looming in front of me.
On Tuesday, we made an intentional change of course, as you'll see in the next lesson.
"See The Forest, Not The Trees" – The Broader Lesson
As you prepare for and live in retirement, establish overarching priorities and keep them in perspective.  Keep "The Forest" in view, and don't get too hung up on "The Trees".  Your life won't go according to plan, and it's important to keep perspective on the broader picture.
---
---
On Tuesday, we made an adjustment.  Rather that targeting 2 trailer loads/day, we agreed to do only 1 trailer per day and to get the 1 trailer done in the morning before the Georgia furnace kicked into high gear.
In the afternoons, we'd do something "Fun" and "Vacationy" (is that a word?).
Tuesday morning, we completed Trailer 1 in the morning and made it home for lunch.
In the afternoon, we went to the beautiful Swinging Bridge on the nearby Benton MacKaye Trail, and enjoyed this view from the bridge:
The Toccoa River from The Swinging Bridge (hike with Bro)
Life was a lot better on Tuesday than it was on Monday.
We had Adjusted and Improved.
We prioritized carving out time for "fun", and even spent a few hours at our local dog rescue charity, where my wife and I volunteer.  We wanted my Brother-In-Law to get a sense of our charity work, and he enjoyed an afternoon working at "The Sanctuary".  I walked as many dogs as possible, and fell in love with this guy, Thunder:
"Adjust & Improve" – The Broader Lesson
Realize that your retirement will be a period of adjustment, and be intentional about "checking in" and making tweaks to your plan.  Continually explore ways to move your retirement from Good To Great, and experiment with changes in your routine.  Modify your goals as appropriate (e.g., "Move 2 Trailers/Day" to "Move 1 Trailer/Day"), and make time for fun and adventure.
---
---
On Wednesday, my wife and her Brother headed out of town to the Marine Graduation ceremony, and I was alone.  After moving 1 trailer load in the morning, I was browsing around a local Facebook Yard Sale site and came across this beauty:
I've been wanting to explore mountain biking as a retirement hobby, especially after my fantastic mountain biking experience last summer with a French guy and a Brazilian guy.
But, I'm cheap.
I don't like spending a lot of money on "toys", especially if I'm not sure that I'll use them. Craigslist (or, in this case, a Facebook Yard Sale page) to the rescue!  After a few text messages, I met up with the seller in a nearby parking lot, and the deal was done.
I now have an inexpensive mountain bike to play around with, and time to decide how serious I'll be about the hobby.  With a small investment of only $50, I can play.  I can experiment.
"Invest In Your Hobbies, But Carefully" – The Broader Lesson
When you retire, you're going to have a lot more time on your hands.  Fill it with things that interest you, and begin exploring different options during your final few years of work.  But do it carefully.  Don't blow $$$ on something you're not sure you're going to be committed to.  Find a way to play around at a low-cost point.
Rent a house for a week in your potential retirement town.
Take a vacation to do something you've always considered doing (photography tours, scuba, bike riding, hiking)
Take a class
Buy a cheap bike
---
---
After an intensive session of effort, find time to Rest & Relax.  Even God rested on the 7th day, and I suspect he has more energy than you.  Take a hint, and take a break.
By Thursday, I was tired. I had worked hard all week. I decided to take it easy and explore the area around our newfound home. After taking a light load to the new cabin on Thursday morning, I took the afternoon off.
I planned on exploring the trails behind our house with my new mountain bike, but hit a major snag: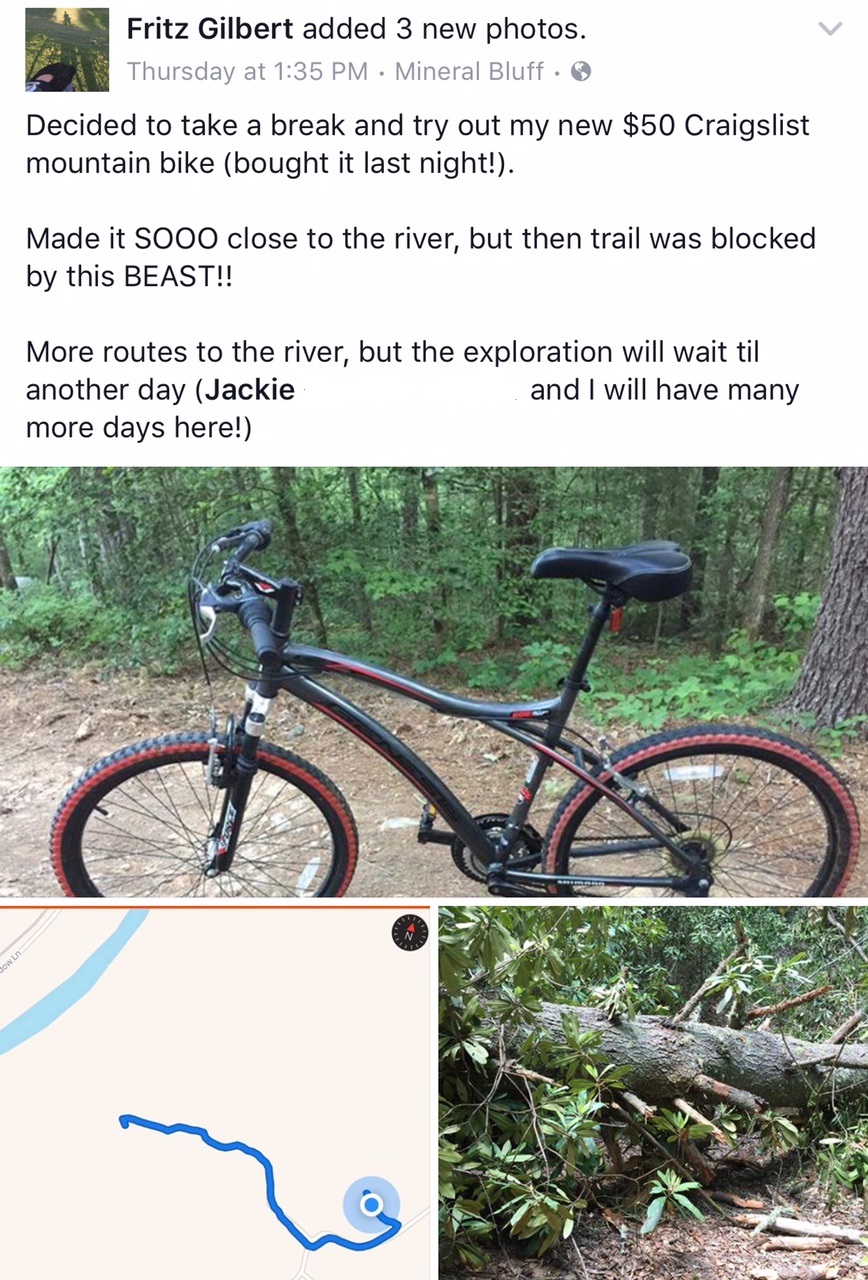 That's ok, I was relaxed.  This was my "easy day", and I wasn't going to be discouraged.  After taking a conference call from work (hey, it was a meeting with our CEO, I figured I'd be wise to attend), I decided to change my plans and headed for a swim.
Fortunately, this wonderful lake and beach area is only 4.1 miles from our new cabin, and I had an amazing swim (I'm currently in training for my Lake Michigan Rematch With The Dolphin on June 6th!).
"Get Some R & R" – The Broader Lesson
Retirement planning is a marathon, not a sprint.  If all goes well, you'll be in retirement for 30+ years, so take your time.  Build time into your schedule to Rest & Relax, and give yourself time to recover after periods of intense activity.
---
Conclusion
It's a lot of work moving from Good To Great.  Don't merely "go along" and accept a Good Retirement.  Work to make it Great.  Apply the 8 lessons summarized below for your own retirement, and increase the odds of having A Great Retirement.  You've worked hard for it, now's the time to make it the best it can be!
8 Lessons For A Great Retirement
Plan Ahead
Get Your Finances Right
Family First
Leave A Legacy
See The Forest, Not The Trees
Adjust & Improve
Invest In Your Hobbies, But Carefully
Get Some R & R
What About You?
Are there any lessons which come to mind that should be added to the list?  Which of the 8 most "speaks" to you? I look forward to your thoughts in the comments.