Have you ever had a home sale explode after you've been under contract?  We had a bomb go off last night, but we're ok with that.  In the broader sense of our "Good To Great" move, it's actually a good thing.  How, you ask?
Read on….
In today's Part 3 of the "Good To Great" series, we'll explain how our plan went awry after a bomb went off on our "Good" cabin sale, and how we're handling it.  As I mentioned in Part 1, we're writing this as it happens and we don't know how this downsizing move to "Great" ends.  That reality continues, and the sale of our "Good" cabin now appears to be in jeopardy.  We'll continue to keep you posted on our journey through this final year before retirement in this "Good To Great" Series.
For your reference, below are links to Parts 1 and 2 in this series, which outline the "Good To Great" move thus far:
---
The Home Sale
After we'd completed the move from the "Good" cabin to the "Great" cabin, we put the Good cabin on the market. On June 21, the listing went live.  We felt we were nearing the end of our "Good To Great" move.
We felt good.
We may have been a bit premature……
---

---
As mentioned in last week's "37 Days" post, we (thought we) had sold our "Good" cabin last week, two days before our daughter's wedding.  We had accepted an offer from a buyer offering cash, and I was already thinking about writing "Part III" of the Good to Great Series with a focus on the financial outcome of our move.
Unfortunately, it wasn't meant to be.
The Bomb
At 6:01 pm last night, the following Bomb showed up in my e-mail, from the buyer of our cabin:
As you can see from the pictures it appears that at one time a tree branch fell on the roof at the top ridge area and at the right and left gutter areas of the master bedroom porch.  The tree crushed the ridge vent there on the top and popped all the nails out so the ridge vent is not flush or secure to the roof and the gutter and the ¾ plywood is damaged and warped in 2 or 3 sections due to water intrusion from the falling tree.
Turns out the buyer owns a home repair business and was more observant than me about damage to the roof.  He was absolutely correct, a tree branch HAD fallen on the roof.  When the branch fell on the cabin in Feb 2014, I simply climbed up on the roof with my trusty chain saw and removed the large limb (I was still naive since I hadn't fallen off a roof yet).
Problem solved.
Except it wasn't.
Turns out the branch HAD caused some structural problems which I hadn't realized.  I was oblivious to the fact until 6:01 pm last night.  The buyer was polite, professional and comprehensive in his email.  He even included pictures of his "findings", showing the plywood warped under the shingles: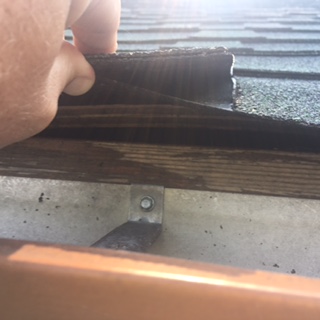 Defusing The Bomb
The buyer suspects a large portion of the roof will have to be replaced:   shingles AND plywood.  He seems to know what he's talking about, and I have no reason to doubt his claim.  We're talking Potentially Big $$.  He seemed reasonable, and I have no reason to suspect he's "cooking this up" as part of a negotiation.
We have a real problem.  Our roof is broken.
And our home sale may fall through.
After receiving his email, I called my wife, told her what was happening….
…And Promptly Went For A Swim.
I like to think when I swim, and the 45-minute workout gave me time to figure out a plan.  My wife and I talked later in the evening, and agreed to the following plan:
This happened on our watch, and we'd take care of it.
Right is right, and we were going to be completely above board on how we handled this.
We would assure the buyers that we'd take care of the roof, and hope they'd proceed with the purchase.
We would file an insurance claim but pay for the roof even if insurance balked.
Last night, I wrote out a proposal to the home buyer.
As I write these words, we're still waiting on their response.
Filing An Insurance Claim 3 1/2 Years After The Fact
To complicate matters, I changed insurance companies about 3 years ago.  The company insuring our house in Feb 2014, when the "tree incident" occurred, are no longer insuring the house.  Regardless, I called them and politely explained the situation.
They explained that their policy clearly states that in a case like this they would insure the initial damage, but they would not cover any subsequent "rotting or deterioration" that happened as a result of the delayed claim.
Not Good.
The majority of the cost will likely fall into the "rotting or deterioration" category.  Regardless, we must proceed, and capture whatever reimbursement we possibly can from the insurance company.
So…the claim is entered, and I'm expecting to hear from an insurance adjuster in the next 48 hours.
It's Only Money
Easy come, easy go.
It's only money.
Clearly, we have to fix the roof, so there's no need to get stressed out about it.  Just get the roof fixed.
Ok, so we'll make a bit less on the "Good To Great" move than we thought.  That's ok.  The move wasn't about money.  It was about something more important than money.
This move isn't about money. It's about moving our life from Good To Great.
Click To Tweet
We've got enough money for a great life, so the roof problem isn't really a problem at all.  Keep things in perspective, and don't sweat the small stuff (and recognize, most of it is small stuff).
I'm Glad The Buyer Discovered The Roof Problem
This is a good thing, if you look at it through the right lens.  Imagine if we HADN'T made the move from Good To Great.  In a few years we'd have been living our retired life in our Good cabin, only to have been awakened in the middle of the night by rain dropping on our bed through the ceiling.
We'd have had a major financial issue in the first few years of retirement, which we weren't prepared for.
That problem is now solved.  The problem was there, we just didn't recognize it.  Now we do, and we'll get it fixed before we retire.  We'll enter retirement with one less "Black Swan" flying overhead, and I'm thankful for that.
I'm glad the buyer discovered the roof problem.
Better than us discovering it 5 years from now.
Much better.
---
Conclusion
Life has a way of throwing curveballs from time to time.  Learn how to hit them.  Keep things in perspective, and focus on the broader goals in life.  In our case, the roof problem is a good thing to discover now, while we're in a good position to deal with it.  Sure, it'll be a hassle, but we'll get through it.  Money isn't the issue, creating a great life is what we're all about right now.  Viewed through that lens, I'm almost kinda sorta maybe a little happy the roof thing happened.
That's how you hit a curve ball.
Work on your swing.
It'll help you move your life from Good To Great.