"Are we in a stock market bubble?"
I've heard a lot of people asking that question recently.
I'll provide my answer to that question in today's post, but…it's the wrong question to ask.
In addition to answering the "Bubble Question", I'll provide 5 more important questions you should be asking instead.
If you're asking about a stock market bubble, you're asking the wrong question. Here are 5 questions you should be asking instead.
Click To Tweet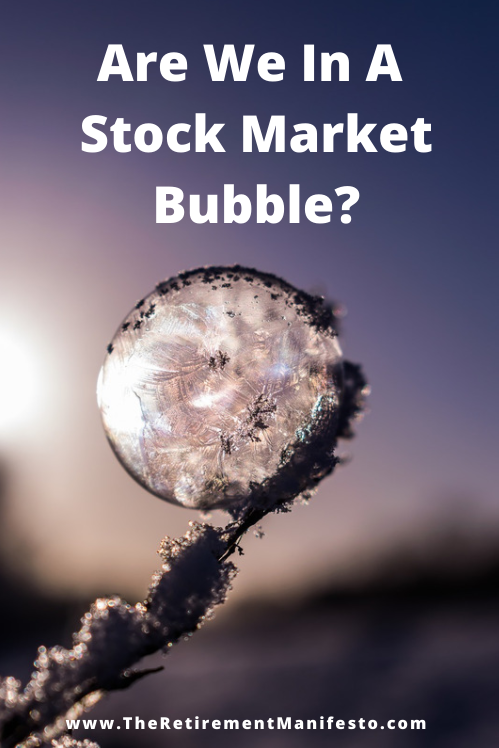 Are We In A Stock Market Bubble?
So, the big question. Are we in a stock market bubble?
---
Executive Summary: I provide my answer to that question below, but more importantly I also provide the 5 questions that you should be asking instead. A Bear Market is looming. Are you prepared?
---
Trying to determine whether we are in a stock market bubble is, essentially, an effort to time the market. While we can look at valuation metrics, trying to call "the top" is an exercise in futility. I could write an entire post on current views about the stock market, but the reality is that you can easily find articles to support both bearish and bullish arguments. (Want proof? Here's a bullish article, and here's a bearish one.)
What we do know is that a bear market will arrive at some point in the future. The bear never dies, he just hides in the woods for years at a time. You can be sure at some point in the future he'll come back out of hiding. It's his nature. The more important questions are the ones you should be asking to address this reality, and we'll get to those in a minute.
First, a few quick words about how I think about market valuation. I honestly don't pay too much attention to it. Rather, I focus on the questions raised in the bottom section of this post. I trust my rebalancing and asset allocation process to tell me when to buy or sell, and I don't try to time the market.
That said, if there's one market valuation I pay a bit of attention to, it's the CAPE Ratio (defined here). More relevant, I think of the CAPE Ratio in conjunction with what it means for potential future returns in the stock market. Following is a relevant Advisor Perspectives chart (with current CAPE added by me) from their article: "The Remarkable Accuracy of CAPE as a Predictor of Returns":
In fairness, the chart only addresses a 25-year time horizon, and one could argue that today's market and interest rate environment could change the correlation versus the 1995-2020 timeframe above.
As I write this post on February 2, 2021, the CAPE Ratio is 34.9. (source: multpl.com): By simply looking at the chart above, you can see that at the current CAPE Ratio the prospect for 10-year returns in the S&P500 is <5%, well below its historical average of ~10%. I don't know the answer to "are we in a stock market bubble" (though I will answer it, as promised, below), but I do know the historical correlation between the current market valuation and future returns. Draw your own conclusions.
If I were to try to predict the S&P500 return over the next 10 years, I'd guess we'll be looking at something below 5%, based on the historical correlation. Feel free to argue, no one has the right answer. And again, if you're focused on market valuation, you're not asking the right question.
Finally, I'm a firm believer in maintaining a diversified portfolio, given the reality that it's impossible to predict which sector will perform well over the coming years. One of my favorite charts is the Callahan Periodic Table of Investment Returns, which demonstrates my point:
---
---
My Answer To "Are We In A Stock Market Bubble"
Since I started my post with that question, it's only fair that I provide my response. For the record, here's how I'll answer that question:
Here's my answer to the question: Are We In A Stock Market Bubble?
Click To Tweet
"The market is currently at the high end of historical valuations, and based on past correlations the market returns over the next 10 years will likely be below the long-term average of 10% (with increased volatility along the way, I suspect). That said, given the unusual market dynamics (e.g., low-interest rates), it's possible the market will be stronger for longer than one would expect. Don't try to time the market. Rather, realize that the prospects of a bear market increase with every passing day, and answer the 5 questions you should really be asking, which are outlined below."
– Fritz Gilbert – The Retirement Manifesto
(Disclaimer: I'm just an old retired guy who blogs, not a financial expert. Don't take my forecast to mean anything, and don't make any investment decisions based on my comments. Rather, let's just agree to check back in sometime in 2031 to see how wrong I was with my forecast. Because we all know, I'll be wrong. Right?)
Rather than focus on things that don't matter, let's turn our attention to the things that do.
---

The 5 Questions You SHOULD Be Asking
Rather than asking "Are we in a stock market bubble", I'd encourage any responsible investor to ask themselves the following 5 questions, which are applicable regardless of market valuations. Answer them correctly, and you'll worry less about whether we're in a bubble.
---
1. How Much Risk Can I Tolerate?
When thinking about risk, you need to think about both your "Risk Tolerance" and your "Risk Capacity", both of which are summarized below (source: Investopedia):
Risk Tolerance: Personal risk tolerance is the amount of risk that an investor is comfortable taking or the degree of uncertainty that an investor is able to handle. Risk tolerance often varies with age, income, and financial goals.
Risk Capacity: Thanks to Jay's comment below, I'm refining my definition of Risk Capacity based on this article which Jay shared: "How much risk a client can afford to take without risking his/her objectives". One should also analyze "Risk Required", which is how much risk is necessary in order to meet a client's objectives.
From the Investopedia article: "The problem many investors face is that their risk tolerance and risk capacity are not the same. When the amount of necessary risk exceeds the level the investor is comfortable taking, a shortfall most often will occur in terms of reaching future goals. On the other hand, when risk tolerance is higher than necessary, the undue risk may be taken by the individual."
How much risk you're able to tolerate, and how much risk you're required to take to earn your required returns, are essential questions you must answer to ensure you're portfolio is appropriately allocated among various asset classes. If you were having trouble sleeping during the March 2020 market correction, your asset allocation was likely misaligned with your risk tolerance. Now that the market has recovered, it's an excellent time to reposition your portfolio for better alignment. If your rebalance strategy (see #4 below) calls for it, sell some of those stocks now that the market has recovered, and rest easier during the next correction. Don't wait until a correction to sell.
In my case, I'm a conservative investor, with limited risk tolerance. Fortunately, we've designed a conservative withdrawal strategy to fund our retirement, so our risk capacity is aligned with our tolerance. Our asset allocation (see Q2 below) reflects that reality.
---
2. Does my Asset Allocation Align With my Risk Profile?
Stocks are high risk, and their historically higher returns are accompanied by high volatility. Cash is low risk, but in return for low volatility, you'll earn meager returns. How do you balance the need for returns with the desire to avoid volatility? From Investopedia:
"Asset allocation is an investment strategy that aims to balance risk and reward by apportioning a portfolio's assets according to an individual's goals, risk tolerance, and investment horizon. The three main asset classes – equities, fixed-income, and cash and equivalents – have different levels of risk and return, so each will behave differently over time."
Determining your appropriate Asset Allocation is the second key question you must answer as you prepare for retirement. As you near retirement, it's typically recommended that you "de-risk" your portfolio to avoid sequence of return risk. In our case, we target 50 – 60% stocks, with the balance in bonds/stocks/alternatives. We target 3 years worth of spending in cash. As mentioned above, I'm also a strong believer in maintaining a diversified portfolio and include a wide variety of equity exposure (International, Small Cap, etc.), as well as a 10% "Alternatives" segment to gain some exposure to commodities, gold, real estate, etc.
An example of how your Asset Allocation could change as you approach retirement is summarized in this chart from my post A Simple Guide To Targeted Asset Allocation:
For more on Asset Allocation, read the following:
---
3. How Do I Fund My Retirement From My Portfolio?
One of the most significant changes that comes with retirement is moving from the Accumulation Phase to the Withdrawal Phase. Figuring out how to make this transition is a more important question than "Are we in a stock market bubble", and should consume significant focus in your final years of work.
I've written tens of thousands of words on this topic, and it's impossible to summarize in a few paragraphs here. Therefore, I've listed three of my most read articles on the topic below. Dive as deep as you'd like, it's a critical question you must answer:
---
4. When & How Do I Rebalance My Portfolio
If done correctly, rebalancing your portfolio will ease your concerns about "Are we in a stock market bubble".
Why?
Rebalancing is the act of maintaining your targeted asset allocation over time via the selling of whichever class has outperformed and buying those classes that have under-performed. If the stock market IS in a bubble, your rebalancing strategy should trigger you to be selling some stocks since they've risen in price. All else being equal, if stock prices have gone up the % of your asset allocation dedicated to stocks will have risen. To maintain your targeted asset allocation, your rebalancing strategy would trigger a sale of stocks and reinvestment in the other asset classes which haven't risen at the same pace. Similarly, if when we enter a bear market, your rebalancing process would trigger a sale of your other asset classes and a purchase of stocks.
Buy low, sell high. Automatically. The beauty of a well-executed rebalancing strategy.
Determining your rebalancing strategy is a critical question to answer, and must be done in conjunction with a sound withdrawal strategy to ensure you don't outlive your money. At a minimum, you should rebalance annually, in conjunction with your year-end Annual Financial Update. When markets become more volatile, you should consider increasing the frequency of your rebalancing. During the March 2020 market correction, I was rebalancing much more frequently, a strategy I wrote about here.
For more information on how to establish a rebalancing strategy, read the following articles:
---
5. What's my Contingency Plan for the Next Market Crash?
Rather than asking "are we in a stock market bubble", you should be focusing on developing a contingency plan BEFORE the next market crash occurs.
Developing your contingency plan before you need it will help ensure you don't panic and sell after stocks have declined, which is one of the worst things you can do with your retirement portfolio. By answering each of the 4 questions above, you should have your plans in place. Focus on aligning your asset allocation with your risk tolerance/capacity, and implement a consistent rebalancing strategy. Understand your safe withdrawal rate, and implement a cash cushion (the primary objective of The Bucket Strategy) to avoid selling in a bear. Taken together, those are the keys to avoiding longstanding damage when the next crash occurs, regardless of whether we are in a stock market bubble or not.
---
Conclusion
Are we in a stock market bubble?
By many measures, the stock market could be considered over-valued at current levels. But it's impossible to call the top, and I have no idea if we're in a bubble. To be honest, I don't really care.
By focusing on the 5 Questions You Should Be Asking, and implementing a sound strategy for maintaining your investment portfolio regardless of market conditions, you'll worry less about stock market volatility and enjoy life a bit more.
Don't let worries about money ruin your life. Build your strategy to manage your investments (or hire an expert to manage it for you), then get on with living life. In our case, I update our Net Worth and rebalance our asset allocation every January (unless volatility becomes extreme), and focus very little attention on it for the remainder of the year.
It works for me.
Maybe it'll work for you.
---
Your Turn: Do you worry about whether we're in a stock market bubble? Do you agree the other 5 questions are the more important ones to ask? How do you defend against a market downturn? Let's chat in the comments…