Do you go about life in a "ho-hum routine" sort of way, or are you "Living Life At The Limits"? 
Do you look for ways to keep life exciting, or do you settle for something less?  Living Life At The Limits doesn't necessarily mean pushing yourself to extreme situations or putting yourself in danger.  Rather, it's a mindset of intentionally pushing your limits and trying new things.
It makes life more exciting.
It makes life more fun.
Today, we're going to examine what it means to "Live Life At The Limits", using a "real life" example I just experienced a few weeks ago.  It's an important concept as we think about retirement, a time in our lives where we're free to pursue whatever we chose.  Are you using that Freedom to grasp opportunities to Live Life At The Limits?
Living Life At The Limits Is A Mindset. Do you have it? Click To Tweet,
What Is "Living Life At The Limits"?
While the title may sound "extremist", I encourage you to expand your way of thinking beyond the intial construct of the concept.  I'm not talking about taking unnecessary risk, though at times living at the limits may push you closer to that line.  More importantly, I'm talking about finding ways to push yourself into areas in which you find yourself uncomfortable, a time….
to test your boundaries,
to expand your horizons.
to try new things.
"Living At The Limits" is a personality trait I've had for as long as I can remember, and one which makes me think back to my college summers working in Yellowstone and Alaska.  It's about curiosity.  It's about adventure.  It's about testing yourself.  It's about having fun.
Is there a better time in life for that mindset than retirement?
This author thinks not.
Perhaps this quote from a text exchange with my friend, Kirk, will help illuminate my thinking (I was teasing him about going for a swim with me in cold water...my quote in the green, he held firm in spite of my persuasion, imagine that…..)
---
---
Ironically, his point about "knowing his limitations" proved to be a remarkably prophetic statement, as he clearly exceeded his limits just 48 hours after he sent that text (see the story below).  However, we digress. The point is this:
Find a way to….
Push your limits.
Challenge yourself.
Discover Something New.
Mold Some Clay.
Go Somewhere You've Never Been.
Do Something You've Never Done.
Break A Rib.
Swim In December.
Crash Your Drone.
Live Life At The Limits
Today, I'm sharing Three Stories One Story From My Personal Experience About Living Life At The Limits.   All have occurred over the past few weeks.  As you read these stories, think about ways you can apply the principles in a way that makes sense in your own life.  Find a way to Live Your Life At The Limits that works for you.
(Note:  I started today's post with 3 stories, but had so much fun writing Story 1 that I went with the flow and focused this post on that first story, in its full and glorious detail.  I've decided to add a rare "Part 2" to this series, where I'll tell the other 2 stories, as well as stories from you, the reader. See the Conclusion section below to join in the "Part 2" fun!)
Here's The Story…
He Broke His Ribs And Smiled
On a recent December Saturday morning, my friend Kirk and I Lived Life At The Limits.  You may remember Kirk.  He's my friend who hiked the Appalachian Trail, then broke his foot while attempting to hike the Pacific Crest Trail (PCT).  He's the guy who's planning to complete the PCT this summer, then heading to Nepal next Fall to trek around Mt. Everest.  He Never Stops.
He Lives Life At The Limits.
It's dangerous when the two of us get an idea to do something crazy together. Something like mountain biking the infamous Bear Creek Trail in the North Georgia mountains.  What could possibly go wrong?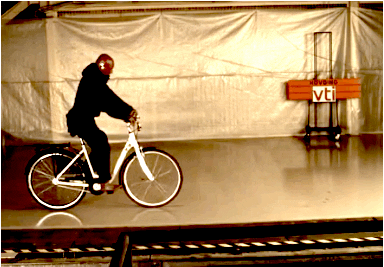 The ending is predictable, and you know where this is heading. Regardless, it's a fun story and serves as a good (though extreme) example of Living Life At The Limits.  I hope you enjoy reading these words half as much as I've enjoyed writing them.  It's a good story, and it's been fun to write.
With That, Here's The Story
Kirk and I decided to schedule a mountain bike ride together in the rugged Cohutta Wilderness Area of the Blue Ridge Mountains.  Schedules coordinated, emails exchanged, and final details arranged, we arrived at the incredible Cartecay Bike Shop (visit these guys, really!) at the appointed time a recent Saturday, where we were given a choice.
You Can Do The Easy Route, Or The Intermediate Route, said our guide, Dave.
Click To Tweet
Dave, the incredibly hip (this guy is SO cool) host gave Kirk and I our options for the ride as we gathered that Saturday morning in the bike shop.  Kirk and I glanced at each other, then immediately agreed on "The Intermediate Route".   We didn't come all this way to wuss out on the easy stuff.
We smiled nervously, not sure exactly what we had just committed to.
The die was set.
We got in Dave's cool 4-wheel drive van, bikes hanging off the back, and headed out to the trailhead.
Bear Creek is an infamous "Must Do" mountain biking trail which would lead us to sweat like the old men we are as we hauled our aging bodies up a 1,900-foot climb over the next few hours. (Pause for a second, and think about that.  1,900 feet is like riding your bike up the stairwell of a 190 story building!  Could you do that?  A big, big climb).  It's a legendary trek.  As the guidebook says,  "If there's one ride you need to do in Georgia, it's this one".
Yep, a famous trail.
Soon, a new casualty would be added to its legend.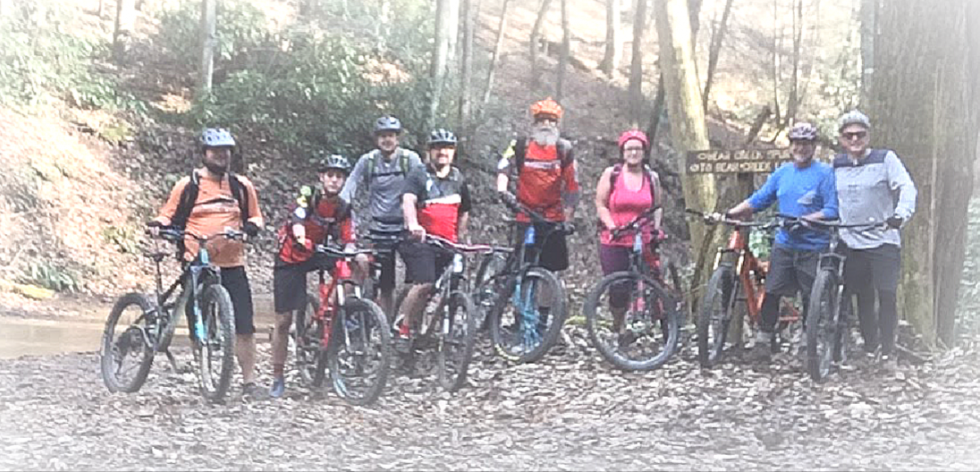 The Climb
The first 100 yards of the ride immediately tested our resolve.  With an immediate 500′ climb as we tackled the Forest Service road into the wilderness, we convinced ourselves in wheezing thoughts that were ready.  Right?  Too late to question, time to peddle.
Gees, why is it so hard to breathe?
The climb to the summit of the Bear Creek trail was brutal.  We groaned.  We sweat.  We climbed.  We crossed the stream ~4 times.  Then, we climbed some more.
"OMG, is this EVER going to end??"
It Was Brutal.
It Was Intense.
It was Life At The Limits.
It was awesome. 
I love pushing my body to the extremes in physical fitness (I do, after all, love to Swim In Cold Water).  This ride pushed us there, and then some.  Don't tell anyone, but it may be possible that we actually had to get off and walk our bike up a few of the steeper grades.
Give me a break, I AM 54 years old after all (and Kirk's got a few years on me)!  I'd say we hung in there pretty well for a couple of old guys.  Let's just say we weren't the last ones to drag ourselves up that body-wrecking grade.  There were younger folks behind us, we noted with pride.
We Made It To The Summit.
Everyone in our group was giddy as we looked over the incredible view from the summit.  Dave broke in with "Well folks, you've earned this.  Now, you'll get the reward of one of the best downhill rides you'll ever experience.  This is a descent you won't soon forget."
Little did he know the reality of that statement.
The Ride Up tested our Physical Endurance. The Ride Down tested our Endurance Of Will.
Click To Tweet
The Descent
Kirk and I had a brief chat about his strategy for the mindbending descent.  "I'm going to take it easy", said Kirk.  "Go your own speed, but I'm going to chill in the back of the pack and ride the brakes."  Seemed a smart strategy.
His execution, however, is another story…..
The Descent From The Bear Creek Overlook Is One Of The Best In The State.
Click To Tweet
Source:  Singletracks
The ride down was intense.  The same grueling grades we'd worked so hard to climb passed in seconds as we whisked down the hill.  It's hard to describe the ride, but the following video is a pretty good analogy.  I can't say for sure, but the speed they're riding seems pretty close to what we were hitting on some stretches (we both guessed we were hitting ~40 MPH)  Fortunately, we didn't have the crazy turns that these guys are shredding, but we had some gnarly rocks, roots, and dropoffs:
For the first 1,500 feet of the descent, things went swimmingly well.  The group stopped a few times to check on everyone, and folks were smiling like it was Christmas morning (hey, Christmas is only a few days away, I had to weave it into this story SOMEWHERE!).  The adrenaline rush of flying down a mountainside at 40 MPH on a bike is something you need to experience to truly understand.  For some reason, it reminded me a lot of skiing.
Fast, exciting, and on the edge of control.
Living Life At The Limits
So Close…But
After our last stop at about 1,500 feet down the mountain, we all took off again with childlike grins.  The "fast guys" went out first, I went out in the middle, and Kirk and a few other riders took up the rear.  Within minutes, I broke free at the trailhead and rolled out onto the road which had started our adventure only 4 hours earlier.  I pulled up next to Cool Dave's 4-wheel drive van and dismounted.
Then, I waited.
And waited.
No Kirk.
I should note that it's impossible to even THINK about what's happening behind you during these descents.  Your entire Being is focused 100% on the trail ahead, with the navigation of the narrow trail and the obstacles coming at you at breakneck speed.  A video game of sorts, but in real life.   Hence the occasional breaks in the downhill experience to regroup and ensure all was well.  During the ride, you live in the moment.
You Live Life At The Limits.
Little did I know the experience my friend Kirk was going through just a few hundred feet behind me on the trail.
As he explains it, "I don't really know what happened.  I noticed a tree stump on the right-hand side of the trail and thought I'd cleared it.  I think it caught my pedal.  The next thing I knew, my bike was yanked from under me, and I was landing in a heap on my side.  I couldn't breathe.  My breath was absolutely knocked out of me, and I was laying there, gasping.  Staring at the trees".
Fortunately, a fellow rider saw the incident and rushed to his aid.
"Yeah, I'm good", Kirk gasped.  "Just give me a minute".  He collected himself, found his breath, and pulled his bike back up from the ground.  He resumed his ride down.  Slowly.  Painfully.
5 minutes later, he emerged from the trailhead.
He was smiling.
The Whisper
"Gees, that took you guys a while", I said,  "did that other rider wipe out?".
He whispered, so softly that I misunderstood, "I wiped out, bad".  His voice was so soft that I thought he said the other rider had wiped out and I figured he wanted to protect her pride.  His glance told me that now wasn't the time to talk about it, and we quietly loaded up the bikes and headed back to the bike shop.
We were both smiling.
Two Broken Ribs
When we got to my truck, he told me the story.  He was smiling the entire time.  "I wiped out bad, but that was AMAZING", he said.  "One of the best times I've ever had in my life".  Yeah, I said, but are you ok?  "Oh yeah, never been better.  My ribs kinda hurt, but I'm good."
"Does it hurt when you laugh?" I asked.
"No, no, I'm good.  But, I think I hit my head, it's hard to know it all happened so fast".
We looked at his helmet.  It had a hole in it, we suspect from a rock he'd hit on the trail during his tumble.  Thank God for bike helmets.
Life At The Limits.
Old guys do really stupid things sometimes.  We fall off roofs.  We crash our bikes.   We try to be responsible, but we also enjoy pushing the limits.  Some may call us crazy, perhaps, but it's the way we chose to live our lives.  Judge as you will, but living life at the limits is important, even if it occasionally crosses the line.
Throughout the remaining 24 hours of Kirk and his wife's visit to The Great Cabin, we had fun reliving the experience, in full macho detail (men!?).  We both secretly hoped that his ribs were broken so he'd have a good story to tell.  "If you're going to have the pain, let's hope it's broken so you'll have real credibility when you tell THIS story", we joked.
It hurt when he laughed.
He laughed anyway.
It turns out he had broken two ribs, a fact which was confirmed when he visited Doc after returning home 24 hours after the incident.
He hasn't stopped smiling since.
And, he hasn't stopped Living Life At The Limits, as evidenced by the text he sent me just a day ago…
---
Living Life At The Limits.
---
Conclusion
Living Life At The Limits is a mindset.  Find a way to push yourself to explore.  You don't have to take it to extremes like Kirk and I did (I'd recommend against that, actually), but find a way to be curious. To try new things.  To keep life interesting.
Want a less "extreme" example? Last week, my wife went out with a friend to a town that they don't normally go to and tried a new restaurant.  She's also taking some pottery classes, is learning that she loves it, and has a knack for it (shoutout to my wife, she's really good – pics of her work in Part 2, I promise!).
Her experiments count.
Kirk broke his ribs, and that counts too.
Look around, and find something that works for you.
I've had so much fun in writing today's post that I've decided to write "Living Life At The Limits – Part 2".  I'll share the other two stories which I deleted from this post due to length and share some pics of my wife's pottery.   No broken bones are involved, I promise.
I'm also going to give you, the reader, a chance to get involved in the fun.
Want In?  Share a comment on things you've done to Live At The Limits.  The sky's the limit, no rules. I'll pick a few of the best to share in the Part 2 post, along with the two stories I scrubbed from this post due to length.  Sounds fun, right?  If you've never left a comment before, test yourself today.  Push Your Limits, and jump in.   What do you have to lose?!   I look forward to learning from each of you.
What have you done to expand your horizons?
To Push Your Limits.
To Live Life.