Happy Birthday To Us!!  Today, A Celebration!!
Two years ago (April 12, 2015) I posted my very first article on this blog, titled Contentment (A Personal Choice).  I'm pleased that I picked contentment as my very first subject.  It's important to me, and something I strive for.  A "First Post" takes on special meaning as a blog grows, and I'm pleased with the Cornerstone.
That first post may have been only 288 words long, but it was significant.
On April 12, 2015:  The Retirement Manifesto was born.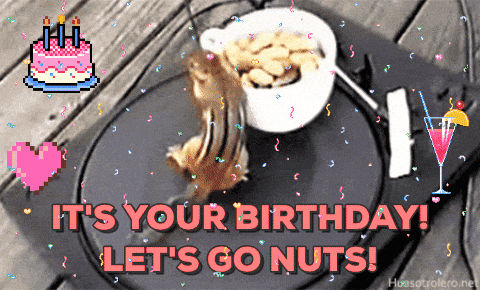 (Special birthday gift for my wife….a true animal lover at heart!  Via GIPHY)
I closed that first post two years ago with the statement; "For results, stay tuned".
So….what's happened since?
Since 4/12/15, The Retirement Manifesto has been viewed 180,000 times! Happy 2nd Birthday!
Click To Tweet
In 2015, I never suspected that a short two years later there would be thousands of readers "tuning in" to The Retirement Manifesto, and the words that come from my brain.  20,000 pages are being viewed every month on this blog, by an average of 8,000 readers.  Wow, whoda' thunk?
I'm Honored. And Humbled.
It's been a thrill, and I'm enjoying the ride.  I thank all of you, my readers.
My goal, from the beginning, has been to focus on you;  The Reader.  "What do folks need to hear?", I've thought to myself, every week, for the past two years.
Thought it then.
And I think it now.
"Helping People Achieve A Great Retirement" has been my mantra since the beginning.  It keeps me on track, with a focus on finding things to write that will help you on your journey to, and through, retirement.

---
Why I Love To Write
Every week, I'm challenged to develop the seed of an idea, a thought, a topic, and squeeze my brain to water the seedling. To ponder on it.  To try to find a linkage to everyday life. To build a message.
The thought grows.
And finally,
I write.
The Goal? A Thought-Provoking Post For You, My Reader.
Click To Tweet
I hope you like the result.  A few posts are great (see my Rockstar Finance Awards here), some are good, and most are, um, "ok".
All are fun to write.
All are challenging.
All rewarding.
Some Hard, Some Easy.
I Love It.
I truly love writing this blog.
In two year's of writing, I've made no money from my efforts.  I do it for Purpose, I do it for Fun.
As I move through my final years to retirement, it's exhilarating to work on this blog.  To ponder on the things I'm going through, and evaluate what I think would be of interest to you.  It's hard, sometimes. "Do I write too much about this?…..Do I write too little about that?….."
It challenges me to put together these words.
It's One Of The Most Rewarding Things I've Ever Done.
---

---
The Retirement Manifesto Fills A Niche
I've heard from many that you enjoy The Retirement Manifesto because "I write through the eyes of someone walking the same journey as many of you".  I'm 54 (just), and on the tail end of the Baby Boomer wave.  I'm a year maybe a year (+/-, note to boss; please don't hold me to a date, yet) from retirement, and facing many of the same issues as you.
We're on the journey together, and you seem to connect to that.
Click To Tweet
Most bloggers who write about this stuff are 35, and hoping to retire by 40 (+/- 5 years, you pick the blogger).  I'm an "old guy" in the blogging world, at Age 54, and that seems to resonate with folks.  I've nothing against the younger folks, and count many Millennial bloggers as my friends.  We connect, and it's fun.  Their tips are amazingly useful for someone who's Late In Starting Their Retirement Savings.
Don't discount those "youngsters", they're smart folks.  And fun!  (and, they can keep us young)
Regardless, there aren't a lot of us "old folks" out here, writing about what we're going through.  I've got some blogger friends who have a similar profile (Shoutout to Mr. & Mrs. Groovy,  ESI Money, and MakeSmarterDecisions!) , but there aren't a lot of us out here.  My profile seems to click with many readers.
And so….
…I Think.
…I Write.
…You Read
…And We All Benefit.
---

Highlights From Year 2
I'll keep this short(ish),  but thought it appropriate to share a few highlights from my second year of blogging.  Please trust me when I say I'm "not bragging", but rather just sharing what's been going on in the life of this blog.  It's been a fantastic year, and I thank each and every one of you for that!!
Thanks To Everyone Who Made "Year 2" A Success:
Profiled on a bunch of sites (wow, it's been a busy year!)
Podcast Interviews:  I'm honored to have appeared as a guest on the following within the past year:
Recognized as an "Up & Coming Blog" by Rockstar Finance, one of the biggest names in the biz!
So, yeah….it's been a crazy busy year at The Retirement Manifesto.  I'm having a blast!  I hope you're benefiting from the efforts I'm investing into this addictive hobby.  You're what keeps me going!
---

Growth – Years 1 & 2
Good Content Is My Primary Focus, Not The Stats
Click To Tweet
So, Stats aren't my primary focus. However, a Birthday Blog is not complete without sharing a few numbers. They're fun to track, so come along while I tell the story of the numbers.  I'm pleased with how this blog is growing, and I Thank You All for supporting my hobby.
So….here we go.
In 2017, I'm averaging 20,000 pageviews/month, from 8,000 readers. Thanks for your loyalty!
Click To Tweet
350% Growth In The Past Year
By the metrics "that matter", this site has experienced explosive growth of ~350% over the past year:
At the same time, my growth on Social Media has also been rewarding:
Email Subscribers:  1,137 folks get this blog via email, up 171% vs. one year ago.
Thank You to each of my 1,137 email subscribers, I consider you my most loyal followers!
Click To Tweet
In addition to Email and Twitter, I use Instagram, Facebook and Medium as "secondary" methods of sharing my blog.  I'm kind of enjoying this "Social Media" stuff (not bad for an old man, huh?). I haven't tracked the follower trends on these platforms, but below are the current statistics:
This blog has done well, and grows consistently over time.  Given that I do this as a hobby, I find it rewarding to see more and more of you connecting with my message, and I enjoy the feedback from my readers that assure me that I am, in fact, making a difference in your lives.
---
The Future
I love writing, and expect to continue working on this blog well into my retirement.
Then again, I may stop tomorrow.
This blog represents Freedom.
Freedom to do as I chose, with no obligations.  Freedom to share words about the pursuit of a great retirement. Financial Freedom, and all that represents.  And finally, your Freedom to consume my product.
Or not.
I will always follow my self-imposed rules for this blog, and keep it fun. For the most part, I don't expect you'll see much change in this blog in the short term.  I enjoy it, and get personal satisfaction from knowing that I'm making a difference in peoples' lives:
Priceless.  (except it's not….read on).
One thing that will change:  I think I'm going to stop paying for this blog myself.  I hope you understand.  It'll still be free to you, but you'll see a few changes in the format (ads, anyone?!)
As this site gets bigger, the expenses grow.  The "behind the scenes" machinery that magically puts these words on your computers (51% of you read this on a computer), smartphone (32%) and tablets (16%) doesn't come for free.  (BTW, Google Analytics is amazing, and scary.) As the number of readers hitting this site grows, the "machinery" requires more bandwidth, and I have to pay for that.
On principle, it seems contradictory to pay for a hobby that's about Financial Freedom, right?  So, I've decided to add a few low-key advertisements to the site.  You'll see them at the top of the page, and a few scattered about.  I'm going the "passive" route, and only trying to generate enough revenue to cover the expenses associated with this blog.   I don't expect to make a profit, but I also don't want to incur a loss.  I trust the ads won't be intrusive, and appreciate your support.
Conclusion
Wow, what a year.   I thank each and every one of you for reading these words, and the thousands of words which have preceded them on The Retirement Manifesto.  You are the fuel that keeps me going, and the focus of my effort.  I sincerely hope these words allow (at least) some of you to have a better retirement than you would have had without this blog.
If I accomplish that, it'll have been worth every ounce of effort.
Happy Birthday.  
(Now….who's got the cake?)