If you're struggling from a late start in saving for retirement, you're in for a special treat today.  A real-life case study of Susan and Norman, a couple who recovered from a late start in saving for retirement and, a short 12 years later, are going to be retiring early.  It's a great story and offers hope to anyone who is worried about being behind in your retirement savings.
Susan and Norman started late but will be retiring early. Here's how they did it. A Case Study in #RetirementRecovery.
Click To Tweet
You'll hear the story in their own words, with some commentary from me on the lessons we can learn.  It's an inspirational story and offers tips we can all apply as we work toward achieving our retirement dreams.
---
Our Story:
We met on November 3, 2007 while on a backpacking trip with a local singles hiking club. Norm was 46 and Susan was 42 when we met. We moved in together in March 2008, and had a busy first year:
Spring 2008: Susan sold her house
May 2008:  We Got Engaged!
June 2008:  Susan graduates from college
September 2008:  We Got Married!!
What a year! We had no extra money, but we managed to pay for our small wedding by being frugal. We had no idea what the next 10 years would hold. We didn't set out to retire early, we just wanted to be financially stable and not be in debt.
Fritz:  Frugal from the start of their relationship!  If you've had a late start in saving for retirement, you've got to ramp up the frugality if you want a realistic chance to retire. 
The economy was tanking in 2008 and Norman's business was suffering. The business was down 80% over what it had been doing at its best. The year after we got married Norman took a managerial position in retail and continued to keep his business going by working both jobs. That was a hard year- newlyweds never seeing each other and growing a huge garden.
Fritz:  Notice how Norman didn't sit idly by as their business dropped?  He picked up a second job.  They planted a garden.  Side hustles are a great way to close the gap if you're starting late in saving for retirement.
The pressure of holding down two jobs didn't come without some cost. Norm was worn out all the time and had some health issues. We later learned that he had a tumor in his spine that was causing his issues that had to be surgically removed.  The doctors first thought he had ALS – we were so thankful it was a tumor!  Seeking balance, Norm decided to discontinue the second job, but his year of sacrifice was the turning point from a late start in saving for retirement to a dedicated focus on doing what had to be done. Norm continued to focus on growing his business year over year, and selling the enhanced business became part of our retirement plan in 2019.
---
A Late Start In Saving For Retirement:
We were in our mid-40's and had a Net Worth of less than $100,000.  We were clearly one of those couples who was facing a late start in saving for retirement.
Susan had a 401k that was worth $45k, a small Roth IRA worth ~$9k, and the sale of the house brought $34k. We also had $18k in student loans and a daughter in college and paying tuition that was not covered by scholarships.
Norm did not have a 401k or any savings. A daughter in college. A house with a mortgage.
Fritz:  The average Net Worth for folks in their 40's is $288k according to this article (Median is $60k).  Susan and Norm started at a level BELOW the average, and yet are retiring in their 50's!  Impressive feat.
Susan & Norm had a below average Net Worth in their 40's, yet are retiring in their 50's. Impressive feat. How did they do it?
Click To Tweet
---
How We Changed Our Situation
Phase 1:  Increased Income, Paid Off Debt
Susan took a sales position that paid salary, bonuses, commissions, and residuals (for life). Sounds great and it was. Slowly month after month commission checks grew, residual checks grew and every penny was used to:
Paid off all debt except for the mortgage.
Pay off Susan's 2002 Toyota Corolla
Paid off Susan's student loans
Paid tuition for daughters
Set aside wedding money for both daughters
Saved an emergency fund of $10k.
We used points from credit card use as well as the Presidents Club sales incentives trips Susan earned as our vacations. Norm would join Susan's work travel as a getaway also.
This was also our coupon clipping phase. Couponing really helped us save money. We did this for a number of years until our time became more valuable than the time it took to clip coupons.
We also had periodic no spend months.  We did that maybe 3 times, but wow what an eye opener that was!
As their income increased, they had a laser focus on paying off debt and building an emergency fund. #LateStartRetiredEarly
Click To Tweet
We also gardened at Norman's parents' house. His dad would plow up a huge area for us to grow vegetables: Tomatoes, peppers, corn, beans, peas, garlic, squash, cantaloupe, etc. We canned or froze what we could not eat to preserve it for the fall and winter months. Sounds ideal and it is, but it's a lot of hard work. Working full time and tending a garden is no joke. We still grow a large garden and preserve what we can.
Norman is an avid hunter and supplies most of the meat we eat. He also does all the processing of the meat at home which saves money, but more-so it allows him the ability to handle and process the meat as he wants to optimize the flavor of the meat. Norm has always been able to hunt on land where he is not paying a club fee which also helps save money.
Fritz:  Notice the laser focus in Phase I?  If you want to catch up from a late start in saving for retirement, you need to get focused.  Really, really focused. 
---
Phase 2:  We feel poor.
We downsized to a smaller less expensive home ($165k) with a little over an acre of land. The downside was the house needed a renovation as nothing had been done to it since it was built. We used the money from the sale of Susan's house for a deposit and started renovating. The upside was we now had our own land to garden on.
We did most of the work ourselves or from people Norman knew in construction. As the economy had tanked many people Norm knows were looking for side jobs to keep going.
Because of the downturn in the economy, we were unable to sell our other home for a profit so we rented it. We held onto that house for 5 years until the market had come back enough to get some money out of it.
We put every spare penny into renovating the home to be our "forever" home. In hindsight, we wish we hadn't done that as now we're not so sure we will stay here. After the renovation, every penny and I am being very serious here…. every penny went to pay off the house. We were making more money than we had in our lives, but because we had a goal of paying off the house, all the money went to the house. For 5 years we lived like this.
Fritz:  Sounds like "Forced Scarcity" to me, one of the Top 5 Secrets To Retire Early!  5 Years of a very strong commitment. Well done. 
During this time we did not go on vacations (unless rewards points could cover the expense) or go out to eat (even now we only eat out once per week, and we don't drink Starbucks!), didn't have cable (still don't), continued to grown a garden, have fruit trees and pastured chickens and so on. It may sound miserable to some people, but we really made it work for us. We would invite friends to our house for dinner, go to free outdoor concerts and we hiked a lot.
Susan read the blog Cash Cow Couple and learned about Personal Capital and Wealthfront. We moved some small IRAs to Wealthfront to save on fees.
We started tracking all of our financial accounts in Personal Capital. It was fun to watch the changes. In 5 years the house was paid off and the real fun began. Susan started to max out her 401k, and once we learned that Norm could also have a 401(k) as a self-employed entrepreneur, we opened a 401k for him and started maxing it out as well.
Fritz:  Are you keeping track of all this?  Wow!  Impressive focus.  That's why they're going to be retiring soon! (Though I am crushed that they read Cash Cow Couple instead of The Retirement Manifesto!  Smiles).
---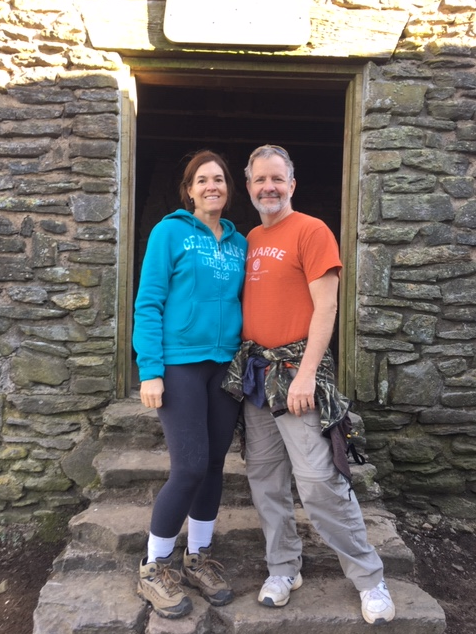 Phase 3 – Debt Free, Savings On A Roll
Things were good, we had no debt so our savings really started growing fast. It is amazing when you live below your means how quickly money adds up. One of the financial planners we worked with at the time had to sit me down one day and stress that I really needed to upgrade my vehicle. I was still driving the 2002 Corolla…. so I bought a new/used vehicle. Norm continued to use the Corolla to drive for work (to save on fuel costs) and he did for 2 more years, after which we sold the Corolla and applied the $2k received into savings.
We steadily saved money and continued living our lives as we had. There was no point in changing how we lived our lives just because we finally had money we could spend.
Fritz:  Avoiding Lifestyle Inflation is a key to getting yourself on a good trajectory for retirement.  A 2002 Corolla?  A great example of Stealth Wealth!  
That changed when Susan had a business trip near the beach and we decided to stay the weekend at Navarre Beach, one of the nicest beaches in Florida. We met a couple who had just bought a place near the beach and that got us interested in buying a beachfront condo. We looked at all available condos and found one for sale by owner. A few days later we were under contract to buy the condo. At the time, we only thought of it as an investment where the renters would help us pay it off. We never dreamed at the time that it would become a source of income for our retirement. From the first day, the condo was earning money!
---
Phase 4 – Building Income Streams
After reading the book "You Can Retire Sooner Than You Think" by Wes Moss, Norm realized that we already had some streams of income in place and it was a matter of adding to those streams. We kept this philosophy in our minds as we started thinking of other ways to earn a passive income in retirement.
Now that we had the condo, we started to pay it down pretty quickly. We started an account for the condo money to keep it separate from the other and used the money it generated to pay HOA, insurance, assessments etc. We had property managers for 3 years and now we do all the bookings ourselves. It has saved us 22% fees and it's a lot of fun!
This past year, we bought another condo in the same complex for cash. It was at this time that we felt we should talk with a new financial advisor. We consulted with Chris Burns from More Than Money. He has helped us understand if the way we wanted to live in retirement was sustainable on our savings and helped us developed a plan to reach our retirement goal.
---
Phase 5 – Preparing For Retirement
We worked with our advisor to review our finances, budget, how we want to live in retirement and to understand if we would have enough money to retire and when. Due to the condos which both make a profit and Norman selling his business we have decided to pull the trigger and retire in the spring of 2019.
Norman has found a buyer for his business and will retire at the end of April 2019. Monthly payments from the sale of the business (over the next 10 years) will provide an income stream to help fund our first decade of retirement. Susan is retiring at the end of February 2019. She is still benefiting from the "residuals for life" portion of the comp plan although the residuals are dwindling. For now, we will have 4 streams of income that put us above our monthly spending budget. We are hoping to be like Norm's parents and be able to save money even in retirement.  Our plan is to leave all investments alone and only use the streams of income until SS kicks in.
Our retirement plans include buying a 5th wheel and traveling to the majority of National Parks, we want to hike the Grand Canyon rim to rim, a trip to Ireland is in the works as are many trips to visit family and friends. We still don't know if or when we will sell our primary residence. We certainly don't have everything figured out, but we do know our money is sound.
Fritz:  Susan, congratulations on your retirement at the end of this month!  We're looking forward to hearing about your RV adventures after Norman joins you in retirement in April!  Congratulations on reaching The Starting Line, your best years are ahead of you!
A Few Closing Thoughts
A point we'd like to get across is that we didn't set out to retire early. We started down this journey due to being stressed at not having any retirement funds.  We just focused on saving as much as possible, not realizing that a short 11 years later we'd be in a position to retire in our 50's.
It was a great realization when we were told by a professional that we had the means to retire with the lifestyle we chose.  While the decade of focus was intense, the reality of our situation today has made it all worthwhile.
In spite of having a late start in saving for retirement, we're going to be retiring early.
---
Conclusion
I hope Susan and Norman's story was as inspirational for you as it was for me.  Nothing beats a "real life" story of someone who had a late start in saving for retirement, yet recognized the reality of their situation and made the changes required to get themselves on track.  Theirs is a story that proves it can be done, just like Betty & Gordon (see It's Never Too Late To Start Saving For Retirement).
If you've had a late start in saving for retirement, realize it's not too late. Others have been in your shoes. Take time to listen and learn from their stories.  Apply the same techniques, and you CAN recover from your late start.
They started late, but they made it to retirement in their 50's! Congratulations, Susan and Norman. Well Done!!
Click To Tweet
Who knows, you may even end up writing a story on my blog, and inspiring me so much that I chase you down to buy you lunch.  My wife and I had lunch with Susan and Norman last week.  They're good folks, and the excitement for the upcoming retirement was contagious.  They may have had a late start in saving for retirement, but they've made it to retirement in their 50's! We're looking forward to spending some time with them in retirement.  I think I've talked them into joining the Benton MacKaye Hiking Club, and expect we'll be doing some hikes together in retirement.  Small world, right?
---
---
PS – You may be interested in the "Back Story" to this post.  Below is a comment that Susan left on my post "8 Lessons We Can All Learn From FIRE" (yellow highlight added by me). I was intrigued by her story and sent her an e-mail asking if she'd be willing to be a Case Study.  She and Norman graciously agreed, and you've all been the beneficiaries.  Looking back at her comment now, it's a perfect summary of this Case Study, and worth a read for a quick summary of the steps they took to save their retirement.  Impressive story, from some very nice folks.