Do you have enough money to retire?
When we're facing the "Retirement Decision", that's the one question each of us must answer. None of us want to run out of money before we die. It's particularly worrisome when we're facing the type of global crisis we're dealing with today. Rather than just worry about it, wouldn't it be more productive to focus on the actions we can take to make sure we have enough money to retire?
That's the goal of today's post.
Today, we'll examine 10 Steps to Make Sure You Have Enough Money To Retire.
Click To Tweet
---
10 Steps to Make Sure You Have Enough Money to Retire
When I come across retirement-related content that will bring the reader value, I pay attention. Rather than just share something, however, I try to find ways that I can add value, and that's exactly what I'm attempting to do with today's post. I give credit to this article in Kiplinger's for initiating today's post. Kiplinger is spot on with the suggested actions to ensure you have enough money to retire and I am 100% aligned with their recommendations, which I'll share in the sections below.
Rather than just regurgitate their excellent content, I'm hoping to add value by sharing how we applied each of their recommended 10 steps in our personal journey toward retirement. Hopefully, sharing our personal case study will help solidify these steps you can take to ensure you have enough money to retire and help you on your journey to Achieve A Great Retirement (my byline).
Here are the 10 actions you should consider to ensure you have enough money to retire, and how we applied them in our actual journey.
Click To Tweet
---
1. Track Your Actual Spending For A Year
Of all the steps you must take to prepare for retirement, there are none more important than having a firm grasp on your estimated spending requirements in retirement. I've said it many times, and I'll say it again here. The first step must be to know exactly what you're spending now, while you're still working. It's the foundation on which the entire Retirement House is built, so take the time required to get it right.
How We Applied This Step: When my wife and I were figuring out when we could retire, we tracked every dime for 11 months (we tried to go a year, but it was insufferable). Here's the actual spreadsheet we used, free for you to use for your tracking (NOTE: It's "read-only", so you'll need to click File, then Make A Copy to create a copy for your own use).
Sure, it was a pain. It was also one of the best things we did to prepare for our retirement journey. If there is one piece of advice you take away from this post, I hope this is the one. Know how much your spending, it's the foundation upon which your retirement plan will be built. I know of no way to ensure you have enough money to retire without first understanding your baseline spending.
---
2. Determine What Expenses Will Decline In Retirement
Many of your baseline expenses will decline or disappear when you retire, and it's important to adjust for these as you're building your plan to have enough money to retire. You'll no longer be contributing to your 401(k), you'll no longer be commuting, you'll no longer need to buy those clothes for work. If your nest is emptying out in your final years of work, your expenses associated with raising your kids will go away (hopefully). Consider downsizing and eliminating your mortgage. It's time to subtract the costs which are going away. Enjoy the process!
How We Applied This Step: Once we had a firm baseline of our pre-retirement spending, we did some detailed planning on which expenses would decline in retirement. For example, we planned on downsizing to our retirement cabin and using the home equity from the sale of our "big city house" to payoff our cabin mortgage, so we revised our home mortgage spending projection to 0. It felt good to put that in the spreadsheet, and it feels even better living a 100% debt-free life in retirement.
---
3. Figure Out The Cost of Your Retirement Lifestyle
One of the most important things you can do as you prepare for retirement is to think about what you want your life to be in retirement. As I wrote in the 5 Keys To A Great Retirement, research has proven that people who spend the most amount of time thinking about their life in retirement are the ones who will have the most successful transitions into retirement. It happened to us, and I'm convinced this is one of the most important keys to achieving a great retirement.
As you think about what you want your life in retirement to be, spend time thinking about what your dream is going to cost. Adjust your baseline spending to reflect the life you want to live post-retirement. It's the key to ensuring you'll have enough money to retire while being able to afford the life you dream of living once you get there.
How We Applied This Step: Once we had compiled our actual baseline pre-retirement spending data, we created a new spreadsheet which modified the expenses based on our dream lifestyle in retirement. For example, we knew we wanted to go camping, so we added a new row to capture camping expenses (100 nights per year @ $40/night = $4,000 in annual campground fees). We also knew we'd need to buy our camper before we retired, so we made sure that we were building up our liquid reserves to fill Bucket 1 of our Bucket Strategy and also pay for the camper before we pulled the trigger on our retirement.
---
4. Get A Handle On Health Care Expenses
When you're trying to determine if you have enough money to retire, one of the greatest concerns is how much you're going to have to pay for health care expenses. For those younger than 65, there's the real concern of private insurance. Even if you're eligible for Medicare, there's still the reality of potentially high out-of-pocket expenses (averaging $5,400 per beneficiary, according to the Kiplinger article). As you're "doing the math" to figure out if you have enough money to retire, it's critical to be realistic on how much you're going to have to pay for health care.
How We Applied This Step: As I wrote in Health Insurance: Unsolved, we faced a lot of unknowns regarding our health insurance, and yet we still decided to retire at age 55. How'd we do it? We did our research and chose a conservative cost estimate of $2,500/month as our private health insurance premium. We waited until the math said we could afford that premium before we make the decision to retire. Our COBRA expired on January 31, 2020 and we've joined the Aetna group plan which my company established for retirees. The company is offering a subsidy through December 2020, after which we'll be 100% responsible for the premium. At this point, it looks like our cost will be ~$2k per month starting in 2021. Expensive, yes. But it won't derail our retirement. We planned for it and knew the answer to "Do we have enough money to retire?" was a "Yes" as long as we could find private insurance for under $2,500/month. Mission Accomplished.
---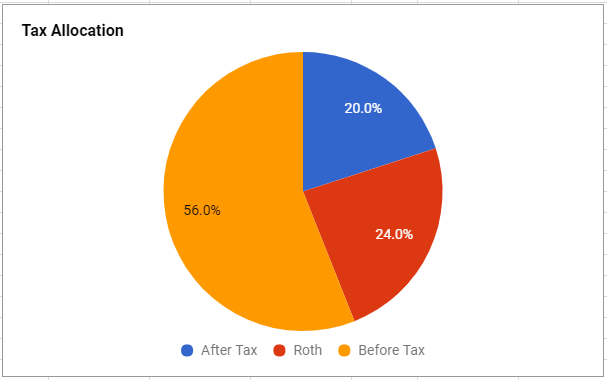 5. Don't Forget About Taxes
Don't make the common mistake of looking at your 401(k) balance and assuming you can spend all of that money on your retirement dreams. The reality is that much of that money is likely in pre-tax accounts, and you're going to have to pay greedy Uncle Sam before you can splurge on that retirement vacation.
How We Applied This Step: A few years before retirement, I revised our Net Worth statement (feel free to save a copy for your personal use) to break down our investments by tax classification. At a glance, we now know how much of our retirement portfolio is in Before-tax, Roth, or After-tax accounts (our actual data was used to create the pie chart above). As we developed our Retirement Investment Drawdown Strategy, we included annual tax expense estimates required to access the pre-tax money. Now that we're retired, we're taking advantage of today's lower tax brackets to implement our Roth Conversion strategy, which entails "topping off" our tax bracket with conversions of pre-tax money into our Roth account, reducing our eventual Required Minimum Distributions.
Taxes are a huge expense in retirement, make sure you've developed a strategy to minimize them, while also including them in your math exercise when determining if you have enough money to retire.
---
6. Adjust For Inflation
We've been fortunate to live in a low-inflation economy since 1990, but that doesn't mean it's going to last for the duration of our retirement. Even a lowly 2% annual inflation rate can cause a $50k annual budget to double to $100k by the time your reach age 95, as shown in the chart above (note, 4% would increase it to $197k!). A retirement budget of $60k in 1970 would have cost $213k by 1990, as I demonstrated here.
Bottom Line: Inflation can be the real silent killer of retirement, and it's best to plan for it as you're working to ensure you have enough money to retire.
How We Applied This Step: As I outlined in my article about how to address inflation in your retirement planning, we incorporated inflation into our planning in three ways. First, we used different inflation adjustments for each of our spending categories when creating our retirement cash flow plan through age 95. We used an annual adjustment of 5% for health care, and a combination of 2-3% for other categories. This resulting in a realistic increase in our spending needs, ensuring that we had enough money to retire, even if inflation increased our spending throughout our retirement. Second, we made sure we included some assets in our asset allocation which acted as inflation hedges, such as Inflation Adjusted bonds (TIPS), Real Estate mutual funds (REIT's), and commodities. Finally, we made sure that we didn't get too conservative with our allocation to stocks, the growth of which we'll require over time to help keep up with the increased costs associated with inflation.
---
7. Don't Forget An Emergency Fund
Emergencies don't stop just because you've left the workplace. That water heater is still going to fail, only now you're not going to be able to work any overtime to pay for it. When you're trying to determine if you have enough money to retire, it's critical to build in a strategy for how you're going to deal with those unexpected expenses.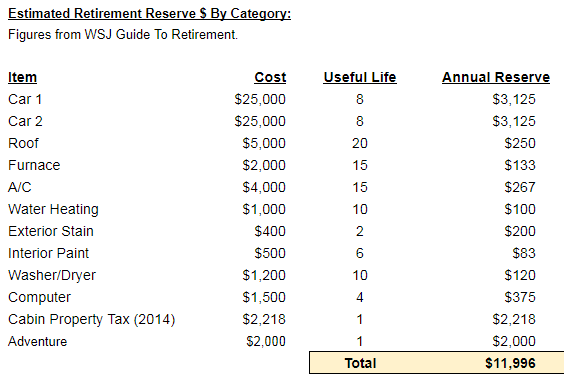 How We Applied This Step: As I explained in our Investment Drawdown Strategy, we've incorporated an emergency fund process into our Bucket Strategy. We used the estimates shown above and are "planning" on $12k per year of "unplanned" expenses, so we set aside $12k every January as we're refilling our buckets, putting the reserve in a separate, designated money market account at CapitalOne. That $4k air conditioner will need to be replaced every 15 years, so we set aside $267 every year into the reserve to ensure we have enough money to retire and pay for the "unexpected" emergencies. If that air conditioner decides to break down this year, we'll pull the funds from the CapitalOne "emergency" account to pay for it without increasing our spending above our Sustainable Withdrawal Rate target of <4%.
---
8. Expect Changes in Expenses as You Age
Most new retirees have some ideas for what they want to do with their newfound freedom, and not many of us plan on sitting around all day watching T.V. Those activities can be expensive in the first decade of retirement. These "Go-Go" years are some of the best years you'll live, but they don't come for free. As the activities slow in the "Slow-Go" years, your spending rate is likely to follow the same downward trend. Hit those "No-Go" years in later life, however, and your health care expenses could carve a big hole in your retirement portfolio. Add the risk of Long Term Care, and it becomes very difficult to determine if you have enough money to retire given the uncertainty of spending rates throughout the balance of your life.
How We Applied This Step: In order to determine if we had enough money to retire, we created a Retirement Cash Flow Model that included our annual spending needs until age 95. In addition to incorporating some inflationary adjustments for ongoing expenses, the spreadsheet gave me the ability to create multiple spending scenarios through each phase of our retirement.
In our Go-Go years, we assumed extra spending, which came in handy since our Great American Road Trip cost us $6,218 last year. We know we have enough money to retire, living the life we want to live during our active years. After all, isn't that why most of us want to retire? We also modeled several scenarios (in separate tabs in the spreadsheet) to ensure we have enough money to retire even if we have a scenario where spending is higher than we expect.
Long term care is a serious enough issue that we did a separate analysis on the topic, and we're confident that self-insuring is the right approach for our situation. The bottom line: We know our spending will vary throughout our retirement, and we analyzed multiple scenarios before concluding that we had enough money to retire. Don't put in a flat spending number and assume you'll be fine. Think through the reality of how your spending is likely to change, and make sure you have enough money to retire in several pessimistic scenarios before you finalize your decision.
---
9. Create a Back-Up Plan
The Kiplinger article focused on alternative means of creating lifetime income for this step, including the potential purchase of an annuity. In addition, they encourage retirees to consider paying off their mortgage to eliminate the need of potentially having to sell equities during a bear market to pay your mortgage. Finally, they encourage folks to consider delaying Social Security to take advantage of the 8% annual increase that comes with the delayed claiming strategy.
How We Applied This Step: When we were trying to determine if we had enough money to retire, we were intentional in including some "wants" in our annual spending projection. If things get (stay?) ugly, we know we have a buffer in our spending estimates and could reduce our spending to "needs" for a few years without much sacrifice. We're planning on using elements of the spending approach cited in the Spend Safely Strategy, which has been determined by experts as the best approach to ensure your money lasts a lifetime. In essence, if the market underperforms in any given year, our spending for the next year will be reduced. Knowing that we've built some "wants" into our spending estimates gives us the confidence that we'll be able to reduce our spending, should the need arise. We're also considering purchasing a deferred annuity at some point, but are electing to wait given the current low-interest rate environment. As a longevity play, we're also planning on delaying Social Security until age 70, click on that link to see the details behind our decision.
A Few Things I'd Add: I realize Kiplinger was more focused on those who were deciding on when to retire, but I would have stressed the importance of building liquidity prior to retirement. As I've outlined in my Bucket Strategy posts (see how to set up a bucket strategy and how to manage it in retirement), it's critical to have 2-3 years of savings in cash prior to your retirement date. I heard from a reader who retired just last week, and the reality of how quickly a bear can strike is exactly the reason this pool of cash must be in place before you retire. On the same thought, ensure you migrate your asset allocation to an appropriate risk profile prior to the start of your retirement. I'd also reiterate the importance of determining a Sustainable Withdrawal Rate (3 – 4%) that matches your risk tolerance, then using the spending estimates from above divided by that SWR to calculate if you have enough money to retire.
---
10. Once You've Retired, Review Your Expenses Once a Year
The final step in ensuring you have enough money to retire is to establish a process where you review your spending annually. If you're over-spending, you must have a process that highlights that reality and allows you to make adjustments to get your spending in line. If you're under-spending, the same process can be used to loosen the purse strings and allow you to enjoy your retirement to the fullest. It's hard to spend money when you know your days of earning a paycheck are behind you, but you must find a process that gives you peace of mind so you can enjoy this retirement life you've worked so hard to achieve.
How We Applied This Step: As cited in A Step-By-Step Guide For Your Annual Financial Update, we don't budget in retirement. However, we have built a strong system to track our annual spending on a macro basis, and it's something I encourage everyone to consider. You can't run the risk of over-spending in retirement, and you must have a system that alerts you if you're getting off track. Reviewing our annual expenses every January, and adjusting our "paycheck" for the coming year, are two of the most important things we do to manage our money in retirement. We're also using a flexible spending approach as we establish our annual paycheck and will reduce spending in the year following a major down market. Done correctly, these steps will ensure you have enough money to retire and are essential to keep you on track within your spending ability as your retirement unfolds.
---
Conclusion
Knowing if you have enough money to retire is one of the hardest questions to answer as you're finalizing your decision on when to retire. Done correctly, these 10 steps will go a long way in easing your mind and allowing you to get on with enjoying your life in retirement.
In summary, follow these 10 steps to ensure you have enough money to retire:
Track Your Actual Spending For A Year
Determine What Expenses Will Decline In Retirement
Figure Out The Cost of Your Retirement Lifestyle
Get A Handle on Health Care Expenses
Don't Forget About Taxes
Adjust For Inflation
Don't Forget An Emergency Fund
Expect Changes in Expenses as You Age
Create a Back-Up Plan
Review Your Expenses Once A Year
Life is about much more than money, and putting systems in place that alleviate your financial concerns is a goal everyone should strive for as they move toward, and through, their retirement years. Savor the confidence that comes from having a system in place which keeps you on track, then get on with living life to the fullest. Even in the midst of a bear market like we're experiencing now, I'm surprisingly calm about our finances. I know we're within very safe withdrawal limits, and I know the markets will return in time. If we need to make adjustments, we have the mechanisms in place to ensure we adjust. Retirement is a time you should savor life without worrying too much about money. You've worked decades to get here.
It's time to enjoy it.
Regardless of what the market is doing.
---
Your Turn: Are there other steps you take in your journey which help you worry about money a little less, and enjoy life a little more? Let's chat in the comments…