If you're within 5 years of retirement, welcome to The Red Zone. It's a time where retirement planning gets serious, and today's post examines the critical steps to take within 5 years of retirement. Even better, we're going to review the steps using a real-life situation from a reader who's currently taking the steps in his journey toward retirement. We'll review his situation as a Case Study for how to handle your journey through The Red Zone.
The reader approached me after reading
my original article
on these critical steps to take within 5 years of retirement. We traded some emails and agreed to use his situation as a case study for others who are nearing retirement. He's even added a bit of personal artwork to highlight each of the steps, and I've offered my thoughts on his approach to each of the steps. I trust you'll find value in the approach.
---
5 Critical Steps To Take Within 5 Years Of Retirement
I contacted Fritz in response to his
"5 Reasons Why Retirement is Hard"
post. In that post, Fritz spoke of this self-directed "Ph.D." related to his manifesto of "Helping Others Achieve A Great Retirement". I decided to reach out to Fritz and submit myself as a case study for his Ph.D. research. Fortunately, he accepted, though he also assigned the writing of this post as a homework assignment. Tough teacher!
I'm In The Red Zone of Retirement
I'm currently 53 and my wife is 58. We've been married for 26 great years and have one daughter, a junior in college. My wife left federal employment in 2010 to spend quality time with our daughter (age 11 at the time) and she is eligible for the federal deferred retirement pension plan. I am also in federal employment, with a Minimum Retirement Age (MRA) of 56 1/2 and will be eligible for a reduced pension at that time.
Being in the Red Zone, I've compared my existing plans against Fritz's "5 Steps to Take Within 5 Years of Retirement"post and am providing that assessment in this blog. This will be in a similar format to a previous guest post titled "My Journey Through The Red Zone". I may introduce additional concerns, challenges, or things to be considered as well. With that, here's how we're managing the 5 Critical Steps to Take Within 5 Years of Retirement…
---
How We're Managing The 5 Critical Steps
1. Make The Numbers Real
What It Means: Making the numbers real means moving beyond rules of thumb and doing a deep dive on your personal financial situation to determine when you can retire.
What I'm Doing: I'm a nerd, so developing my own Excel spreadsheet to track and predict our finances was enjoyable and natural for me. I began my retirement projections several years ago with fairly simple income needs and comparing that to estimated pensions and savings withdrawals. Things just gradually developed from there over the years. I've learned a ton on different considerations to use with my financial modeling, and now have a robust model on which I can run a variety of different simulations. I've even modeled the impact on an early death for either one of us, and how the finances would fare for the survivor.
All of that effort not only provided a better model for my own use but gave me an understanding of the commercially available models. After I began writing this post, I realized that I really needed to validate my model. I was worried about missing some key factors that could distort my results. After looking through several of the best retirement calculators, I settled on the
firecalc tool
for my validation, running both that tool and my spreadsheet with the same inputs.
After a few tweaks with the inputs on both models, I was able to correlate the results well enough to confirm that my spreadsheet model was accurate under several different scenarios. Whew, that was a big relief.
To determine our income needs for retirement, I've monitored my take-home pay for the last 6 years, and then:
Added expenses which are currently taken out pre-tax from my paycheck (e.g., health insurance).
Subtracted expenses that we'll no longer have in retirement (e.g., college expenses, IRA contributions)
Subtracted income we won't need (money left over at the end of the month which we currently save to our taxable accounts).
Added some "wish list" spending every year to cover wants (vacations, cars, etc). This will also be the portion of our spending which we know we can omit if things get tight in retirement.
Estimated our tax spending obligations in retirement to include in our spending requirements.
We've been diligent savers our entire careers and have substantial investments to draw from in our retirement to supplement our income needs beyond our modest government pensions and social security. We certainly don't live large, avoiding expensive cars, lavish vacations, and that hedonic consumer treadmill.
Generally, it appears we'll have a few years in which we'll need to draw about 3.5% from our investments until we're eligible for social security. At that point, our withdrawal rate will drop near or below 1%. Based on this assessment, our savings at Age 100 look very healthy.
Fritz's Comments: You're in great shape! Too bad you have to wait around until Age 56 1/2 to be eligible for that federal pension. I think you're wise to wait, that pension is too valuable to walk away from, even if the numbers say you may be able to do so (1% SWR seems too conservative). I also had to "wait" for my pension and elected to work One More Year beyond when "the numbers" said I could have retired, and I am happy I took that approach.
---
2. Get Your Portfolio Ready For Withdrawals
What It Means: Moving from accumulation to withdrawal is a major step in your retirement planning and should be planned well in advance of your retirement date.
What I'm Doing: Given that we have a lot of our savings in tax-deferred accounts, we're building up our taxable account in our final years of work. We're currently at ~2 years of spending and working to get it up to 3 years before I retire. We've also got some spending obligations that will draw from these funds over the next few years, including possibly helping to fund our daughter's postgraduate work so she can begin her adult life debt-free.
We are very conservative with our qualified savings accounts, with roughly 50% in bonds/cash and 50% in equities. Therefore, I'm not too worried about needing to build up a large cash reserve in our taxable account to handle large market swings. We've considered adjusting our asset allocation for retirement, but given that our withdrawal need is low we really don't want to be overly aggressive.
To Do's:
I still need to re-write the
"Love Letter"
to my wife to ensure that everything is up to date. We do have a financial advisor who should be able to take care of things should the need arise, although the Vanguard advisory service is also an interesting option. We'll need to file for our pensions, of course, as well as determine our optimal age for claiming social security when that time comes. I'll also be putting together a withdrawal plan from our qualified accounts, including a strategy to minimize our risk of RMD's when my wife reaches age 70 1/2. We're considering doing some
Roth IRA Conversions
during our first few years of retirement before our social security payments increase our income.
Fritz's Comments: It's admirable that you're considering supporting your daughter's education expenses. Given that your projections from Step #1 look very comfortable, you could potentially consider your Roth contributions as a source of short term liquidity if you find yourself a bit short of after-tax funds in the first few years of retirement. Also, I'd encourage you to shift your cash position to your after-tax savings if possible, and keep a higher % of your qualified investments in longer-term investments. You could maintain your same asset allocation, but ensure the cash is available should you need it in a market downturn in the years before you can access your qualified investments.
---
3. Deciding Where You'll Live, and Pay Off The House (?)
What It Means: Now is the time to decide where you want to live in retirement and put your plans in place to migrate to your new retirement lifestyle. You should also decide whether to pay off your home prior to retirement.
What I'm Doing: On the good side, we decided to pay off our house before my wife left employment and we should have decent equity in it when we decide to sell. I haven't factored that equity into any of our calculations as I expect this equity will be used to purchase a new home or help us offset the costs of rental if we decide to go that way.
To Do's: We have talked many times about where and how we'd like to live in retirement. We have lived in the same city and house for 25 years, and I have lived in the same area all my life. I'm ready to experiment and move somewhere else within the USA and have even considered moving abroad. My wife is generally on-board with moving somewhere else in the USA, but we're unsure where this may be. At this point, we're looking forward to this being one of those activities we'll be doing in retirement, and I look forward to doing the research, travel, and number crunching to solve this puzzle. Our approach right now would be to sell our house and be nomads, renting a place for a year at a time in different parts of the country. It's possible that we'll quickly tire of that lifestyle, but we're looking forward to the uncertainty.
I don't look forward to ridding ourselves of all the stuff we've accumulated over 25+ years of being in the same house. I often wonder if anyone "knows a guy" that can just take care of this for us. Or maybe those ads I've been getting lately about "I'll buy your house as-is now"… I certainly need to revisit the advice and experience Fritz and others have on this, but we'll defer until we have more time in retirement.
Fritz's Comments:
Congrats on having the house paid off, that'll free up some options in retirement. The life of a nomad sounds romantic, but just realize that you'll be losing your network of friends both from work and your community at the same time. Also, I'd encourage you to start experimenting with Facebook yard sale sites to start unloading a few of the items you know you won't need now. We were happy we'd tested out some sites before we
unloaded all of our belongings in 24 hours.
---
4. Catch Up
What It Means: In your final years of work, you should attempt to live on your retirement budget and aggressively save the difference.
What I'm Doing: We've been maxing out my TSP contributions for a very long time now, had maxed out my wife's TSP while she was working, and increased our contributions to the catch-up levels when I turned 50. We've also been buying Vanguard Roth IRA's when possible, and have nicely built up our HSA accounts. We've also been shoveling the "leftovers" every month into Vanguard taxable accounts to help build up the first few years of living expenses.
To Do's: We've been doing as much as we can in the catch-up category and I feel very good about this . We plan on continuing to save aggressively until retirement.
Fritz's Comments:
It sounds like your financials are in solid shape. It's time to start turning your attention to the "softer" side of retirement planning. Spending as much time focusing on what you want your life to be in retirement is really the
key to a great transition and retirement
.
---
5. Find Something To Run "To"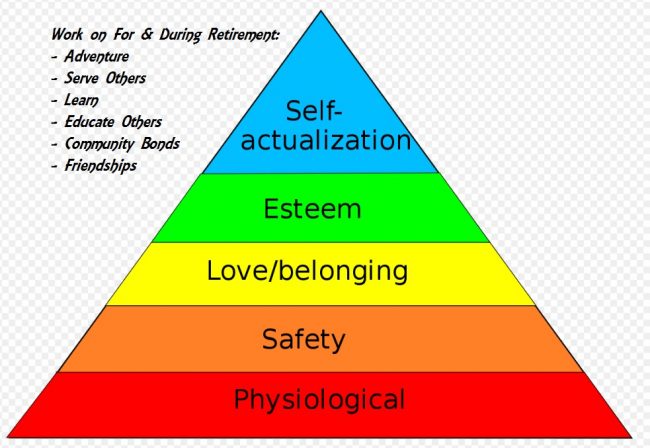 What It Means: Spending time in your final year of work focusing on what you want your life to be in retirement has been shown to be the most important factor in having a great transition to, and life in, retirement.
What We're Doing:
This is really what it's all about. While I'm grateful to have the job I do, it gets to be a bit monotonous after 30 years of being in the same industry. I'm really trying to stay positive as Fritz advises, especially given my sense of obligation to the taxpayer given my role as a government employee. I have to remember that it's a better plan to find something to run to, rather than thinking of retirement as running "from" something.
Over the last 5 years, I've been dabbling in a number of things in my spare time. I'm engaged in a number of volunteer activities but I've struggled to find organizations that give meaningful work. This is no fault of the volunteer organizations, but more because I haven't had the time to invest and grow within those organizations. This will be easily solved in retirement and I look forward to finding the right organization, then building my resume and skills with them.
I'm also dying to have more outdoor activities and look forward to hiking some great trails, diving some great reefs, surfing some tasty waves, and pursuing other things of interest. I've been lucky to remain physically active all my life, working out several times a week and walking a couple of miles every morning with my wife. I won't be competing for Mr. Universe, but I think that I'm in pretty good shape and ready for some exciting adventures without having to get in shape first. But…no
cold water swimming
for me (
how does Fritz swim in 48F water?
).
Last, but not least, is leisure learning. I take pleasure diving into random subjects and pulling those threads through research, books, music lessons, blogs, podcasts, etc. Some of my favorites podcasts are
(also see Fritz's post "I Almost Enjoy My 2-Hour Commute"
):
To Do's: When I started reading about running to something, I was mildly worried that I may fall into a trap during retirement, bored without having 8-10 hours a day consumed by work. But after thinking through this (thanks to Fritz for this forced introspection homework), I've found there are a lot of opportunities that I already enjoy. I just need to say "yes" to the opportunities I decide to pursue in retirement. I really don't like the idea of a bucket list because, well, what happens if you get it done?
Fritz's Comments:
I'm pleased to see this homework has made you think about some things, though I'm shocked (
bad pun
) that you haven't attempted cold water swimming! Sorry to hear the volunteering hasn't been as fulfilling as you'd hoped, I encourage you to be quick to drop your activities if you're not "clicking" with a particular organization, and try out several before you decide to commit your time. As for that bucket list, I don't know anyone who has "gotten it done", and it seems we're adding more to our bucket than we're able to complete. You may want to think about the
Activity Jar
concept my wife and I did, it was a good exercise and gave equal voice to a list of potential retirement activities.
---
Conclusion
So there you have it, my Red Zone Journey assessment. The five critical steps to take within 5 years of retirement:
1. Make The Numbers Real.
2. Get Your Portfolio Ready For Withdrawals.
3. Decide Where You'll Live, and Pay Off The House.
4. Catch Up
5. Find Something To Run "To".
I certainly don't have all the steps wrapped up, but I feel good about my progress. Being caught in this sandwich generation, we have some variables which may disrupt our plans (a wonderful daughter on the cusp of conquering the world and aging parents), a dilemma many folks struggle with as they finalize their retirement plans.
Thank you, Fritz, for introducing these 5 critical steps to take within 5 years of retirement. It certainly has been an interesting reflection completing this homework assignment for you!
Your Turn: Have you taken the time to work through these 5 critical steps? Are there other steps that folks should consider? Do you have any questions/comments about this reader's plan? Let's chat in the comments?